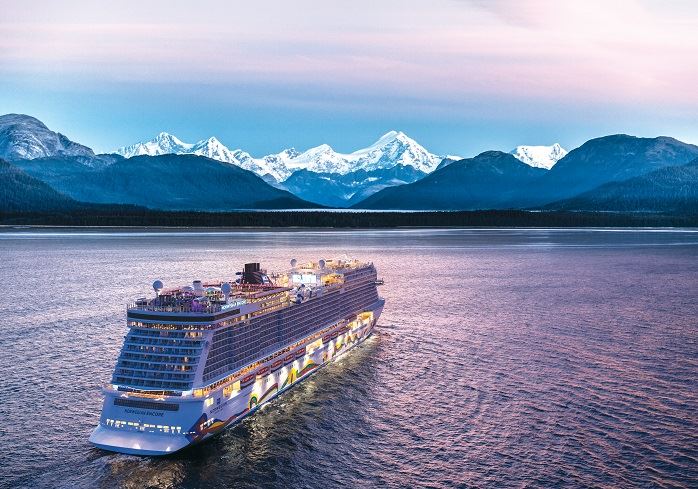 The standing joke in cruise goes something like, "Indulge yourself as much as you want, because no one but the captain needs to drive home." In 2021, this same freedom to enjoy a cruise comes from one thing only: vaccination. And to Norwegian Cruise Line Holdings (NCLH), it's not a joke. Sailing onboard the Norwegian Encore on the line's first cruise from the U.S. in nearly a year and a half, we received an in-depth look into the company's new health and safety protocols. But we also experienced something equally satisfying and surprising: the full ability to have fun.
No Vaxx, No Service
"If you don't have a vaccine, you are not stepping foot on board a Norwegian Cruise Line Holdings ship. Period. No exceptions," Harry Sommer, president and CEO of Norwegian Cruise Line told a room full of media during an August 8 panel on the line's SailSAFE protocols. "Let's be clear about one thing: 95 percent vaccination is not the same as 100 percent. On a ship of Encore's size, that 5 percent means 200 guests and 100 crew. I will not risk exposing 300 people to COVID."
The Healthy Sail Panel, co-chaired by Dr. Scott Gottlieb, former commissioner of the FDA, and Governor Mike Leavitt, former Secretary of the U.S. Department of Health and Human Services, made 74 recommendations even before vaccines were available and the company accepted them all. All tour operators adhere to the same safety standards as NCL — all bus drivers, guides, and personnel are vaccinated. And the destinations appreciate that passengers are vaccinated. It's been 18 months since many ports and places —including Alaska — have seen meaningful tourism.
The risk of transmission in Alaska is low — 328 cases per day for the entire state, and mainly in the larger cities of Anchorage and Juneau — but the delta variant is a concern. Dr. Stephen Ostroff, who has held many distinguished roles including former chief scientist of the FDA and former deputy director of the CDC, mentioned that due to the health and safety measures in place onboard Norwegian, he felt comfortable without a mask on the ship, but would wear one in port. "We've created a bubble, and it's as safe of a way to travel at the moment as you could have."
"The key is vaccines, vaccines, vaccines. I'm a vaccine zealot, I guess you could say," said Ostroff. "Ultimately, 100% vaccinated passengers and crew are the lynchpins to sailing safely and successfully. Pure and simple. It needs to be the standard."

Photo: NCL
Layers Upon Layers — And Not Just for Packing
According to Ostroff, there are three key pieces to sailing safely: prevent the virus from getting onboard in the first place; if it does sneak onboard despite vaccines and testing, minimize the spread; and if someone were to then contract COVID-19, minimize the likelihood of them getting very sick with enhanced medical care onboard. Not only are there more doctors and nurses on board, but every ship also features a public health officer, which is a new role to the company.
In addition to the technical aspects of SailSAFE, Norwegian has overhauled its policies to encourage anyone feeling unwell to immediately come forward without penalty. Free medical care is available to anyone with respiratory symptoms. Additionally, if the individual does test positive for COVID-19, they will be refunded pro-rata for the missed portion of their cruise.
John Y. Mason, a SailSAFE council member who has 35 years of experience in microbiological decontamination, was most impressed stepping onboard by the attention to detail from the senior executives down to the crew. The benefit of enhanced HEPA filtration and sanitation measures is that it could even mitigate the illnesses we typically hear about on ships, like norovirus.
"It's layers, and layers, and layers of protection," noted Andrea DeMarco, SVP of ESG, investor relations, and corporate communication for NCLH.
Embarkation Woes
But as we've all learned over the past year with canceled plans and delayed packages, patience is still key to ensuring these stringent measures are observed. Due to a reported IT issue and passengers arriving before their designated check-in time, an already long line to receive a mandatory antigen test across from Pier 66 at the Seattle Marriott stretched city blocks. It was roughly a three-hour process that is effective against COVID, but not efficient. The delay in "vacation mode" was met with complimentary wine for all on the first night. However, going forward, check-in will have to be streamlined, especially if it's meant to calm raw return-to-vacation nerves.
Embarkation is an undertaking that is always being improved, even before COVID, with security checks and luggage handling, and additional documentation and nasal swabs only add to the steps. On August 15, Norwegian Gem sailed from the line's gorgeous new terminal in Miami after NCLH won a lawsuit allowing them to require proof of vaccination in Florida. Despite its eye-catching design, "We hope people only spend 10 minutes walking through it," said DeMarco.

Photo: NCL.
Improving Upon an Already Brand-New Ship
Norwegian Encore is the line's newest ship and debuted in November 2019, just four months before the global pandemic shut it down. Still, Sommer noted that the team spent that year-plus out of service improving upon what was already there, tweaking a few design elements, adjusting staffing, and iterating on the menus for the ship's many dining venues. The improvements were part of a larger upgrade program that saw 40 percent of the fleet refurbished, from onboard furnishings to improved emissions.
"Our internal mantra is 'guest first,' Sommer noted, saying that the onboard experience is even better now than it was before March 2020. And any skepticism we might have had about how the ship could exceed high expectations was erased when every one of our expectations was repeatedly surpassed.
The ship is sparkling clean and the spaces are not only well designed but are functional and comfortable, including the highly trafficked Deck 6 lounge near guest services. We received comments from friends who haven't cruised in a while, asking with excitement, "Is this what cruise ships look like these days?" Even the comedy club, which is sometimes overlooked, was adorned with touching and stylish black-and-white portraits of comedians like Rita Wilson and Robin Williams.
When it comes to cuisine, you expect the for-fee fine dining restaurants to stand out, like Le Bistro or Ocean Blue, but we were not expecting to be wowed by everything from the $9 fried chicken platter at the American Diner to the complimentary meals in Taste and Savor main dining rooms. One afternoon for lunch, we indulged in Italian wedding soup, scallops au gratin (served like escargot), beef moussaka, and a chocolate-orange cheesecake. It was easily a $60 meal on land, enjoyed free of charge, and complete with idyllic sea day views of dolphins jumping alongside the ship.
Luxuries we once took for granted, like joining a friend for a drink at the bar, or patronizing a theater or live music venue, became marquee experiences and were relished by fellow passengers with gusto. There were the couples who danced to Latin tunes every night at SugarCane Mojito Bar as well as the couple who welcomed each day with Champagne at sunrise in the Observation Lounge (a stunning space, especially for an Alaska sailing). It didn't hurt that the ship's cocktail program blew it out of the water with high-end tipples at A-List, sustainable cocktails at the somewhat hidden Sail & Sustain Bar on the Waterfront, and possibly our favorite drink of any cruise to date: the smoked peach margarita (on tap!) at Q Texas Smokehouse.
Without Kids, Adults Could Be Kids and Teens Could Be Adults
Looking around Encore, there are so many great amenities geared toward kids — laser tag, go-karts, waterslides, and a VR arcade — but no kids. The cruise line admits it is a big sacrifice to not allow children on board (currently anyone under the age of 12 is not eligible to be vaccinated against COVID-19). However, until that 100 percent vaccination can be reached, it's not an ideal environment for kids on NCL. Ostroff estimates that later this fall, it's likely that a vaccine could be available for children ages 6 to 12.
Still, any vaccinated child 12 and older were welcome onboard, and those that had the golden vaccine card seemed to have free reign of the ship. Our best guess is that the kid and teen clubs were not running at capacity with the reduced number of minors. From the adults-only (18 and older) Mandara Spa thermal suite to the late-night dance parties in The Social nightclub, we found teens and tweens taking advantage of every activity. Which was heartening after the tough past year of virtual learning and social distancing, with the exception that no one wants to be grooving in the club or unwinding in the jacuzzi next to an 8th grader.
The age limitations still haven't stopped the momentum of the Great Cruise Comeback. Walking through the lobby on the first sea day, the signature hustle and bustle that's unique to cruising but has been missing from most of our lives for the past 17 months, was seen and felt. And kids or no kids, it didn't stop the adults from grooving to "Baby Shark" along with the cartoon characters mimicking dance moves on the big screen. It was silly, it was lighthearted, and you could see these first Norwegian passengers smiling and shaking off — even briefly — the long-cast shadow of the pandemic.