Pre-Cruise COVID-19 Testing: We Test Three Options
by Dori Saltzman /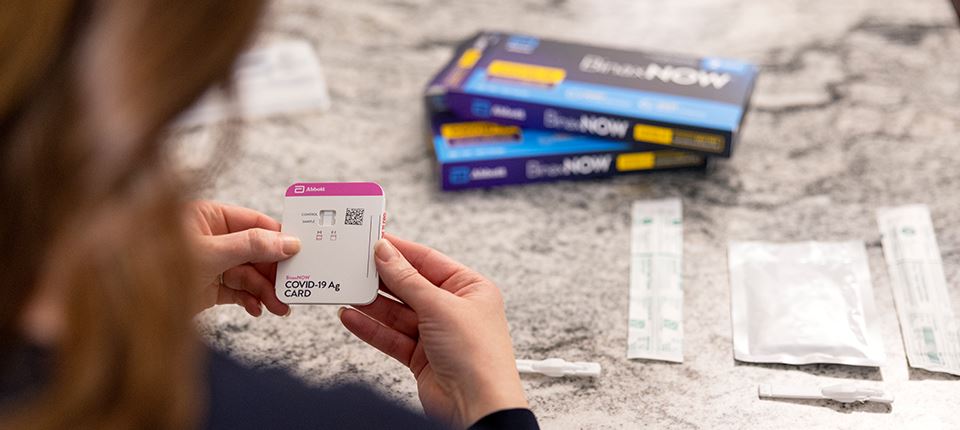 Your clients are booked on a cruise departing soon. They're vaccinated but need to present a negative COVID-19 test taken within 48 hours of departure in order to get on their ship. They reach out to you for advice. What do you tell them?
To help travel advisors sort through the choices, Travel Market Report contributor Dori Saltzman took three COVID tests before a recent Carnival cruise to determine which ones make the grade.
Two tests were administered on the Thursday before her Saturday cruise. One was done on Friday.
She had the results she needed from two of the three tests by the time she arrived at check-in.
Here's how it went.
When sailing Carnival, cruisers have three general choices.
Figure it out on your own.
Book a test with Quest Diagnostics via a link provided by Carnival.
Use the at-home Abbott BinaxNOW™ COVID-19 with eMed Telehealth Services kit that most cruise lines accept.
Figure It Out on Your Own – Walgreens PCR Test
For the past year, Walgreens has been my go-to for drive-through COVID testing. But Walgreens is far from the only pharmacy that offers this service. Most pharmacies with a drive-through provide monitored self-testing. You can get tested at Walgreens, CVS, Walmart, Rite-Aid, and many others.
Many urgent care centers also offer testing. In many cases, you may even be able to have it done at your doctor's office.
The choices at Walgreens are rapid PCR, regular PCR, and rapid antigen test, but cruise lines (per the CDC) only accept results from the latter two.
Because I've previously had to wait three to four days to get the results of a regular PCR test, I wanted to do a rapid antigen test. But the nearest Walgreens with appointments for that test was 45 minutes away. I chose instead to do a regular PCR test and made an appointment in the morning two days before my sailing.
When counting the days, do not include the day you sail. For example, our cruise departed on a Saturday. Two days before was Thursday.
I took the test at approximately 9:30 a.m. Thursday morning. I received my results after 5 p.m. on Saturday… after we'd already departed the port.
Grade: FAIL
Quest PCR Test
Carnival Corp. announced a partnership with Quest in September that it said was designed to help cruisers more easily get a test within the two days required by the CDC. But figuring out how to make the appointment wasn't as easy as I had anticipated. I thought we were supposed to get an e-mail with a link. When one didn't come within a week of sailing, I began browsing the Carnival website to see if I could find it. I took a little clicking around but I eventually found the link buried in the line's Return to Service FAQ – Vaccinated Voyages page.
Quest offers PCR tests and rapid antigen tests. Because I knew I'd be doing the 15-minute at-home antigen test. And because Quest claims it takes no more than two days to get results, I decided to do the PCR and test their claim.
My test (also self-administered) was at approximately 1:15 p.m. on Thursday. I got an e-mail with a link to my results at 5:41 p.m. on Friday. That's less than 30 hours, and well before I needed them on Saturday.
The test cost me nothing, but that might vary be insurance carrier. Best to have your client call and ask after making an appointment.
Grade: PASS
At-Home Abbott BinaxNOW™ COVID-19 w/eMed Telehealth Services Kit
After my experience with this kit for my Carnival cruise, I'm sold on it. I'll be using it exclusively for any upcoming cruises.
But. It does cost money ($66 for two tests). And, it takes some technological know-how to use. Both things travel advisors should be aware of if recommending this option to their clients.
Your clients will need a computer that has a video camera and a strong Internet connection. Additionally, they must be able to tilt the video camera (or the device it's embedded into) in various directions. A steady hand is also an asset, as the process requires squeezing six drops out of a tiny bottle onto a specific spot on the test.
A note on the box indicates you need to download the app, then scan the barcode on the box when you want to do your test. If you plan on using a laptop or tablet, you don't need the app. It's handy for showing your results at the port, but it's not a requirement. You can just as easily print the results instead.
Clients should allow at least three days for shipping of the tests. We ordered our kit on a Friday and received it the Monday before our Saturday cruise.
The process is pretty simple and a proctor walks you through most of them. The test works a bit like a pregnancy test in that much of the process is waiting for the result to display in the little window of the test. One line means you're negative for COVID-19. Two lines mean you've tested positive. Your results are emailed to you and entered into your online account within 10 minutes of the proctor verifying them.
I took my test Friday morning around 10. By 10:30 I was all set with everything I needed to sail the next day.
Grade: PASS