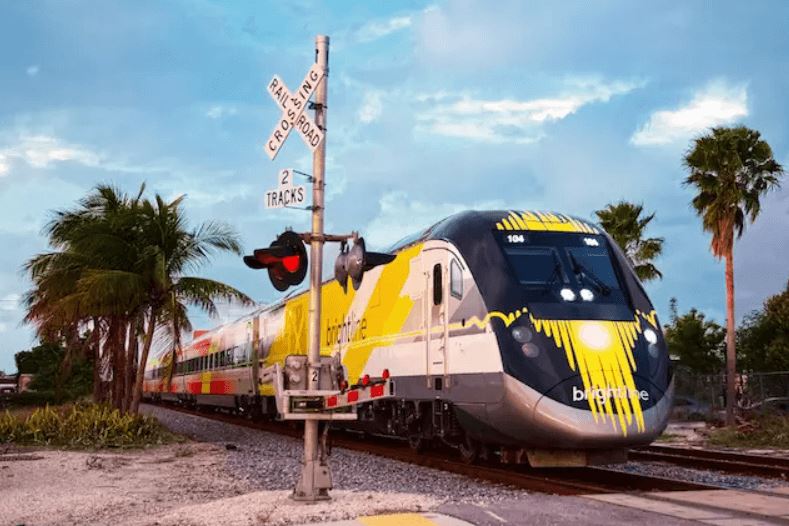 What at first glance might seem a service only for South and Central Florida residents to get between Miami, Fort Lauderdale, and Orlando, can be an excellent opportunity for travel advisors sending clients to the region for cruises, beach holidays, or Disney and Universal Studios vacations.
"We know the problem we can solve for the trade," said Gabriel Martinez, vice president of distribution and channel sales, for Brightline during an exclusive interview with Travel Market Report last month in Fort Lauderdale. "It will be extremely easy to have time in Orlando and then cruise out of Port Everglades. It'll be super easy to land in Miami and spend days on the beach and then go to the theme parks… It'll never be easier to do those land and sea combinations or Orlando and beach combinations."
He also believes Brightline can make it easier for advisors to convince clients to extend their trips, not just break up trips already planned.
"It doesn't have to be a five-night vacation, make it a 10-night vacation. My hope is not that we take those five-night vacations and split them in half. My hope is that we manage to lengthen people's vacations and the way they travel," he said.
Painting the Picture for Clients
Because North Americans, particularly in the U.S., are not used to train travel beyond commuting, Martinez said, the rail operator needs help getting the message out that Brightline makes these combo vacations possible.
And, that Brightline isn't like any train they've been on before.
Anyone who has traveled around Europe gets it, he added. People train from city to city or country to country all the time. It's a concept that most travel advisors understand, and, they, in turn, can help their clients understand.
"That is one of the things that the trade can help us explain… One hundred percent, we need the trade to make this work," he told TMR. "We know the importance of the travel trade."
One thing Martinez said he wants advisors to understand is that Brightline is different in every way, from both commuter trains and Amtrak. He invites advisors visiting South Florida to reach out for a tour and FAM trip onboard.
"It's not just another train. From the moment you get to the station, the design that's gone into it, the colors, the scent, the attention to detail, all of it makes it a different product... We're open to FAMS because once you see it, it is different."
Laying the Groundwork for Advisor Sales
But Martinez is the first to admit, they're not quite ready for a full partnership with advisors. For one, Brightline can't pay commission yet. It just doesn't have the technology to allow for it.
What Brightline offers now is a "Band Aid solution," he said.
For the moment, travel advisors can register at gobrightline.com/travel-agent and sign up. Brightline will then send a discount code.
"A lot of our agents have been passing on the discount [to clients] saying, this is a benefit of booking through me. Some will include a service fee in the entirely of their sale. Some just give it to their clients and say, book yourself, have fun."
All of this should be finished by sometime this summer, with new technology in place to provide commissions instead of a discount, Martinez said.
Currently, he added, Brightline has a database of some 1,000 advisors. All of them will be automatically transferred to the new system, with just a little bit of extra input required (W9s, for instance).
"By updating their profile, we'll be able to tell, this is a travel agent booking. It's entitled to a commission."
Also sometime this summer, possibly July to coincide with the start of the Orlando service, Martinez plans to bring a trade-facing sales rep onboard.
Some Brightline Basics
Currently Brightline runs between Miami, Aventura, Fort Lauderdale, Boca Raton, and West Palm Beach. During rush hour, the trains are packed with commutes, so travel advisors should be wary of trying to book clients on the train during those hours.
Service to Orlando is expected to start sometime in July. Travel time for that service will be three hours and 15 minutes from Miami, two and a half hours from Fort Lauderdale, and an hour and 50 minutes from West Palm Beach.
The rates for the Miami to Orlando service will start at $79 per person, per way for the most stripped-down SMART fare, which is non-refundable, can't be changed and doesn't include a seat assignment. Fares for PREMIUM class, which gives riders access to a lounge and food and beverage, will start around $149 each way. On the shorter Miami to West Palm Beach routes, snacks are provided. On the Orlando service, a meal will be provided in PREMIUM class.
Expansion Projects Underway
With the Orlando service just months away from starting, Brightline already has its sights set on the future.
The line just got approval in San Bernardino County to start building its first station on the West Coast, with plans to connect Southern California with Las Vegas the ultimate goal.
In Florida, Brightline will be expanding its Orlando service to "the Convention Center/Universal/North I-Drive area," Martinez said, as well as somewhere close to Disney, and eventually all the way to Tampa. Those are long-term plans, he added, because the tracks for all of that will need to be laid, in addition to building stations.