Mandarin Oriental London Hyde Park Seeing Big Demand for Reopening
by Mary Gostelow /

Mandarin Oriental London Hyde Park still does not have a re-opening date, says GM Amanda Hyndman, but reservations are already piling in for future months. This is, after all, the only London hotel that is not only right next to Hyde Park but its rear (north-facing) entrance leads directly into it.
Amanda Hyndman confirms that the hotel's enhanced wellness offering will include personal training sessions, and yoga and other disciplines, in the Park – weather permitting, of course. She is also working on extending the hotel's food offerings to outside, again, weather allowing.
This is a hotel with history, built as a lodging for gentlemen in 1890. It is also smack up to date, with interiors throughout by Joyce Wang, who coincidentally has just been awarded the coveted AHEAD design award, The Americas, for the Equinox club she has done at Equinox Hotel New York.
Mandarin Oriental London Hyde Park has 190 keys, of which 40 are suites. Exactly half the rooms and suites face 'town', directly into Knightsbridge. The other half are 'country', looking into Hyde Park. The higher you go up the total nine floors, the more strategic the view, and for real fitness enthusiasts who want to eschew elevators there is a classic staircase all the way to the top.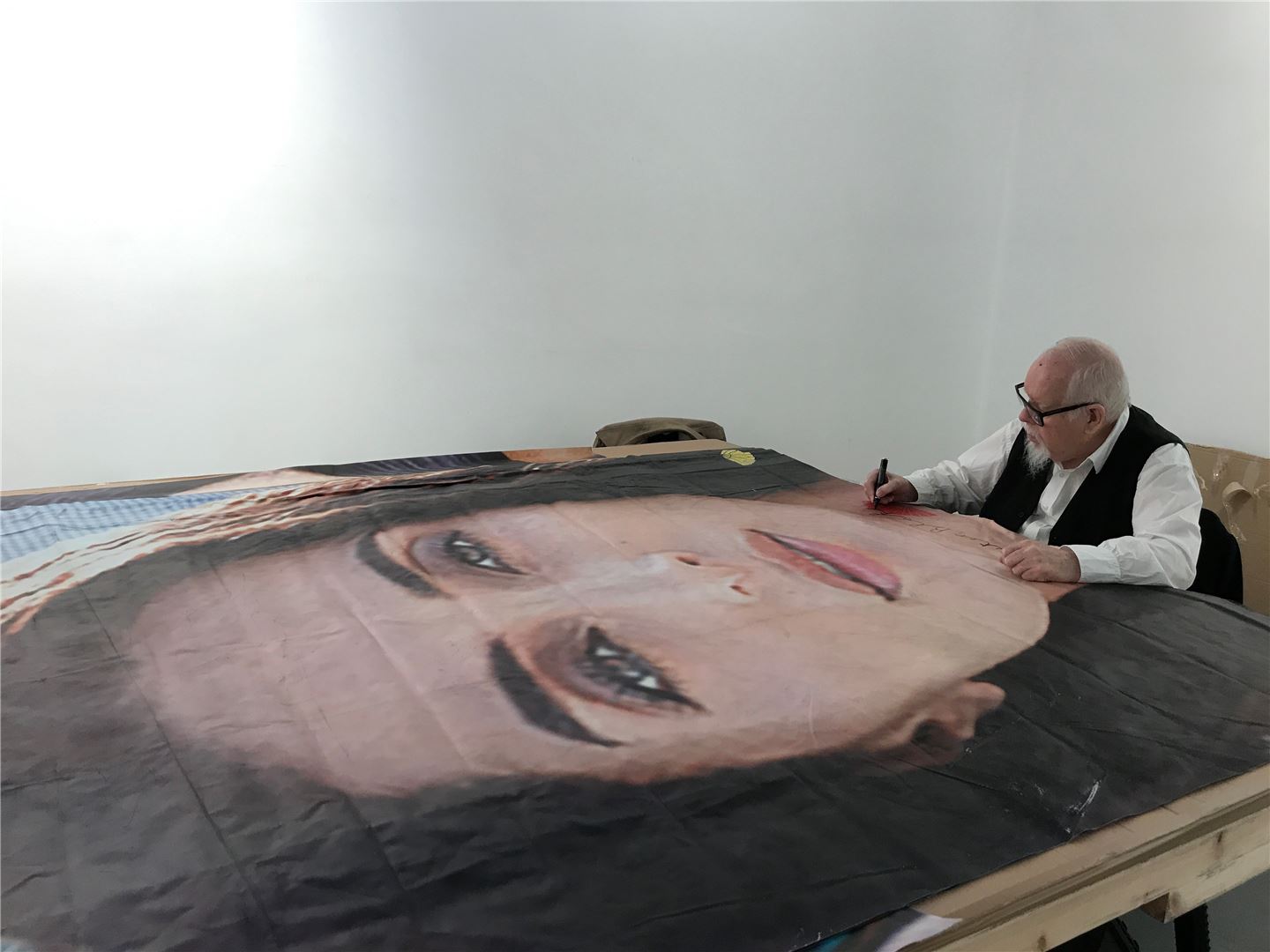 Sir Peter Baker signign the collage.
During the hotel's closure for its complete upgrade, the south-facing façade was covered by a bespoke mural the size of 38 double-decker London buses showing 100 loyal guest regulars. The fabric-backed collage, by Sir Peter Blake, attracted enormous publicity by gaining 14 million social accounts worldwide, and being voted the 'Best Creative in the World' by the readers of The Drum, Europe's largest marketing publication. But what subsequently happened to it? Last Friday, 12 June 2020, it re-emerged, to be cut into 100 pieces, each signed by the artist. Here is Dame Helen Mirren, Morgan Freeman, Annie Lennox, Bryan Ferry – and the two living Beatles, Sir Paul McCartney and Ringo Starr. Each piece is about 38 x 75 inches.
LONDON Advertising CEO and Founder, Michael Moszynski, who in fact created 'the Fan campaign' for Mandarin Oriental Hotel Group 21 years ago, had had the idea for the cover-up mural. It was he who brought it out again last week, and he, in collaboration with Mandarin Oriental Hotel Group, has launched an online auction of the 100 'Fans' which will benefit COVID-19 Solidarity Response Fund for WHO powered by the United Nations Foundation and Swiss Philanthropy Foundation and The Felix Project. Specialist art online auction house Bidsquare is running this auction until midnight London time on June 26th, 2020.