On a Lark: What Advisors Should Know About Lark Hotels
by Laurie Wilson /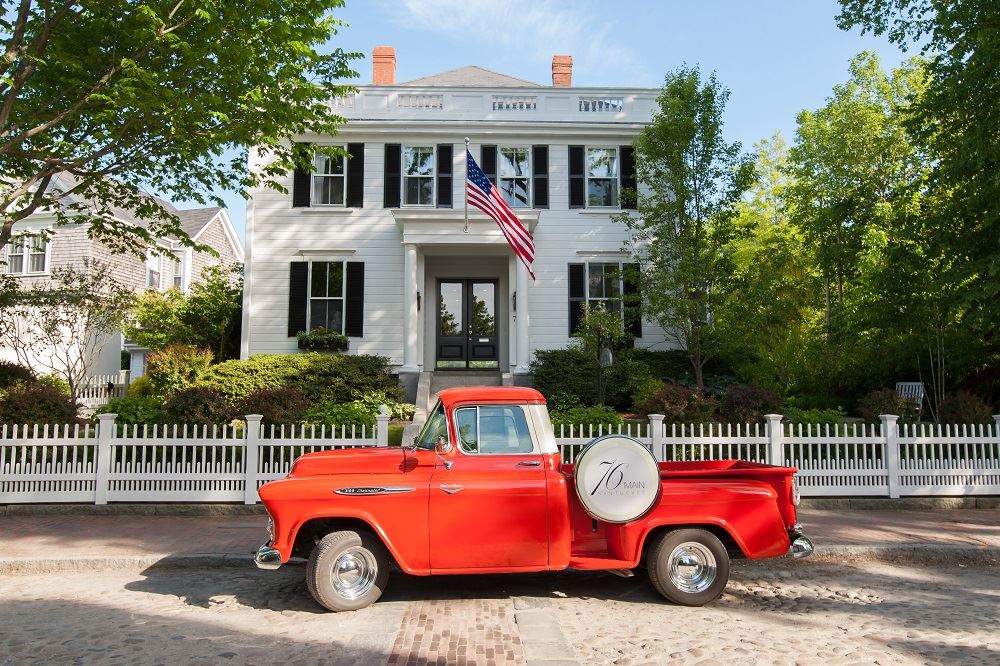 In 2008, Rob Blood purchased his first property, the Captain Fairfield Inn in Kennebunkport, Maine. Four years later, in 2012, he founded and debuted Amesbury, Massachusetts-based Lark Hotels and since then, the brand of "experiential, design-driven independent-spirited" hotels has grown to 22 properties (including the original Captain Fairfield Inn) and has become an impressive force in New England's booming hospitality industry.
Lark has an enviable presence in Massachusetts, New Hampshire, Maine, Rhode Island, Vermont—and one property in Carmel, California. Each of the properties is uber local, eye candy, and curated to surprise guests with an unexpected sense of place.
"We started Lark with the notion that the long-standing tradition of hospitality in small New England hotels could use a bit of modernization," says Blood "In my travels, I often felt, when staying at an inn, bed, and breakfast or a small hotel, that my stay was for the benefit of the innkeeper and their house rules—quiet hours, communal breakfast…. The foundational pillar of a Lark stay is that a guest should be able to experience a stay on their own terms, not in a way that we prescribe for them."
And most of the properties are located in historic towns and villages or stunning settings. Take, for instance, Blue—Inn on the Beach, located steps from the Atlantic Ocean on Plum Island in Newbury, Massachusetts.
Plum Island is an unpretentious barrier island, 11-mile stretch of sand, ocean sunrises, and sunsets. Located just an hour north of Boston, it's also a sought-out getaway for more than 300 birds that migrate to the Parker River Wildlife Refuge here, a nearly 7,000-acre expanse of beach, dunes, and salt marsh.
Blue—Inn on the Beach is the island's only hotel, surrounded by million-dollar oceanfront homes and weathered beach cottages. Shades of blue pop here and there in the whimsically-furnished hotel — including cobalt blue glass pebble paths. The oceanfront Blue Suite, a 2,200-square-foot space, has direct access to the beach and a wood fireplace, and the ocean-view Lark Suite features expansive wrap-around windows. Beach cottages have lounging decks (the cottages are across a narrow street from the beach), and some have wood fireplaces.
Curated, complimentary breakfast baskets (fruit salad, juices, yogurt, overnight oats, and baked eggs) are delivered each morning to guest rooms, which also have Keurig coffee makers. And bicycles are also available to guests to explore the island and wildlife refuge.

AWOL Kennebunkport. Photo: Lark Hotels
AWOL
Lark has also diversified its portfolio to include new brands, including AWOL. There are two AWOL properties—Provincetown, Massachusetts and Kennebunkport, Maine with another to open in Stowe, Vermont in the fall.
"AWOL was created to celebrate the confluence of nature and architecture and allow them to blend seamlessly to create an environment where guests can enjoy quiet solitude or join in the energy of the collective," says Blood. "The design of the brand is meant to eschew the expected and to embrace the possibility."
Location is especially key to the AWOL concept, "We also want to give our guests the opportunity to feel like they are secluded yet at the same time close to all of the action," says Blood. "The properties are no more than a ten-minute bike ride from the town's center but are tucked into highly natural settings."
AWOL is a bit undone, says Blood, stripped down to intentionally invite the natural surroundings to be the hero. "Nearly every room has private indoor and outdoor space, and, in Provincetown, first-floor guest rooms open to private patios that overlook the dunes. In Kennebunkport, each cabin suite has a private patio with its own fire pit.

Bluebird Sunapee. Photo: Lark Hotels
Bluebird
And then, there's Bluebird, a separate brand of Lark.
"Bluebird is all about getting out on the road and experiencing the joy of the journey," says Blood. "The midscale brand allows for guests to experience great locations, elevated design, and genuine hospitality at an accessible price point." There are nine Bluebird properties, in New York, Maine, New Hampshire, Vermont, and Massachusetts.
Each Bluebird is a renovation of a purpose-built hospitality property—often a motel or lodge that has lost its shine, says Blood. "The brand is designed with families, groups of friends, and adventurous souls in mind."
Each Brand Delivers What Guests Desire
"We talk about psychographics more than demographic because we find that our travelers often defy standard demographics," says Blood. And Lark guests tend to put a premium on immersive travel experiences, he says.
For the Lark properties: "They want small, highly-curated properties in the heart of iconic destinations. At the same time, they want to make sure they have access to the conveniences of a hotel stay, rather than an unhosted short-term rental. They appreciate good design and approachable (unpretentious) service." Lark travelers are most often couples, says Blood, not groups or families. "This is largely because our guest rooms, being in historic buildings, can often only accommodate one king bed."
Bluebird is for the road tripper, says Blood, the girls' mountain biking trip or a group ski trip. "These guests pile in with their gear, their strollers and lots of road trip snacks and want to be nature adjacent, and have natural amenities like the beach and hiking trails nearby. Form and function matter to these guests and they don't care if they have a bathrobe, slippers, and an umbrella in the room but good coffee and a cold beer are important bookends to the day."
AWOL attracts guests who come unapologetically as they are, and want both the opportunity to connect with themselves and with others, says Blood. They appreciate nature, want to experience nature and they want to then return to a plush sanctuary, he says. "They view AWOL as a place to recharge—that could be from serenity or from an impromptu pool party with a group of new friends."

Summercamp. Photo: Lark Hotels
The Future
"We feel confident that the pandemic created a psychological shift in our demographic that caused people to place a higher premium on experience over product," says Blood. "Since we're in the business of providing experiences, this is a good thing for us. Even with many factors pointing toward an economic slowdown, we believe that travel has become a nonnegotiable for many and that they will sacrifice in other areas to continue to adventure."
While the main focus is on growing and nurturing Lark's existing brands and third-party management arm, there are other segments in the hospitality industry that are intriguing, he says. "Over the last couple of years we have had some conversations about supporting groups that are working on elevating the campground resort experience or creating landscape resorts," says Blood.
In terms of where things are headed overall in the travel industry—experience will trump product, independence will prevail over big brands (or continue to inspire the big boxes) and money will continue to be invested in drive-to-leisure markets in ways that it never was before COVID, says Blood.
In the near future, across the Lark portfolio, the company is seeing strong summer shoulders starting to take hold and the summer season looks to be shaping up well, says Peter Twachtman, CEO. "As we expected, there was a little 'return to normal' and the frantic pre-sale we saw in the winter of 2021 and 2022 has lessened a bit with more normalized bookings being spread out through the spring for the summer season."
And, the company is appreciative of its travel advisor relationship. "We're always happy to work with travel agents as part of a group or as individuals," says Twachtman. "We recognize that teaming up with agents allows us to have a relationship with providers that ultimately have qualified the traveler/guest. Many agents have relationships directly with the properties we manage and call to book for their clients—we do pay commissions."