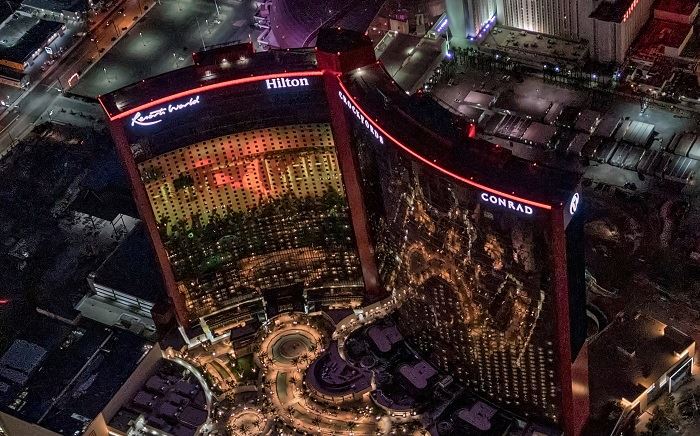 Resorts World Las Vegas, the first ground-up resort development on the Las Vegas Strip in more than a decade, will officially open its doors on June 24, 2021.
Resorts World Las Vegas will offer 3,500 luxury guest rooms and suites across three Hilton brands – the largest multi-brand deal in Hilton's history – including the largest Conrad Hotels & Resorts property in the world, one of the first LXR Hotels & Resorts locations in the U.S., and a marquee Hilton Hotels & Resorts hotel.
Each brand will have its own entrance, lobby, and distinct selection of guest rooms and suites.
Las Vegas Hilton at Resorts World will feature 1,774 full-service guest rooms and suites ranging from 400 to 3,300 square feet.
Conrad Las Vegas at Resorts World will offer 1,496 contemporary guest rooms and suites ranging from 550 to 2,800 square feet, boasting luxe amenities and a curated art program.
Crockfords Las Vegas, LXR Hotels & Resorts will showcase an intimate collection of 236 ultra-luxury guest rooms and suites ranging from 550 to 7,000 square feet that will feature lavish accommodations, upscale amenities, and highly personalized service.
The resort will house 40 food and beverage options; a 5,000-capacity concert and entertainment venue for concerts, conventions, corporate and sporting events; approximately 70,000 square feet of dedicated retail space; and an entertainment complex with concepts including Zouk Nightclub and AYU Dayclub.
The resort will offer additional amenities including an expansive 5.5-acre pool complex – the largest pool deck in Las Vegas – featuring seven unique pool experiences including the only infinity-edge pool on the Strip, as well as a 27,000-square-foot, world-class spa experience.
In addition to 250,000 square feet of flexible meeting and banquet space, Resorts World Las Vegas will also feature the first passenger station and tunnel to connect to the Las Vegas Convention Center (LVCC) via an innovative underground transportation system. Convention-goers will swiftly be transported between the resort and the LVCC via all-electric vehicles in minutes.
The opening comes as Las Vegas welcomes signs of recovery to its travel and tourism sector. A number of positive trends have emerged in recent weeks, with resort foot traffic and occupancy rates closing in on pre-pandemic levels.
Experts say they are bullish on a speedy recovery in Las Vegas. Las Vegas occupancy rates are hovering around 95 percent on the weekends, according to a report from Morgan Stanley. Midweek occupancy rates are 50 to 60 percent, a major improvement from 30 percent in February.