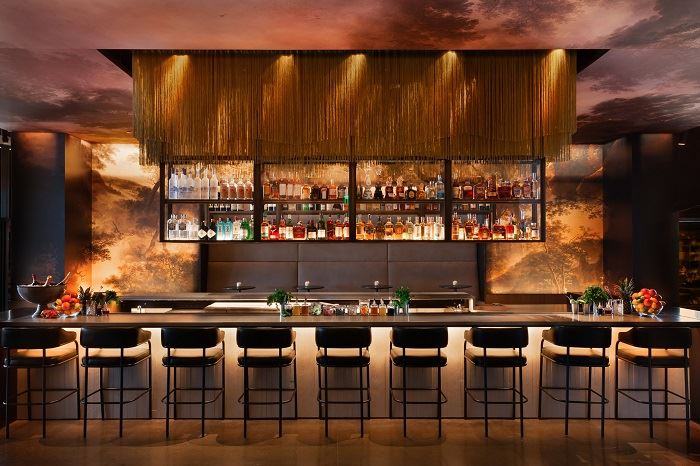 The newest Music City hotel is open.
W Hotels on Wednesday officially opened the doors to W Nashville, the brand's newest property set in the city's upscale Gulch neighborhood.
The hotel sits in a 14-story, mirrored tower with six different street-level entrances that make the hotel, according to W Hotels, feel like it is a part of the neighborhood, rather than just in the neighborhood.
It features 286 guest rooms and 60 suites, the most of any single Nashville hotel. The suite offerings include two WOW (Presidential Suites) that feature balconies overhead views of the hotel's WET Deck, a music booth, dining area, lounge, and pantry kitchen.
All guestrooms feature artwork from Brooklyn-based studio FAILE, pop art-inspired pieces that celebrate Nashville's history as the Music City.
W Nashville is also debuting with the first-of-its-kind concept for W, the Welcome Den. A lounge that is only accessible by room key, the Welcome Den invites guests in to take a work call or enjoy a specially crafted beverage.
Elsewhere on property, the WET DECK, the largest hotel pool area in Nashville, will include a 2,000 square foot, L-shaped pool with private cabanas and views of the neighborhood. A short walk from that is a yoga lawn and the entrance to FIT, a fitness center that "sits right in the heart of the action, making fitness a social activity."
The WET DECK includes a bar, one of seven eating and drinking options on property. For coffee-lovers, there is Barista Parlor that delivers right to guest rooms, along with Living Room, a lounge with a bar adjacent to an indoor/outdoor event space called Sound Room.
Another standout from the selections is Proof, a rooftop bar that sits atop the 14th floor and is adorned with Jim Marshall prints and an outdoor terrace that offers a 360-degree view of the city.
The Dutch, an-all day dining venue serving American comfort food and Carne Mare, an evening-only Italian chophouse eatery, round out the selections.
For MICE, W Nashville offers over 24,000 square feet of meetings and event space.
W Nashville's opening follows news from last month that the brand was also coming to Florence.