ASTA Rebrands Annual Convention to Launch Travel Advisor Conference
by Briana Bonfiglio /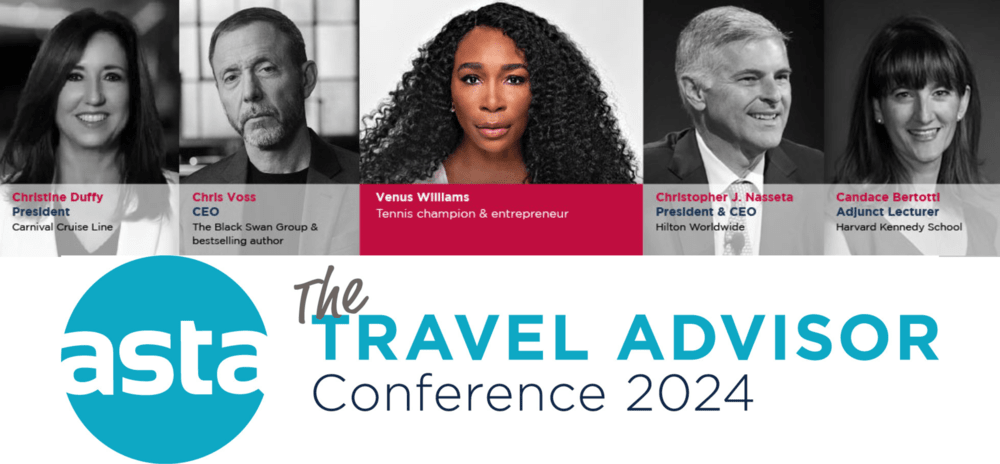 The American Society of Travel Advisors (ASTA) is rebranding its annual Global Convention – the event is now called the ASTA Travel Advisor Conference and will focus on teaching business skills.
Next year's ASTA Travel Advisor Conference will be held at the Hilton Anatole in Dallas, Texas from May 29 to 31, 2024, with entrepreneur and world-famous pro tennis player Venus Williams as the keynote speaker.
"We took a look at our annual event and knew that a sharper focus on business skills and growth would provide value for our members and the industry as a whole," said ASTA president and CEO Zane Kerby. "I'm excited for next year's event in Dallas, and I know that the advisors who attend will leave knowing how to take their businesses to the next level."
In addition to Williams, speakers will include Chris Voss, a former lead negotiator for the FBI; Christine Duffy, president of Carnival Cruise Line; and Chris Nassetta, president and CEO of Hilton. There will also be business professors from Harvard, UCLA, and Arizona State, as well as speakers from TED and the Small Business Development Center.
The four-day event will feature educational sessions for advisors split up into three categories: "Cultivating," "Accelerating," and "Innovating," offering tiered opportunities for advisors at any point in their careers. For the first time, ASTA will offer on-site courses that can count as credit toward an advisor's Verified Travel Certification.
"Why 'The ASTA Travel Advisor Conference'? The name communicates exactly who the conference is for and reiterates our commitment to professional development regardless of experience level," Kerby added.
Attendees who have already registered for the Global Convention are automatically signed up for the rebranded Travel Advisor Conference. Advisors can still register at traveladvisorconference.org.