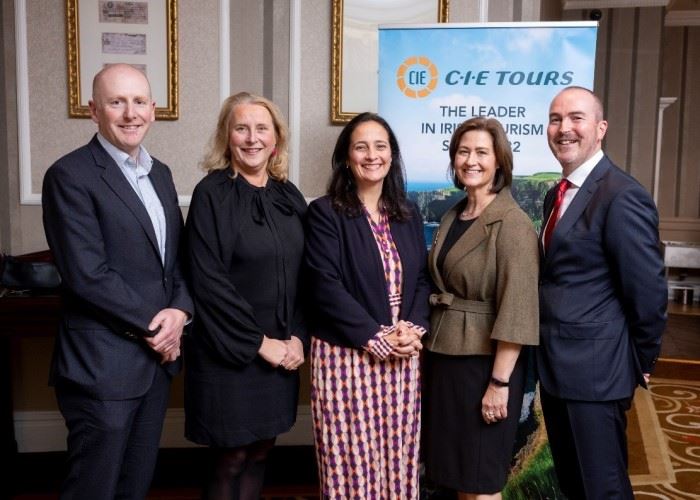 CIE Tours capped off a year of 90th anniversary celebrations earlier this month during a reception in Dublin. Ireland's Minister of Tourism was on hand for the celebrations, along with some 150 attendees, including hoteliers, attraction partners, DMO leaders, and representatives from the Irish government. (
Although a U.S.-operated tour operator, CIE Tours is a wholly owned subsidiary of holding company CIE Group, the Irish government's national transport company. Over the company's 90-year history, it has brought more than three million tourists to Ireland from North America.
A highlight of the evening was a video message from Ireland's Prime Minister (or Taoiseach), Micheal Martin. In his congratulatory remarks, the Taoiseach recognized CIE Tours' contribution to Ireland's tourism economy, including support of employment in rural areas by taking visitors to all corners of the country.
"You have also played an important role in sustaining the special link between Ireland and America over many, many decades," he said. "With nine decades of experience and strongest satisfaction, I am confident that CIE Tours will continue to grow from strength to strength."
"It has been an honor and truly gratifying to be supported and congratulated by so many tourism partners and government dignitaries," said Elizabeth Crabill, CEO of CIE Tours. "CIE Tours is committed to the growth and sustainability of Ireland tourism."