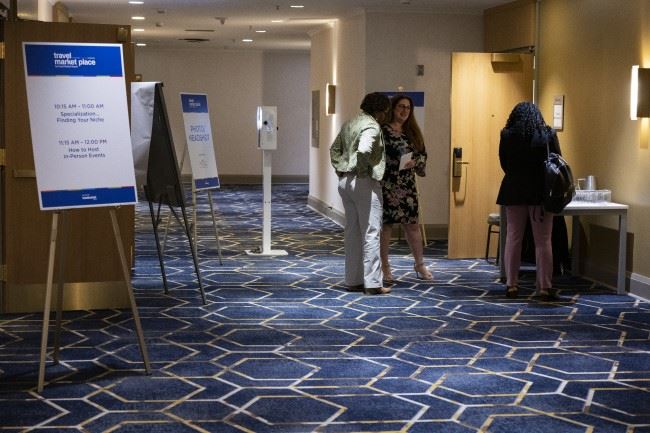 In-person cruise nights or themed travel events are a great way to drum up excitement and drive bookings. For advisors who have never done a live event before, the concept might be intimidating. It doesn't have to be, said Marilisa De Simone, director of business development for Carnival Cruise Line at last month's Travel Market Place East conference in Toronto.
De Simone, who helps travel advisors throughout Canada with live cruise nights, offered several tips for how to host a successful live event.
1. Don't Go It Alone
Whether you're looking to promote a cruise line, overall destination, all-inclusive resort or group trip, there are sales reps from your partner suppliers that can and will help.
Never be afraid to reach out to your business development manager (BDM) or a tourism representative. Not only can you ask for their presence at your event, you can ask for marketing assets, event materials, swag items or prizes, and, sometimes, even financial help. Your BDM may also have ideas for cost-effective event spaces in your area.
Just as important, be sure to ask for a timed booking incentive that you can use at the event to make booking "now" a priority. De Simone said, one to two weeks beyond the date of the event is particularly effective.
Be sure to contact your BDM before you set a date and time for your event. Events at which BDMs or a supplier or destination representative are present are more impactful, De Simone said, so you want to make sure they're available to be at the event. Talk to them at the start of your planning and select a date and time that works for both of you.
You don't have to stick to just one supplier partner either. For instance, if you're promoting Caribbean cruises with a specific cruise line, don't be afraid to also reach out to the tourism boards of the ports of call that are located on those itineraries. They may have their own marketing assets or event goodies they can provide. They might even be able to send a representative to talk about the destination or man a booth.
2. Choose the Right Time for Your Audience
Your audience should determine what time your event is held. Though weekends are typically good for all markets, they don't have to be your only option. For instance, if your audience is primarily a mature, retired market, afternoons are a great time to hold an event. On the other hand, if you sell mostly to families, evening events, not too far past dinner are better. Selling religious travel? Don't do a Sunday brunch event as most of your audience will most likely be at church.
3. Venue Matters
Unless you're lucky enough to have an office space with a large enough meeting area, you're going to have to find a venue for your event.
Most towns have a number of economical event spaces, De Simone said, including libraries, community centers, and religious institutions (particularly if you're selling any type of religious travel). Some art galleries are also open to hosting events, with some only charging a nominal fee.
For larger events for which you might be asking for an entry fee, a restaurant's private room, hotel conference space, or museum can be an option, but these will be more expensive.
When researching event locations, particularly those you might have to pay for, be sure to ask if they can supply audio-visual equipment (microphones, TVs, overhead projectors, etc.) or if you need to provide your own. (If you do have to source your own equipment, talk to your BDM partner as suppliers often have A/V equipment on hand specifically for live events like these.)
While keeping your budget in mind, you can also choose a venue that coincides with your event's theme. A maritime museum can be a great location for a cruise night. A Jamaican restaurant is perfect for a live event promoting a Jamaican all-inclusive.
4. Set a Budget
Every event needs a budget, but you don't have to spend a huge amount, De Simone said. Things you'll likely need to spend money on include food and beverages, decorations, prizes, and, depending on the venue – event space.
"It's not necessary to spend a lot of money," she told advisors. "I've participated in events with travel advisors that just went to the dollar store and picked up some economical decorations and little bags of prizes that were really impactful when the guests were arriving."
Buy snacks and soda on sale or at a bulk store. Get your decorations and prizes from a dollar store. And ask for co-op dollars from your supplier partner. They may even be able to provide all the decorations and prizes themselves.
5. Have a Theme
Having a theme isn't necessary but it can go far in helping set the mood and build excitement. Your theme can be broad – cruise night, first-time cruisers, family travel, etc. – or you can go more specific. A few suggestions from De Simone included casino royale, dessert party, dance party, formal night, tropical paradise, and sea creatures.
Having a theme can bring some of the experience of the actual trip to life. Formal night, for instance, gives clients a taste of formal night on a cruise. Tropical paradise or Cinco de Mayo can bring Caribbean or Mexican ports to life. An Alaska-themed event is perfect to sell group space on an Alaska cruise.
In some cases, your BDM partner might be able to bring branded posters, packaging or stickers to the event. For example, De Simone said she's done events where they put ThirstyFrog Carnival branding on beer bottles and Guy Fieri's wrapping on hamburgers to give clients the feel of being on a Carnival cruise ship.
Themes also help you decide what decorations to choose, what food and drink to serve, what music to play, and even what outfit you wear. De Simone said she's done quite a few Mexican-themed Zoom events to which she always wears a sombrero.
Depending on the theme, you might want entertainment at your event as well. De Simone said she's been to events where they were able to arrange for a Carnival comedian to do a show.
6. Promote, Promote, Promote
The more people who attend your event the better your chance at selling more travel. Also, the more people who attend, the more your BDM's attendance at your event is worth their time. (An event with less than 20 people isn't usually worth your BDM's travel time or expenses, De Simone advised.)
Create different types of marketing assets to reach current and former clients, as well as people new to your agency.
"You don't have to recreate the wheel," De Simone said. "A lot of suppliers already have marketing assets like flyers. We have jpegs. We have beautiful imagery you can download for free."
Be sure to use social media to promote your event, as well as direct marketing including email blasts and newsletters. If you've previously held live events, include photos and videos from past events to promote the new event.
Talk about your upcoming event whenever you're out and about in the community. Ask your spouse and kids to do the same.
You might want to reach out to local businesses as well. Ask them to promote your event to their customers in exchange for putting their name on your event signage. Or offer them a booking incentive for their own personal travel.
Don't stop promoting after the event is over. Send an email blast or newsletter with photos and videos from the event to clients who weren't there and offer them the same incentive. Not everyone will have been able to attend the event, but they might still be interested in the travel.
7. Collect Contact Info Before the Event
Always create a registration link to go with your marketing materials, De Simone said. If you don't have the technical know-how, just use your email address and ask people to contact you to sign up for the event.
Knowing who's coming is important for several reasons.
First, you need to know there will be enough people there to be worth everyone's time... and whatever money you're spending. If only five people sign up ahead of time, you're better off postponing for another time.
Second, knowing how many people are coming helps with planning. If you're going to be serving food and drink, you'll have a better idea how much you need to buy. Same for if you plan to have door prizes or goody bags. (Always plan for a few more people showing up than the number that registered, De Simone added.)
Most importantly, by requiring people to sign up ahead of time, you now have their contact information and can remind them about the event beforehand (and on the day of), and reach out to them afterwards.
8. Use Pied Pipers
As much as we like to think everybody believes everything we say, the truth is most consumers are more swayed by their peers. Having clients on hand that have already been on the cruise or itinerary you're selling, or been to the all-inclusive or European country you're highlighting, will go much farther than just what you or your BDM has to say.
If you're promoting some type of escorted tour, maybe with a chef or sommelier, have them come speak as well.
"They'll do a fantastic job of talking up the experience," De Simone said.
9. Have Booking Forms at the Event
Your clients are more receptive to booking at a live event than at almost any other time, De Simone said. You want to get them while they're hot. Have more booking forms on hand than you think you might need. (Have enough pens, too!)
Your booking forms should have everything spelled out on them: your contact info, all pricing including booking incentive, required deposit amounts and payment timeline, and relevant cancellation policies.
De Simone told advisors at the last live event she was at (her first in-person event in more than two years), about 50 of the 70 people who attended filled out booking forms on the spot.