Other Industry Groups Join ASTA in Pushing for End to International Testing Rule
by Daniel McCarthy /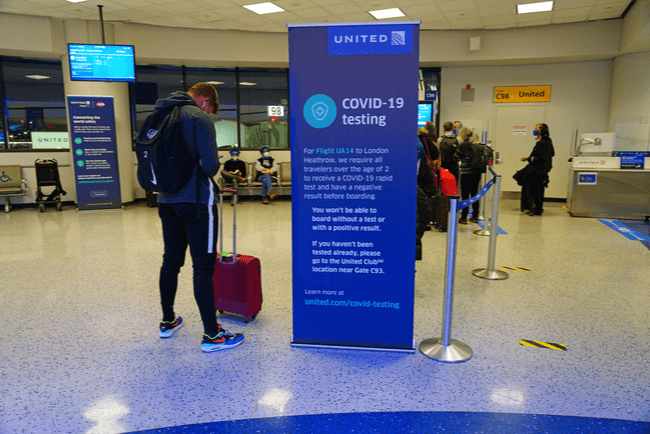 More travel industry groups, including airlines and associations, are pushing the White House to scrap the inbound international testing rule, which they say is standing in a way of the travel industry's recovery.
Airlines for America, the trade group for the major American carriers, along with the U.S. Chamber of Commerce, the International Air Transport Association, the U.S. Travel Association, and more all signed off on a letter to the White House pushing for easier travel rules.
According to the letter, the inbound testing requirement is the "leading factor in the decision not to travel internationally," and a major reason why the international travel recovery continues to lag the domestic recovery (the group says that international air travel was still down 38% over 2019).
"Surveys of air passengers indicate that pre-departure testing is a leading factor in the decision not to travel internationally. People simply are unwilling to take the chance that they will be unable to return to the U.S.," the letter says.
The group says that, as the U.S. COVID-19 levels continue to come down from its January peak, the U.S. should remove the inbound requirement, which forces passengers to get a test within 24-hours of arrival to the U.S.
That requirement, which was previously 72 hours, could be reinstituted easily if new variants appear, the group added.
The letter comes a day after the American Society of Travel Advisors sent its own letter to the White House also calling for the removal of the inbound testing requirement.
The letter, signed by ASTA president and CEO Zane Kerby, highlighted the fact that the testing requirement is a major challenge to both ASTA members and their clients.
"While we understand the rationale behind the inbound testing order, it continues to present a number of practical challenges to our members and their clients," Kerby wrote.
"These challenges range from uncertainty as to the availability of timely testing in-destination to avoid disruption to their return trip to the financial and psychological burdens associated with being prevented from returning home due to a positive (or false positive) test result to a general chilling effect on international bookings," he said.