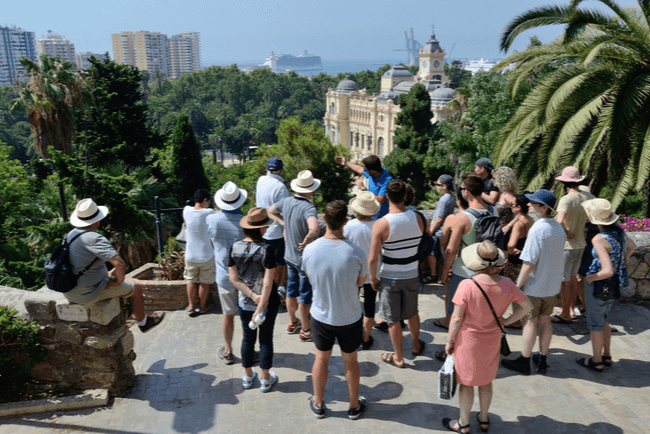 If there is one important message that escorted tour operators can agree on, it is this: There is no better time than during an anxiety-inducing pandemic for travel advisors to recommend an escorted or guided tour to clients who are new to this type of travel.
"There are people who previously may have said, 'Escorted touring, being in a group, that's not really for me.' But now they're looking to escorted touring," said Steve Spivak, vice president, global sales and partner relations, Tauck.
In the midst of a pandemic, formerly independent travelers are finding themselves attracted to the idea of having the care and service of a guide – "not only to make the experience exceptional but also to provide that level of confidence, that watchful eye, to make sure they're getting tested when they need to, following the protocols. People want that level of comfort," Spivak said.
We asked executives from leading escorted tour companies to share their advice for travel advisors looking to sell more of their products. Here's what they said.
Ignite the sales process – now!
"Reach out to clients before the Q1 rush. Suggest a specific itinerary based on what you know about them. When you can be specific, that ignites the sales process. That level of attention to clients makes the difference. That is the personal touch and a differentiator.
"Be confident that client demand is there. The earlier you can get a suggestion in front of someone, the more confident they're going to feel. Advisors that are proactive will see a huge reward if they get ahead of the Q1 rush."
– Cory McGillivray, channel marketing manager, Globus
Stress the benefits of escorted travel
"Guided vacations or escorted tours take away so many of the pain points and worry and stress of travel. We basically take care of the logistics and details. We select hotels, transportation, including some of the meals, the sightseeing. Basically, when they arrive in the destination, we take care of everything.
"During these times, the value of an escorted tour is more pronounced. We take away all the angst of travel. If travel advisors can articulate that to their clients, they have a good chance of getting them on a great trip and earning a phenomenal commission and giving them a phenomenal time."
– Guy Young, USA president, Insight Vacations and Luxury Gold
Fulfill dreams by selling value, not price
"Although budget is an important part of vacation planning and necessary when qualifying the client, it's better to upsell when possible to add more value so clients' expectations will be fulfilled. If you worry too much about the price, the clients might come back and say, 'It wasn't what I imagined.'
"[Say to the client], 'We want you to have the best possible experience. We want to make sure you come home raving about your vacation. It's worth the little additional investment to experience the dream of your lifetime.'"
– Margie Bell, vice president of sales, Central Holidays
Tell it like it is
"The most important thing for travel advisors right now is to be the source of truth for clients. Dispel the myths about what travel is like. Keep people posted about what really is going on in travel right now. People are having the greatest experience. Our guest satisfaction scores in 2021 were as high or higher than ever.
"And remind people there's no time like the present. Unfortunately, what you put off until tomorrow you may not be able to do. We are seeing so much demand, not just Tauck, that we don't want people to put off the experiences they've been dreaming off. Travel now while you can."
– Steve Spivak, vice president, global sales and partner relations, Tauck
Partner with a few select suppliers
"In situations of crisis, it's important to think about who you're trusting to support your travelers should anything happen [not just because of Covid]. There are many tour companies out there. So for travel advisors, it's really who are the select few they trust, that they felt provided the right level of confident service during Covid. Choose the select few you want to get behind.
"If I were a travel advisor, the No. 1 thing I would want to know is what is [the supplier's] waiver policy. That's going to rise to the surface for quite some time."
– Jaclyn Leibl-Cote, president and chief brand officer, Collette