First Look: Spain and Dali Inspire Disney World's Gran Destino Tower
by Jessica Montevago /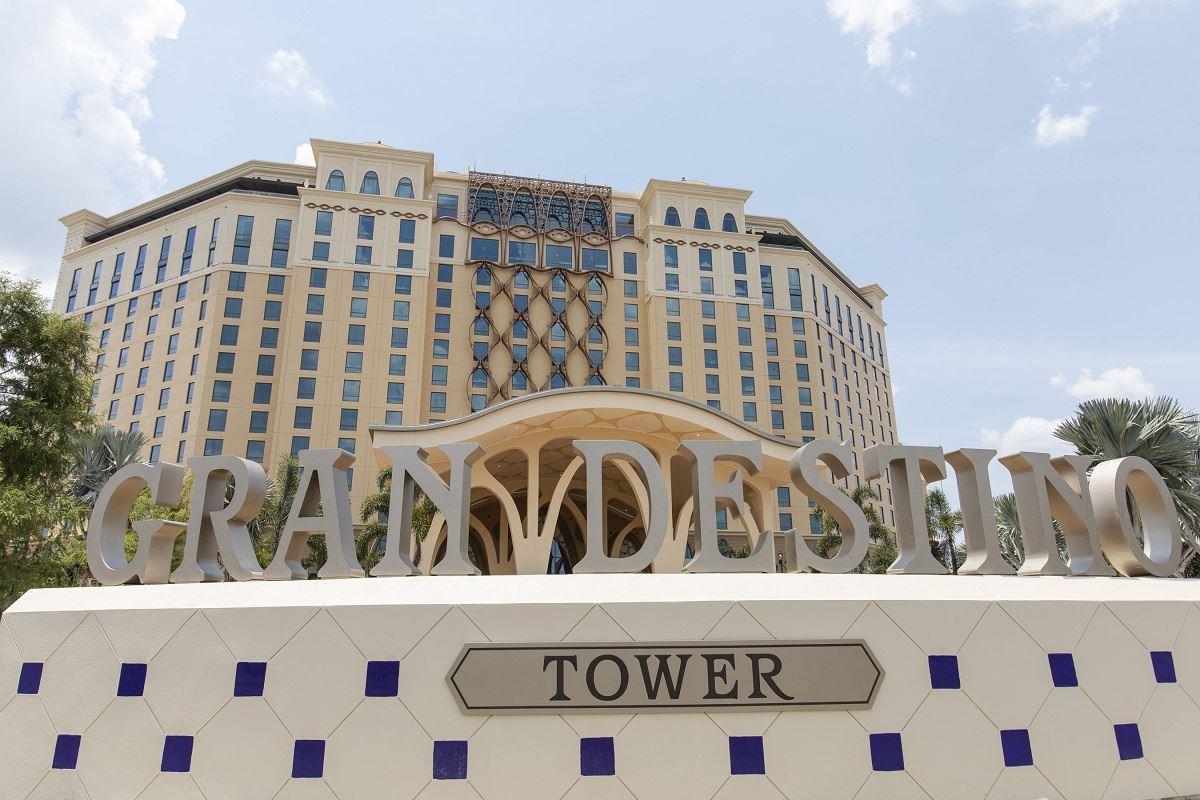 One thing Disney does best is telling stories. After all, that's what the company was built on. Walt Disney World's gift of storytelling is on full display at Gran Destino Tower, a new 15-story tower expansion at Coronado Springs Resort, that opened to the public on Tuesday.
The tower draws inspiration from the Disney short film, "Destino," which was a collaboration of Walt Disney and Salvador Dali in the 1940s; and celebrates the cultures and romance of Spain, Mexico, and the American Southwest through its art, architecture, textiles, design and food.

The Barcelona Lounge features eclectic patterns and colors of Spain.
Artwork of the female lead character, Dalia, hangs in some of the suites; while photos of Disney and Dali together adorn the lounge of the same name. Touches of Dali's artistic style can be found throughout the tower, including its architecture.
The expansive two-story lobby is anchored by an impressive golden light fixture surrounded by four white columns. Hanging bronze lanterns and screens displaying bright patterns illuminate the surrounding registration area, an homage to the Catalan Modernism style. This space will now serve as the check-in area for both tower guests and Coronado Springs guests (the lobby at Coronado Springs will eventually be made into extra networking space or convention check-in). Hotel employees at the entrance have iPads to facilitate the process.

The lobby's jaw-dropping golden light fixture. Photo: Disney

Illuminated screens at registration are inspired by Spanish tile patterns.
At the lower level, the Barcelona Lounge bar is backed with a bright stained-glass mosaic, where guests can get specialty coffees during the day or cocktails at night. Murals, including one of Walt Disney and Mickey Mouse, hang along the surrounding walls.

The city of Barcelona inspired the eclectic patterns and warm colors, including the stained-glass feature wall behind the bar.
With the addition of Gran Destino Tower's 545 guestrooms, Coronado Springs (Disney World's largest convention resort) now boasts a total of 2,385 rooms, marking the largest period of growth for Walt Disney World in over two decades. There are 44 Deluxe Suites, four slightly larger one-bedroom suites, and two Presidential Suites across multiple floors — all with access to the Chronos Club lounge on the 15th floor, where cast members can assist with vacation planning. The Deluxe Suites, which sleep four with a pullout and king bed in the master, can be connected with adjoining rooms for larger families. Depending on the side of the tower, guests either have views of the lake or they can see the fireworks at night from Magic Kingdom.

The Deluxe Suite sleeps four, with the pull out couch seen here.
All guestrooms debut a new interactive TV system, which will eventually roll out to all the resorts. It includes Disney On-Demand (a collection of complementary Disney movies), and can cast a movie or TV show directly onto the TV through a phone or iPad, while still maintaining full capability of the device. If a PhotoPass is linked to the My Disney Experience, guests can view Disney PhotoPass pictures on the television. Other features include hotel services and park hours.

The tower offers sweeping views of Walt Disney World Resort.
To complement Coronado Springs' existing meeting space, the new tower's meeting space has a sophisticated vibe, giving meeting planners options to fulfill their agenda. In the Lantana room, 150 people can sit banquet-style, or it can be divided into three rooms for meetings. Outside, there is a pre-function area and a show kitchen, where guests can enjoy fresh food from the chef during the reception or event. Around the corner is a boardroom with 24 additional seats.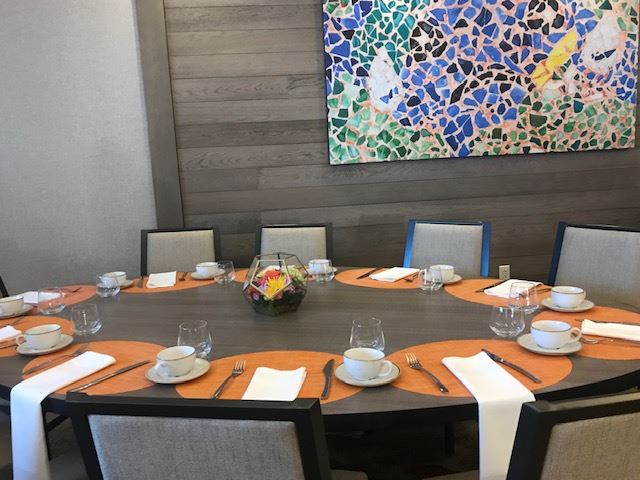 In the Lantana room, 150 people can sit banquet-style.
The resort has always served a mix of seasonal convention guests and leisure guests. Jennifer Brunner, senior manager of marketing strategy, for Walt Disney Parks & Resorts, said, "I think this tower adds a nice complement to be able to accommodate both." The new lounge spaces, for example, can serve as a networking area for business meetings or a spot for park-goers to decompress.
At the top of the tower are the Dahlia Lounge and the Tolédo – Tapas, Steak & Seafood table service restaurant. Both offer expansive views of the surrounding parks, including a glimpse of the soon-to-be-opened Star Wars: Galaxy's Edge black spire and Tower of Terror at Hollywood Studios.

At Tolédo, a pair of large olive trees sit beneath an intricate vaulted ceiling with stained-glass accents.
Inside Tolédo, a colorful ceiling echoes the design of the mosaics and stained glass found throughout the tower's design, slowly changing from red to pink to yellow. The menu ranges from traditional tapas from the Basque region of Spain to entrees of seafood and steak and a Spanish wine list.
At the Dahlia Lounge, light bites are served along with the resort's new signature drink: Destino Gin Tonic, made with Tanqueray Gin and house-made saffron-orange tonic. The lounge is lighter and brighter than the adjacent restaurant, with its hues of blue and gray.

Dandelion chandeliers, metal bell accents and ceiling coffers with swirling patterns all draw inspiration from the restaurant's namesake.
A moderate-level resort, room rates are about $200 per night — a fact that stunned many at the special preview, due to the overall high-end feel of the property.
Guests staying at Gran Destino Tower, like any of the other 29 resort hotels, have access to Extra Magic Hours. Brunner highlighted that, for stays in the fall, there will be additional Extra Magic Hours every day in September and October for the opening of Star Wars: Galaxy's Edge. Hollywood Studios will open three hours early, giving guests not only access to Galaxy's Edge, but to Toy Story Land and other attractions. Magic Kingdom and Disney's Animal Kingdom will also open early every day.

Three Bridges Bar & Grill is a new open-air, waterfront restaurant.
Gran Destino is the centerpiece of the Coronado Springs re-imagination, which also included three new pedestrian bridges over the Lago Dorado; existing guestrooms were updated with new fixtures, furnishings and lighting; and new Three Bridges Bar & Grill at Villa del Lago, an open-air, waterfront restaurant serving entrees and shareable plates along with signature sangria pitchers.