Intrepid Travel Partners with Lonely Planet in Tour Package Collection
by David Cogswell /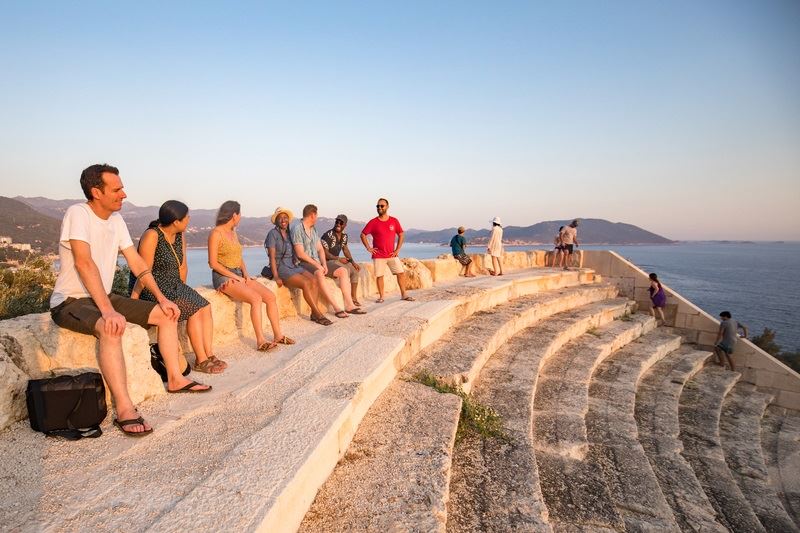 Intrepid Travel, the Melbourne, Australia-based adventure travel pioneer, joined up with travel publisher Lonely Planet to create a new series of co-branded tour packages.
The new Lonely Planet Experiences will debut with a full platter of more than 300 packages, including 200 day tours and 130 multi-day tours, using Intrepid's 27 destination management companies to fulfill the itineraries. They are small group tours with a maximum of 16 guests per departure.
The trips are "designed from the ground up for independent travelers who want the freedom to explore while still having the essentials covered," according to the Intrepid/Lonely Planet website. They are created to "bring Lonely Planet's authority and travel prowess to life by offering an innovative new product that is authentic, immersive and sustainable."
Founded in 1973, Lonely Planet has gathered destination knowledge and insight for more than four decades and sold 145 million travel guide books. Rebecca Law, communications director for Lonely Planet, described the company's contribution to the tour experience in the new tour series, and how it fits into the history of Lonely Planet.
"This is part of the evolution of the company," said Law. "We've always been seen as grassroots travel, adventure travel. We have people on the ground everywhere. We've got a huge network of writers who are living in destination as locals. People have always trusted what we say because our people really know the places they write about. We've also never been scared to tell it like it is. We've always had that sort of impartiality."
In 45 years, Lonely Planet has evolved from a provider of backpacking handbooks into a company with a broader focus.
"As travel is evolving, we've changed our focus over time," said Law. "We were originally seen as a backpacker brand. It's been about that long-haul kind of travel, such as traveling from the UK to Australia on very few dollars a day. But we've really grown and now we're trying to cater to all kinds of travelers."
As Lonely Planet has matured, and its audience has matured and diversified, it has expanded its content to serve a wider public.
"We're trying to fill out our offering in terms of content," said Law. "We've got our traditional blue guides, now we have a kids range, a food range. But we're still very much focused on the travel experience and travel insight. Now with Lonely Planet Experiences, we're trying to create a full journey for travelers. Now we can actually take people to places. They can journey along with us."
Intrepid's guides and tour directors are being inducted into the Lonely Planet culture.
"Guides will have the Lonely Planet app on hand with information on 8,000 destinations and 200,000 points of interest," said Eric Shepard, vice president of Lonely Planet Ventures, in charge of developing new business opportunities under the Lonely Planet brand. "This is just the start. We have so many other ideas of what we want to do."
The packages range in length from two hours to 22 days. The two-hour "Vintage Las Vegas Arts Tour," for example, starts at $45. "The Tour Through Tokyo's Kitchen," including the fish market, is a two-and-a-half-hour experience and is priced from $77. The seven-day "Galapagos Experience" starts at $945 and the 15-day Explore Egypt program starts at $1,064.
The programs incorporate a range of active, adventurous and immersive experiences typical of Intrepid Travel's traditional programs, such as walking, cycling, food, festivals, family and marine adventures.
The new programs superimpose a layer of Lonely Planet's destination knowledge and insight (built over its four-decade history) over Intrepid's underlying tour operation infrastructure (built over its 30 years as a tour operator). A pioneer when it began and way ahead of the curve in the growth of adventure travel, Intrepid now offers more than 2,700 trips to more than 120 countries and on all seven continents.
Building on compatible legacies
The partnership was able to perform the daunting task of creating 300 tour itineraries in the brief period of six months because it built on the foundation of the more than 1,000 itineraries Intrepid already has in its offerings.
Leigh Barnes, chief customer officer, Intrepid Travel, explained the dynamics of the relationship between the tour operator and the travel research and content producer.
"We've got a range of product and they came in with some experience around what we can and can't do in certain destinations, and combining the publisher mindset with ours, we were able to take some of our current existing product and add the Lonely Planet add-ons as well, so you get access to the Lonely Planet app, discounts on content, so it really makes it the coming together of a great tour product and a great publisher as well."
The carbon-neutral programs are designed to be sustainable and environmentally responsible, which has been an objective of Intrepid Travel since its beginning, but it is now increasingly important to consumers and often cited in market research as a key consideration in their purchasing decisions.
James Thornton, CEO of Intrepid Travel, described the natural synergy between the two companies in a statement: "These experiences combine our expertise to create a new tour range that will support local communities, protect our natural environment and ensure travelers see the world in a responsible and sustainable way. Lonely Planet helped pioneer access to more authentic and grassroots experiences for independent travelers. That's why we're thrilled to be part of the next phase of their growth and helping to make sustainable, experience-rich travel a mainstay for travelers everywhere."