Tauck Launches New Train Journey Through Austria, Switzerland and Italy
by David Cogswell /

As air travel has become ever more stressful, and highways have become increasingly crowded and tangled, the nostalgic allure of elegant train trips has found its way back into the luxury travel sphere. Tauck, the Connecticut-based tour operator, is reflecting the trend in a new European rail package called "A Grand Rail Adventure: Vienna, The Alps and Milan."
The eight-day/seven-night itinerary includes a three-night train trip onboard the Golden Eagle Danube Express, with two-night stays at the beginning and end in Vienna and Milan, respectively, and healthy menus of sightseeing and experiences in the cities.
Beginning with two nights in Vienna, the sightseeing itinerary includes visits to Belvedere Palace; the Hofburg and St. Stephen's Cathedral; and a private, after-hours tour of Schönbrunn Palace, including dinner in the palace at the Café Residenz. On the second day, a private concert is given.
With passengers boarding the Golden Eagle in Vienna, the trip then ventures out into the Austrian countryside toward Semmering Pass, stopping at the Tyrolean village of Jenbach for a ride on a steam-powered locomotive to Lake Achen, followed by a cruise on the lake.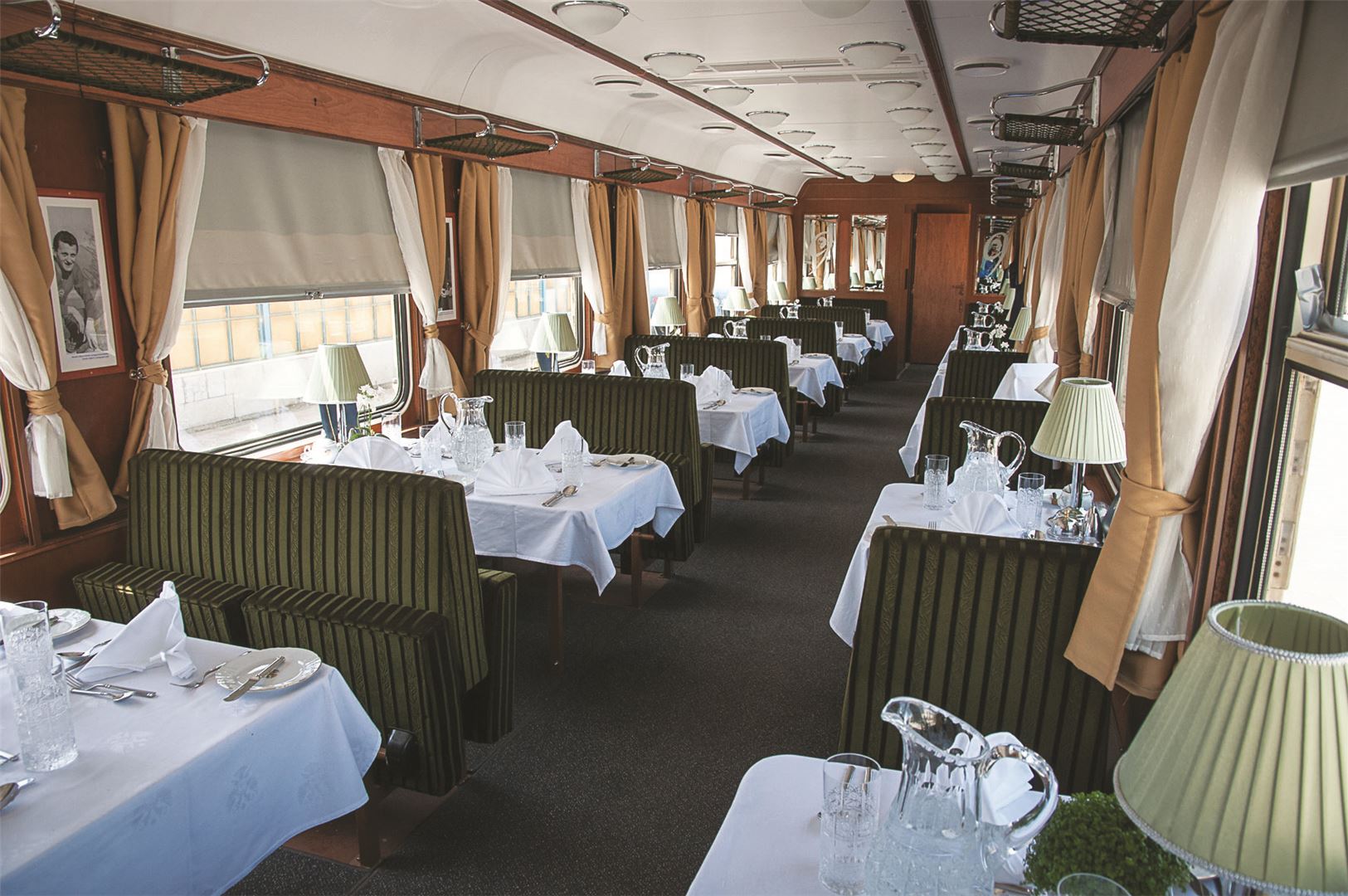 The train's restaurant car. Photo: Tauck.
When the passengers return to their cabins aboard the Danube Express, they continue to Innsbruck, Austria; then on to Zurich, Switzerland, through the Gotthard Pass into Italy, stopping at the lake and town of Como; and finally leaving the train and concluding the trip with two nights in Milan.
There are opportunities all along the way for guided sightseeing, as well as immersive and interactive experiences in each of the stopping points. Besides exploring the historical districts within Milan, the group will venture into the surrounding country to visit a working farm, where they will learn about sustainable farming practices and take a hands-on cooking lesson.
Tauck is chartering the train, taking it over entirely and operating it according to Tauck's standards of service, developed over 95 years of tour operating, overlaid on top of the service practices of Golden Eagle Luxury Trains, the train operator. The train carries only 58 passengers at a time. Two tour directors will lead the group from one segment to the next of the itinerary.

A superior deluxe cabin. Photo: Tauck.
Two grades of accommodations are offered. Superior Deluxe cabins are 93 square feet with two picture windows and a sofa that converts to a king-sized bed. Deluxe cabins are 83 square feet with two armchairs that convert into twin beds. Housekeeping attendants convert the cabins from day-time to night-time accommodations while the guests are at dinner.
All of the cabins have private bathrooms with shower, sink and toilet; individually controlled air conditioning; and WiFi. The train has a Bar Lounge Car with a piano bar and two restaurant cars that can accommodate all the passengers at once.
Six departures of the program will be offered in September.