Looking 20 years into the future, Futurologist Ray Hammond, on behalf of Allianz Partners, has predicted what the travel industry will look like, in "The World in 2040" Series.
"The face of travel as we know it will change dramatically over the next 20 years," predicted Hammond. "It looks as if the travel industry is set for a long period of prolonged growth." He added: "Travel will also become more about rejuvenation, adventure, fulfillment and learning new skills rather than just ticking off places to see from a list."
Here is what the industry will see in 2040.
1. Sustainable air travel takes off.
The report predicts that air travel will be "far more economical in fuel usage than today's jet aircraft, and a significant number of planes will be flying on sustainable aviation fuel – jet fuel derived from biomass."
Electric planes will also provide non-polluting air transport. By 2040, short-range electric planes will be in service but, because the average service life of commercial aircraft is between 21 and 33 years, it is likely that many conventionally fueled aircraft will still be flying − especially on long-haul routes.
New technologies are already being developed. Rolls-Royce has entered a partnership with Airbus and the eAircraft division of Siemens to develop a hybrid passenger plane – partly fueled by kerosene, partly driven by electric power. Europe's second biggest airline, EasyJet, is working with a Los Angeles-based company, Wright Electric, to develop a new commercial, all-electric jet by 2027.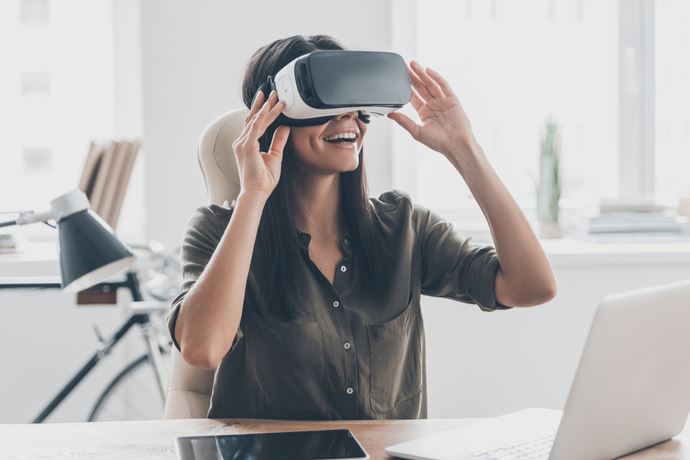 Virtual reality could change the dreaming-phase of travel planning. Photo: Shutterstock.com
2. Virtual reality drives more real-life travel.
Multi-sensory virtual reality technology will allow armchair travel planners to step into virtual hotel rooms, visit street carnivals, explore museums or walk into restaurants, the report said, from the comfort of their own living room. The experiences are likely to inspire more actual travel.
3. New developments in technology create a seamless trip, from start to finish.
Facial pattern recognition systems are already becoming more prevalent, and the report predicts that, within 20 years, computer systems that can reliably identify travelers' faces will be in widespread use at airports, train stations, shipping terminals, and more.
App-based services that will pick up and deliver travelers' luggage to their destinations for a modest fee are already in operation and, by 2040, these services are likely to be ubiquitous, according to the report.
Furthermore, while luxury hotels will maintain face-to-face reception, business and budget will be entirely automated at check-in and provided by software assistants.

The proliferation of high-speed rail could change the way the world travels. Photo: Shutterstock.com
4. The rise of high-speed rail.
By 2040, cross-border train journeys will be smoother and improved in many parts of the world. Computer networks and the Internet of Things (IoT) will manage national and international rail networks, allowing trains to run faster and closer together. Train speed will also increase on most rail networks, with most high-speed trains running at above 125 mph.
One example of a forthcoming international train excursion is the new direct train route from London to Bordeaux being planned by the British rail company HS1. On this route, trains will be reaching speeds of 322 kph (200 mph), whisking passengers to and from cities in less than five hours.
5. More adventurous and greener cruising is the norm.
Cruise ships of 2040 will be far more environmentally friendly than today's giant ocean liners. Ship operators are now building vessels that are powered by Liquified Natural Gas (LNG). LNG is a light fossil fuel with almost no greenhouse gas emissions – and this will transform cruise vacations into one of the greenest ways to travel the world. The first LNG-powered ship, Carnival's AIDAnova, was launched in 2018, and a new fleet of LNG-powered cruise liners will come into service over the next ten years.
Many travel experts expect cruise lines to add more variation to existing itineraries, breathing new life into established European routes. And, there is growing interest in cruising around Africa and islands such as Madagascar.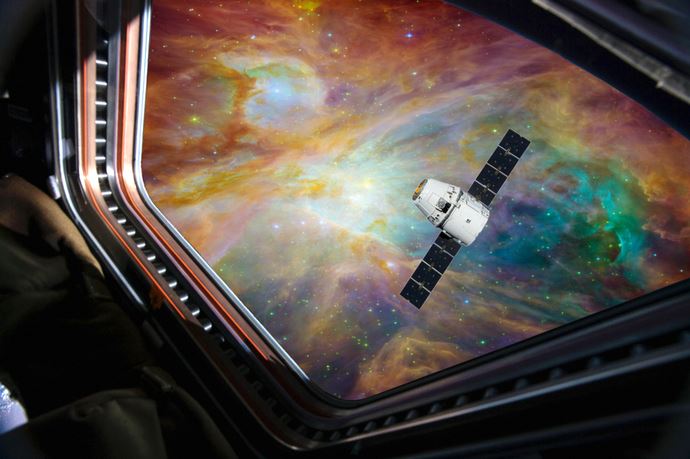 Space tourism could soon become a reality. Photo: Shutterstock.com
6. Space travel becomes a reality.
For some wealthy and intrepid travelers who have seen it all, the next destinations of choice will be the Moon and Mars. Tourists will "probably" be flying to and from the Moon, the report said, and while unlikely to land on the lunar surface, they will loop around behind the Moon before returning to Earth.
As for Mars, Elon Musk has said SpaceX will land passengers on the planet before 2030. He envisions an enormous booster rocket with 42 new Raptor engines blasting off from Cape Canaveral, Florida, and launching a spacecraft holding about 100 people bound for Mars.
7. Destinations take harsher stance against overtourism.
By 2040, four billion people − half of the world's population − will be part-time tourists. Destinations that receive a large chunk of those visitors are going to have to take harsher stances towards overtourism to preserve their communities.
The report predicts visitor numbers will likely be controlled by reducing accommodation capacity; charging visitors for entry; pre-booking with fixed numbers; subsidizing fewer flights; restricting cruise ship visits; and promoting less well-known areas. Travelers will also likely have to book in advance and will have to buy a ticket that grants access to a particular site or destination on a particular day at a specific time to prevent overcrowding.
"It will be vital that the travel industry offers tourist experiences that are sustainable and environmentally responsible," said the report.