A Cruise Through the Jungle with Amazon Nature Tours
by David Cogswell /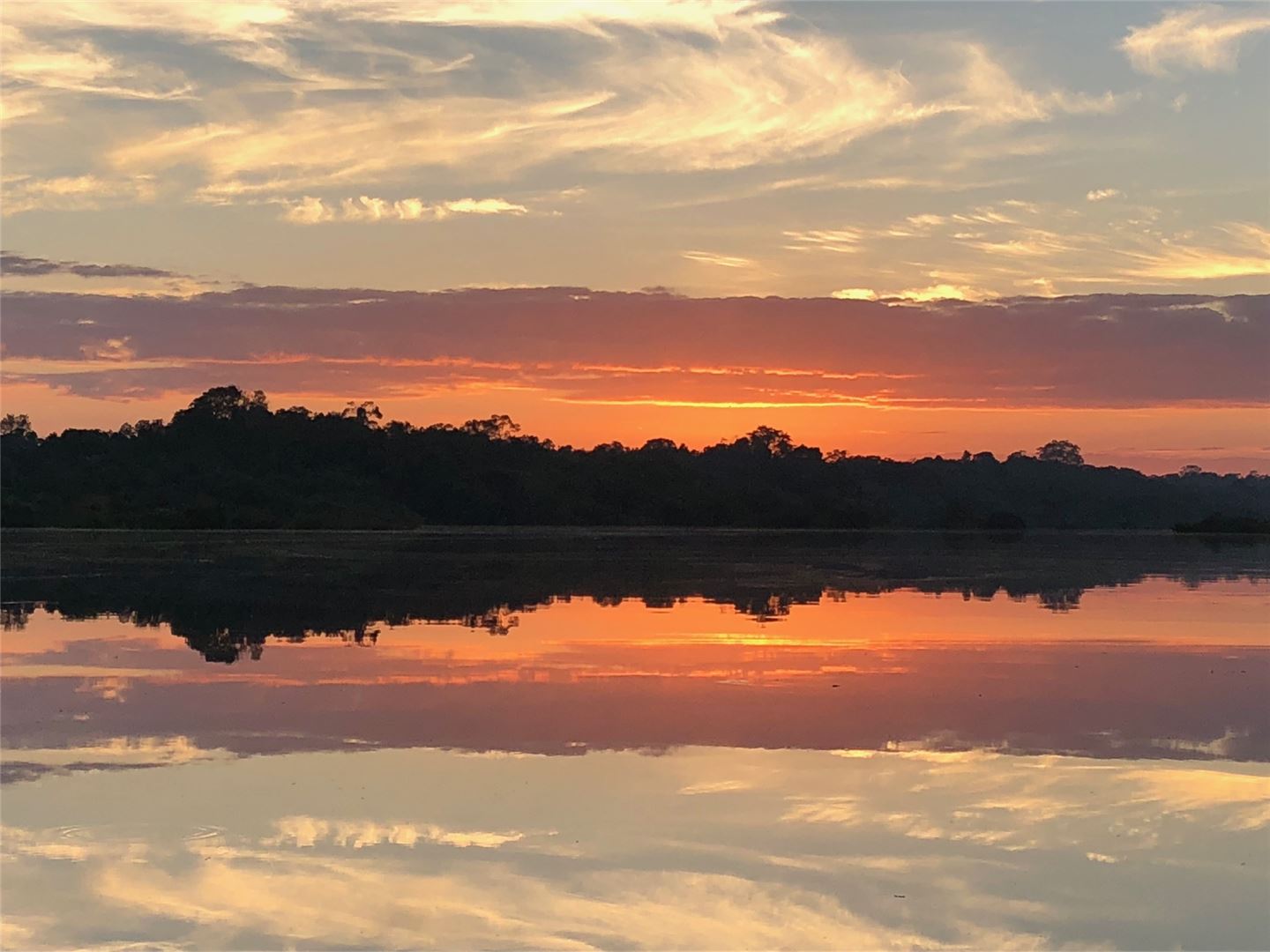 Amazon Nature Cruises offers a wilderness small ship cruise experience for the adventure traveler using the 17-passenger motor yacht M/Y Tucano.
The company dates back to when founder Mark Baker built the Tucano and launched it in 1997. He designed the boat to emulate the Amazon ferry boats on the outside, but inside it is a passenger boat, a sort of houseboat for 17 passengers. The boat has had two top-to-bottom refits during that time. Once a year it returns to the shipyard for a deep refurbishment.
Tucano is a spiffy, shiny white riverboat with red trim that becomes a congenial home after a very short time.
This trip is not for everyone. It is not for the luxury vacationer who wants to lie back and be waited on hand and foot. It is an adventure, an active trip that requires participation. What the guests get out of it will depend largely on what they put in.
Rustic charm
The accommodations are charming, functional and comfortable, but rustic. That's where some of the charm comes from. You are in the jungle!
Though it is a wilderness adventure, it does take advantage of modern conveniences, such as air conditioning. In fact, it was strong enough to practically freeze you, if that's what you wanted. It was certainly effective as an antidote to the fierce heat of the equatorial rainforest.
One modern convenience the cruise does not offer is internet. Internet connectivity would actually be difficult to get in that region. "Because we travel far, far into the wilderness, we are not even close to any cell coverage," said Baker.
The boat does have a radio call every day to keep in touch in case of any problems that require communication.
Oddly enough for many of us today being off the grid has become an attraction. We've gone from asking every hotel first thing about their internet availability to hoping some day to get a break from what feels like an addiction.
I am so conditioned at this point that if the internet is available, I'm going to fill practically every idle moment with a quick check of email or social media. During those rare occasions when it is not available, it allows us to rediscover other things, such as the world around us. In the Amazon, that world is too spectacular to miss a moment by being distracted by the internet.
By not having access to the internet, I found that instead of wasting away hours gazing at trivialities on Facebook, I actually read more good book literature than I had read in a one-week period in recent memory.
Culinary considerations
The meals were served buffet style in a small dining room. They were consistently tasty, created by an indigenous chef extraordinaire. Every meal had a variety of options, introducing us to local fish, meat, fruits and vegetables, as well as providing familiar staples for North Americans and Europeans. After meals, guests clear their own dishes and put them in a rack.
Food service and housekeeping were otherwise conducted in the usual way, in spite of the fact that guests are in the jungle. Everything is relaxed and low key. Being in the presence of spectacular nature tends to mellow people out.
Though the maximum number of guests on the boat is 17, there were only six in our group. All departures are guaranteed. The ship will depart with even a single passenger, and has done so recently.
Mark Baker believes that when people have put down a deposit and arranged their schedules to take a trip of a lifetime to the Amazon, they should not be subjected to the rug being pulled out from under them by the canceling of a departure.
'World's greatest wilderness'
The cruise is an intimate small-group experience into the Amazon jungle, a place that is widely acknowledged to be "the world's greatest wilderness." Certainly it is one of the greatest.

The thick jungle seen along the route.
Here are some data points to process:
The Amazon has more than 1,100 tributaries stretching 4,000 nautical miles between its source in Peru and the Atlantic. The Amazon River system is the largest body of fresh water in the world, the longest river with the greatest volume of water. All its tributaries added together make 48,000 miles of navigable rivers. The Amazon is up to seven miles wide in some places, so wide that it is not possible to see one shore from the other.
The Amazon Basin has 6 million square kilometers of river and jungle and is the world's largest in terms of volume and drainage. Amazônia, which is the name of the basin of forests and wetlands, occupies half of the South American continent, including 75 percent of Brazil and parts of Colombia, Peru, Venezuela, Ecuador, Suriname and Guyanas. Amazônia is the world's largest rainforest, covering 2.5 million square miles.
Once you have been on this trip, you can check off your bucket list that you have had the ultimate wilderness experience. You have been to the real jungle, very much like in the Tarzan movies with a riotous profusion of plant growth everywhere, a great variety of birds and other wildlife, and black lagoons that reflect back a perfect image of what is above the water line.
The itinerary
The cruise itinerary starts in Manaus and travels 300 kilometers, (about 186 miles) up the Rio Negro, one of the tributaries to the Amazon River system. That's about 200 kilometers farther from Manaus than any other operator in the area.
"We have no competition," our tour director, Edy, told us. "No one else goes more than 100 kilometers out of Manaus."
For most of the trip, for the time when we were beyond the 100-kilometer zone (about 62 miles) where other tourist ships run, we saw no other tourists. If we encountered human beings, they were residents of the very few villages in the area.
About three hours after leaving Manaus, we entered the Anavilhanas National Park and an archipelago of 30-some islands within the park, which has about 400 islands altogether. We explored islands, lakes and rivers, constantly surrounded by the breathtaking splendor of landscapes Gauguin would die for, and the activities punctuated with sightings of spectacular wildlife.
With the help of Edy as our spotter, we observed a great variety of wildlife including monkeys, dolphins, parrots, sloths, caiman and a wild assortment of birds that ranged from tiny hummingbirds to the giant prehistoric greater ani. Edy kept a growing list of the wildlife we encountered on a blackboard, adding to it after every excursion.

Wildlife at Anavilhanas National Park.
The daily schedule
The daily schedule was challenging, not for slackers. Every day, Edy led about four excursions. But they were all optional, so you could maintain whatever level of rigor suits you. Relaxing on the boat was always a good option.
The day started with a 5:30 wake-up knock, and a chance to have tea, coffee or porridge before taking off at 6 a.m. before sunrise for the morning excursion, either in a canoe or a kayak.
At about 8 a.m., the excursion returned to the ship for breakfast. Then at 10 a.m. came the next trip, usually a jungle walk. We would return for a little afternoon lunch and then have a siesta period during the hottest part of the day.
At 4 p.m., there would be another trip, followed by dinner around 6 p.m. and then an evening excursion would be offered at 8 p.m. for about 40 minutes.
The trips were canoe or kayak trips, jungle walks or a visit to a village or an abandoned ruin. One of the trips was a swimming trip on a sandbar in warm waters of the Rio Negro.
Our intrepid leader
No one goes into the Amazon jungle alone. It's one of those places where expert guidance is essential. We had it with our tour director and nature guide, Edivam de Lima Regis, or Edy for short (pronounced "Edgy").
Edy was our host, director and wilderness guide extraordinaire. He could point out and name thousands of species of animal and plant life in the Amazon rainforest. He had an eagle eye. At a great distance, he could spot a bird, reptile, amphibian or mammal that constituted about four pixels of our entire visual field.
One night, he grabbed a caiman right out of the water and held it firmly in his two hands for us to see before very carefully setting it free. That was about a four-foot animal, closely related to alligators and crocodiles. Edy lives up to his name. He is Edgy indeed, a wonder of nature himself.
On the final day of cruising, Tucano sailed down past Manaus to where the Rio Negro meets Solimões and officially becomes the Amazon.
It's one of the wonders of the world the way the "black water" of the Rio Negro meets the muddier "white water" of the Solimões and the two streams continue separately for about 12 miles more before they finally blend into one river.
In the network
Mark Baker is an enthusiastic supporter of the travel agent distribution system.
Because Amazon Nature Tours offers a highly specialized product not suitable for everyone, the company relies on travel agents to provide the reach into the American travel market and qualify clients appropriately.
"We do have a small amount of direct sales through our retail brand, naturetours.com," said Baker, "but about 95 percent of our bookings are through agencies. We are really ship operators."