ASTA Global Convention Shines Spotlight on Travel Agents
by Cheryl Rosen /

In the keynote session at ASTA Global, Carnival Corp. president and CEO Arnold Donald noted that while everyone talks about the number of cruise ships coming online, the cruise industry is tiny, with its berths equal to less than 2% of the hotel rooms in the world. "The reality is that if you leave China out, the number of new-to-cruise customers is declining, because more people already have cruised. And Millennials over-index for cruises, because they want experiential vs. buying things, so we see a bright future as they grow up," he said.
The Port of Galveston is closed right now because of Hurricane Harvey, Donald said, recalling how he himself was in a shelter for 30 days after Hurricane Bessie. Carnival had three ships due in Galveston that have been diverted to New Orleans. "Some cruises will be canceled, but the beauty of the cruise industry is that the assets are movable. So a lot of people on those ships are having a really good time in New Orleans right now," he said.
The latest innovation on Carnival is the Ocean platform, which "allows our crew to give each guest a personalized, customized service like you've never seen before. If you give people what they want when they want it, how they want it, you will be successful." Every guest will receive an Ocean medallion at their home in advance of their cruise, beginning with Princess sailings in November. "This means preferential everything – service that will feel totally personalized and customized," Donald said.
"I think ships get too big when you lose touch with the sea," Donald said, "but some customer out there still likes them. I think there will be a market for very large ships and a market for very small ships; everybody likes what they like. We're in a great period for cruise."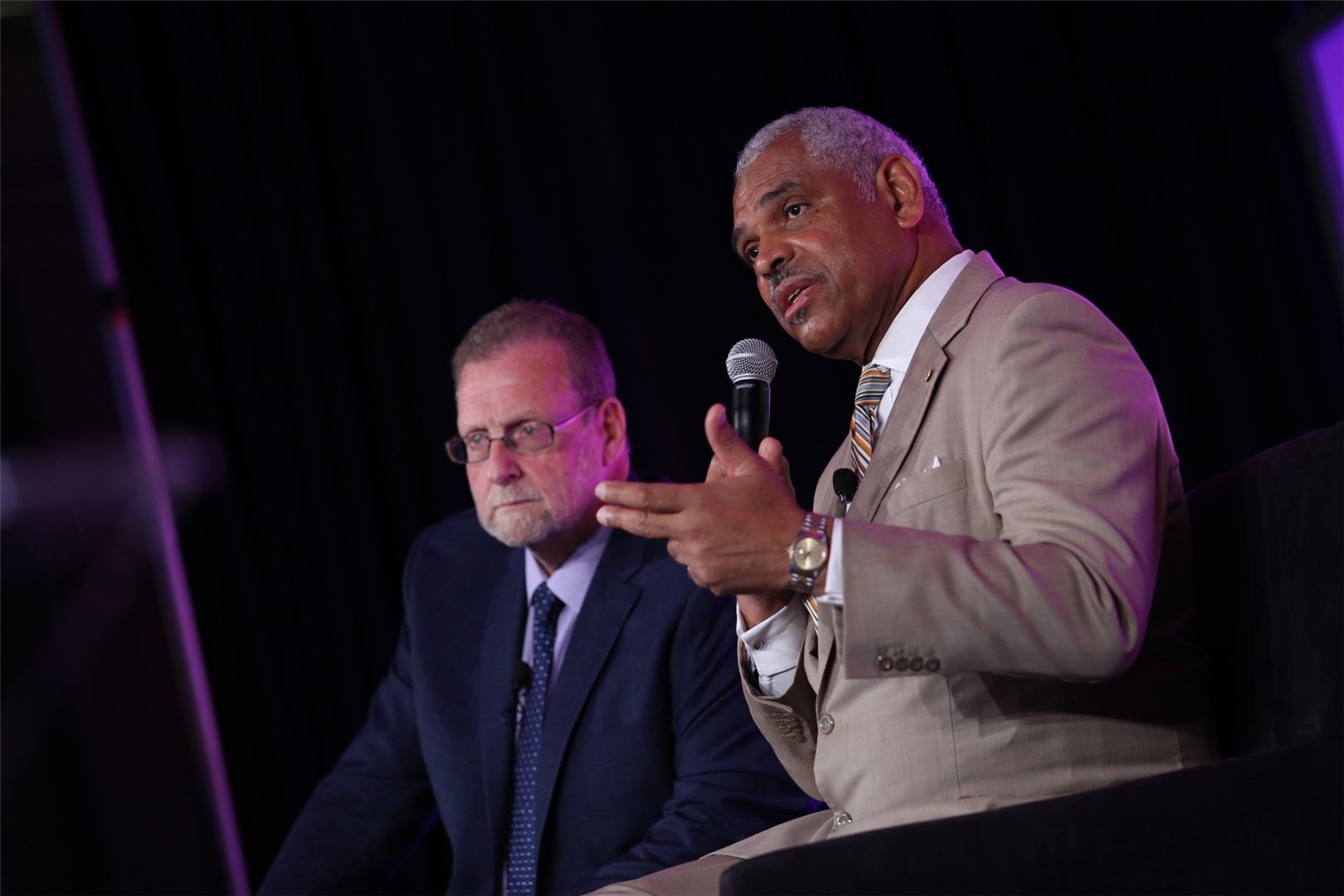 Arnold Donald speaking to travel agents at AGC.
***
Congressman Scott Peters, who represents San Diego, opened the show with a bow to travel agents in general and his own travel professional, Carol, in particular. A member of the Travel and Tourism Caucus and co-sponsor of travel-friendly bills including the Jolt Act, which aims to expand the visa waiver program, bills to reauthorize Brand USA and the FAA, and a bill to open travel to Cuba, Rep. Peters noted that his district includes 61 travel agents that are ASTA members.
Before heading for ASTA, he said, a briefing from his staff made him aware of the Travel Agent Retail Fairness Act. "I found out I'm not a co-sponsor yet, so I will be one" as soon as he gets back to the office, he promised. If passed, the bill will remove travel agents from the "blacklist" of "establishments having no retail concept for the purposes of certain exemptions under the Fair Labor Standards Act of 1938."
***
It was a Friday afternoon when one of her travel advisors received an email that ostensibly came from Sabre, asking her to click on the link and confirm her information. So she did. Over the weekend, a fraudster ran $25,000 worth of tickets for which Robin Sanchez's agency, Montecito Village Travel, was responsible, before Sabre and ARC noticed unusual activity and cut off the account. That's just one of the many frauds travel agencies need to watch out for; another is chargebacks from their own employees. When an IC of hers refused payment on $50,000 worth of tickets he had charged to his own credit card, Sanchez called the FBI. The takeaways from the breakout session: only work with people you know, do background and credit checks on all your potential employees and ICs, watch out for requests that are outside of the ordinary, and pick up the phone and call the customer if you have doubts.

Chris Elliott addressing the crowd.
Consumer advocate Chris Elliott took a few minutes to call out "rogue travel agents" who "keep people's refunds, charge ridiculous fees, and bill them for things they didn't want." Travel agents fall into two categories: ASTA agents and everyone else, he said. "You are here today because you are better, and that means serving your customer better. You have something the OTAs do not have: you are highly trained and capable, you can make problems disappear. Your secret agent is customer service, so set your sights on your customer and never let go."
***
Edie Rodriguez, president and CEO of Crystal Cruises, encouraged agents to follow her lead and reply to customers themselves. Service is in the eye of the beholder, she said, and for Millennials, "good service is access to real-time technology. You better be there very quickly with the answers" for them.

Edie Rodriguez (right) on stage with the Samantha Brown.