Galveston Cruises, Houston Flights Halt In Hurricane Harvey's Wake
by Daniel McCarthy /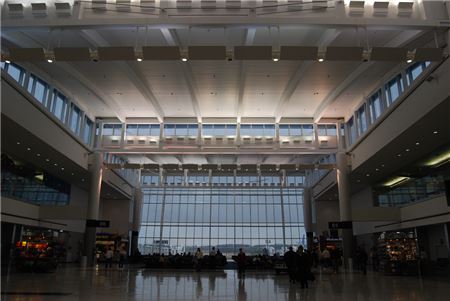 Three days after the largest storm to hit the U.S. in 12 years made landfall in Texas, thousands of travelers remain stranded as flood waters continue to rise in the state.
Houston's William P. Hobby Airport and George Bush Intercontinental Airport have been closed since Sunday because of flooding of its runaways in the wake of Hurricane Harvey. Hobby Airport is expected to remain closed until Wednesday, and George Bush will not open until Monday afternoon at the very earliest.
Other Texas airports, including Corpus Christi International Airport, also closed this weekend because of the historic storm. But Corpus Christi said on Sunday that it was ready to accept flights whenever airlines resume service.
So far, more than 5,000 flights have been canceled due to the storm, according to FlightAware. Most airlines are still allowing Houston travelers to make flights changes without fees.
Travelers with tickets booked through Houston should check with their airline before attempting to get to the airport. More than 100 roads in southeast Texas are flooded, according to the Texas Department of Transportation, making travel for passengers and for airport crew near impossible on Monday.
Southwest has warned its passengers not to travel to Hobby Airport until "local authorities provide further direction." The airline had to evacuate close to 500 passengers who were stranded at Hobby on Sunday. Southwest received special FAA permission to fly five rescue flights to Dallas Love Field. Southwest is lodging those passengers at Dallas hotels until they can be rebooked.
Cruise line changes
The Port of Galveston, which shut last week, remains closed through Monday.
Carnival Cruise Line has been forced to change three itineraries because of the storm.
After making a provisions stop in New Orleans, where guests could disembark, Carnival Freedom is currently waiting to enter the Port of Galveston once it reopens. Carnival announced that Freedom would keep "a safe distance from the storm" on Monday.
Carnival Breeze, which docked for extra time in Cozumel because of the storm, will now head to New Orleans where it will make a "short technical stop to replenish water and provisions on Monday," Carnival said. The ship will then sail to Galveston once the port reopens.
Carnival said more information about Freedom's August 26 and Breeze's August 27 sailings will be provided "as soon as we have a more definitive estimate of the ships' arrival into Galveston." Both ships will be forced to shorten their next sailings, as neither is expected back before Tuesday.
Guests on those shortened cruises wanting to cancel can do so without penalty. Carnival is also offering a 25% future cruise credit.
Carnival Valor, which was supposed to arrive back in Galveston on Saturday, will not sail its next five-day itinerary because of the storm. Travelers booked on that sailing will receive a full refund within three weeks and a 25% future cruise credit to use toward another sailing.
Royal Caribbean International's Liberty of the Seas, which was scheduled to finish its sailing in Galveston on Sunday, is now diverting to Miami. Guests who want to disembark in Miami can do so, and Royal Caribbean is providing transportation to airports in Miami and Fort Lauderdale.
Guests remaining onboard are receiving half off drinks, drink packages, internet and specialty restaurant packages and a separate discount on laundry.
Liberty of the Seas' August 27 sailing was cancelled. All guests will receive a full refund and a future cruise credit.