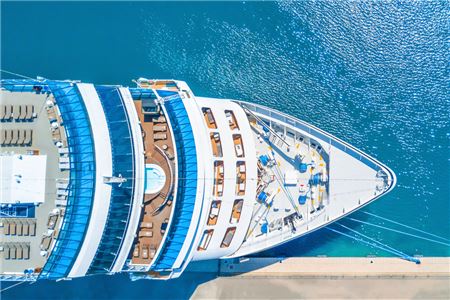 Cruising is an almost-all-inclusive vacation, and the higher up the spectrum of luxury you go, the less there is to think about. And yet, little extra touches can transform a standard vacation into the trip of a lifetime.
That was the message from five cruise line executives at the American Society of Travel Advisors (ASTA) annual convention last week, as they offered up tips for the best add-ons to a cruise vacation. Here are a few of their ideas:
1. Consider business class
If you are sailing from Europe, consider business class instead of coach. Getting a good night's sleep — or at least a few hours of lying flat — will make a big difference in how you feel that first day overseas, said Kristin Karst, co-owner of AmaWaterways.
2. Take a private transfer from the airport
There's a time and a place for Uber, but when you arrive at a crowded airport with 10 days' worth of luggage, it's awfully nice to see a driver holding a sign with your name on it.
3. Use a travel agent
Okay, this was a travel agent convention, but still, having a human being behind you when things go wrong is always the key to a carefree trip, said Brian Chapin of Ensemble Travel Network. In addition to putting you on the right cruise ship on the right cruise line on the right itinerary, a travel professional offers expertise that you can't find online, clout when you need it, and little extra touches to make you feel special.
4. Buy your airline ticket through the cruise line
Shifting the responsibility for getting you there to the cruise company is the best way to ensure you will be there when the ship sails, even if they have to hold it for an hour or two or fly you to the next stop. If the weather does not cooperate when it's time to go home, the cruise line will automatically rebook you. And, the cruise lines negotiate some "really great fares," said Michele Johnson of Celebrity Cruises.
5. Consider a luxury cruise line
Ask your travel agent to figure out how much your trip will cost when you add in all the extras and excursions you would like, and compare the price of a luxury cruise line where the price includes all of that. Often the difference is not as much as you might expect, said Joe Leon of Silversea Cruises.
6. Spend an extra day or two at your destination
You've come so far, and who knows when you will return. Make the most of your travel dollars by adding a pre- or post-cruise stay.
And one final tip for a great cruise experience: Book early. Cruise prices rarely go down. And, in fact, the best options tend to sell out first, the cruise executives all said. So, if you want a family suite or a balcony suite in a great location, don't hesitate to call your travel agent and put down a deposit.