Carnival Cruise Line's Mardi Gras Will Feature Emeril Lagasse Restaurant
by Daniel McCarthy /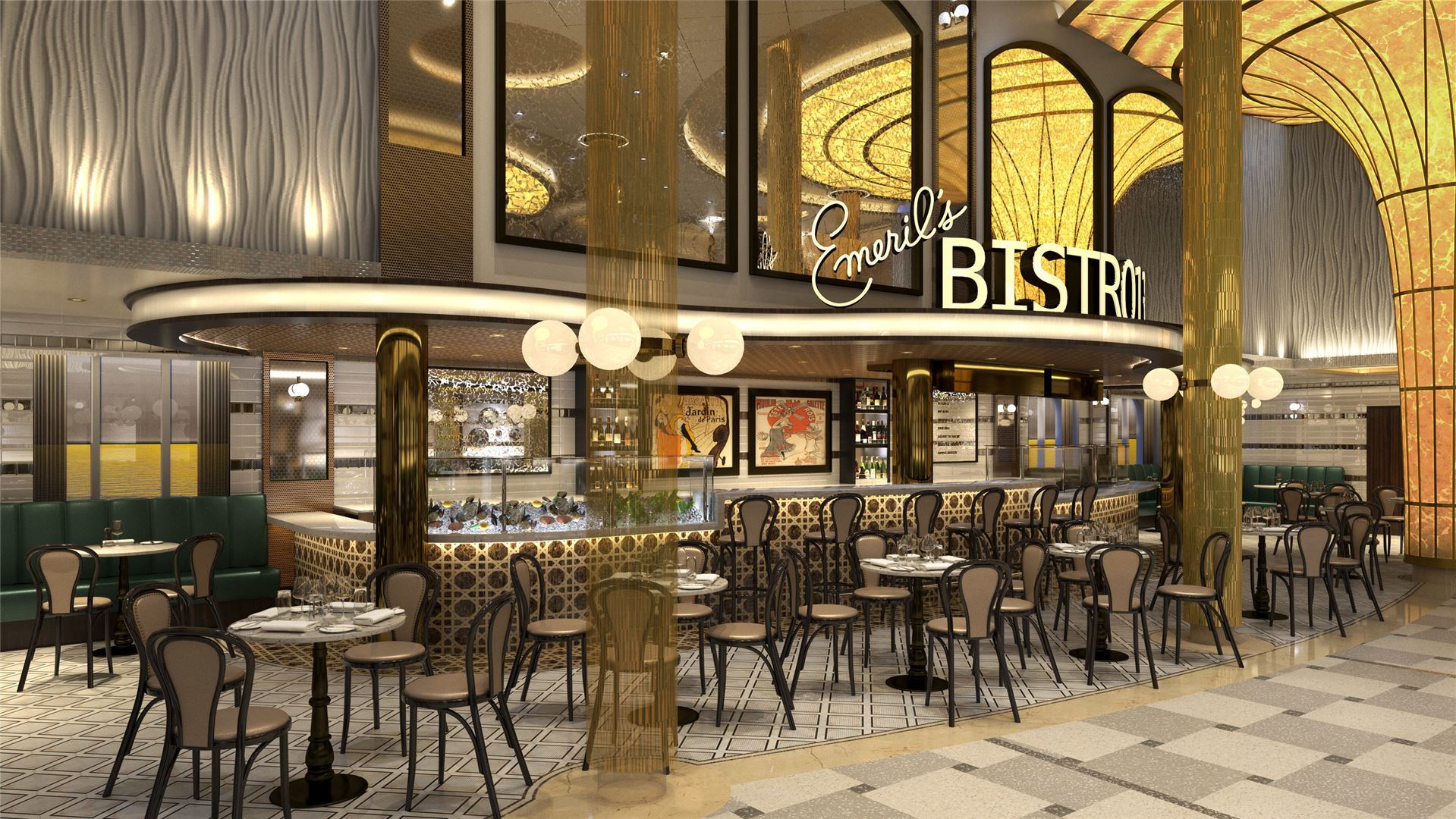 Carnival Cruise Line announced today that its newest ship, Mardi Gras, which is set to debut in summer 2020, will feature Emeril's Bistro 1396, a restaurant built through a partnership with Emeril Lagasse.
The restaurant will debut in Mardi Gras' French Quarter Zone and will feature Creole dishes including oyster and cochon de lait po-boys, muffaletta sandwiches, barbecue shrimp, fresh seafood ceviche, roasted duck, jambalaya, and more. It will also be open for breakfast, offering dishes that include shrimp and grits and a shrimp Creole omelet.
Mardi Gras 1396 will be Lagasse's first restaurant at sea.
"I've developed restaurants all over the country, but to create my first restaurant at sea – on a ship named Mardi Gras with its own French Quarter, no less – was an opportunity I simply could not pass up," said Lagasse.
Mardi Gras,which is named to pay homage to the first-ever Carnival ship that entered service in 1972, is set to sail a schedule of six- to 15-day itineraries through Europe and the Caribbean starting in summer 2020. Those sailing include its nine-day maiden voyage from Copenhagen to Southampton that kicks off on Aug. 31; a 14-day trans-Atlantic sailing from Southampton to New York Sept. 9; and a 15-day Carnival Journeys itinerary from New York to Port Canaveral on Sept. 30.
The ship will be the first to feature an electric roller coaster at sea, dubbed BOLT: Ultimate Sea Coaster. The coaster will boast 800 feet of twists, turns and drops with riders reaching speeds of nearly 40 miles per hour.
Elsewhere onboard, Mardi Gras will feature six distinct "zones"—Grand Central (decks six through eight) that is Carnival's take on a traditional atrium and includes Bonsai Sushi and Bonsai Teppanyanki along with the Punchliner Comedy Club; the French Quarter (deck six aft), a New Orleans inspired area with new bars, music venues, and eateries; La Piazza (deck eight), an Italy-inspired area with Cucina del Capitano and Pizzeria del Capitano, a new Mediterranean restaurant; Lido (decks 16 and 17) with Guy's Burger Joint, the Seafood Shack, and more.