Celebrity Cruises Takes Next Step Toward Debut of Celebrity Beyond
by Daniel McCarthy /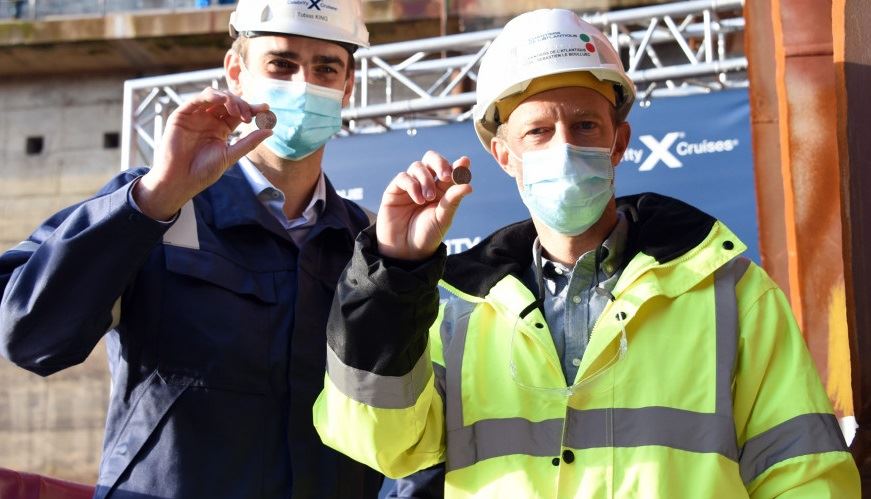 Celebrity Cruises last month celebrated the coin ceremony for the next ship in its Edge series class of vessels, Celebrity Beyond.
During a ceremony in St. Nazaire, France, Celebrity celebrated Beyond with a coin honoring Annie Jump Cannon, the daughter of an American shipbuilder, who is most well known for her work in astronomer, particularly creating the Harvard Classification Scheme, which helped organize and classify starts based on their temperatures and spectral types.
Jump Cannon's inclusion in Celebrity's lineage follows the cruise line's history of honoring females and closing the gender gap in the maritime industry. Most recently, the line chose Reshma Saujani, the founder and CEO of international nonprofit Girls Who Code, as godmother of Apex, the second ship in the Edge series, and Nobel Peace Prize winner Malala Yousafzai as godmother of Celebrity Edge, the first ship in that same series.

The coin for Beyond. Photo: Celebrity.
Beyond, which will join Edge and Apex as the third ship in the Edge series, is expected to debut in spring 2022. The ship is expected to sport a lot of the same features as its sister ships including the Magic Carpet, along with new wellness, culinary, and entertainment offerings.
"In a year that has continuously tested the strength of our industry, it is encouraging that we move forward with building Celebrity Beyond," Richard Fain, Chairman of the Royal Caribbean Group, said in a statement announcing the news. "Celebrity Beyond signals that as we prepare to return to service, we do so confidently and with great optimism about the future."
"This is a proud and exciting moment because Celebrity Beyond will continue to elevate an already incredibly innovative and transformative Series of ships for our brand – and the industry," said Celebrity president and CEO Lisa Lutoff-Perlo.
"I thank all of my amazing colleagues and our incredible partners at the shipyard for moving us one step closer to bringing Celebrity Beyond to life. We have some special surprises planned with Celebrity Beyond and I really can't wait to share her with the world."
The ship will also launch a year after Celebrity officially launches its new all-inclusive fares that will include unlimited drinks, WiFi, and daily gratuities. With the new fares, Celebrity is now giving advisors the opportunity to earn commission on items that they were never able to before.