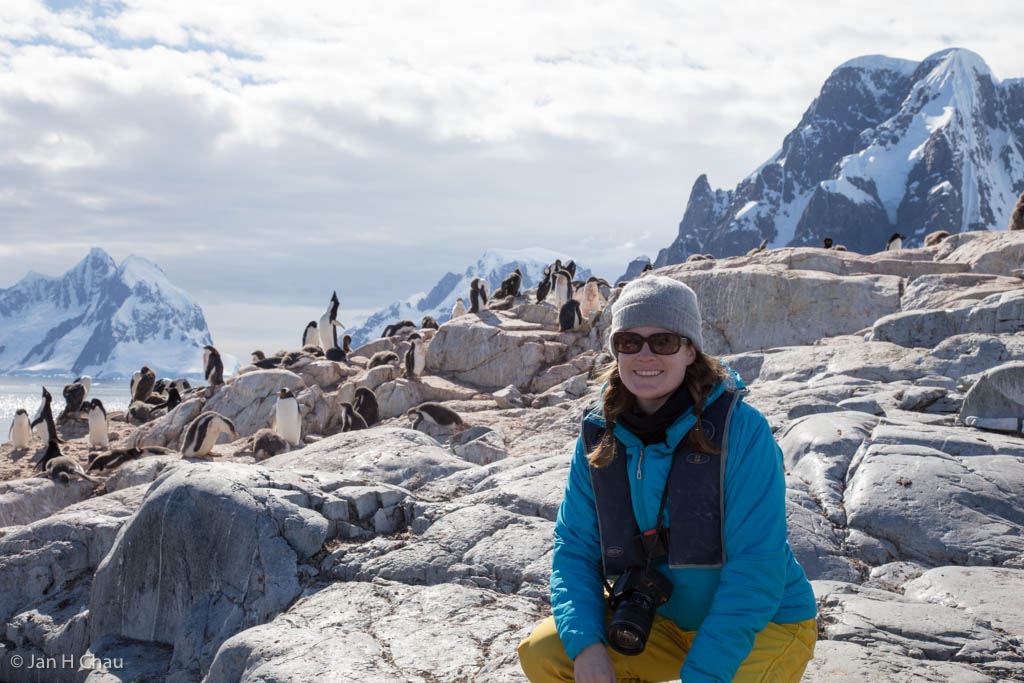 Let's talk Antarctica. You said you wanted a break, right? Not only will there be a break from digital media, but there will be a break from everyday life as you know it. Say goodbye to work emails, traffic, and well, essentially everything for a few weeks.
Susie Chau, founder of Carpe Diem Traveler, has been there, done that, and has the photos of herself doing the polar plunge to prove it. And now that she knows the ropes, she wants to help others set foot on the elusive Seventh Continent.
Up until college, Chau's travel experience remained continental. Family road trips across the U.S. and trips to Canada were the extent of her travels. But not for long. In her early 20s, Chau spent some time in Europe.
"The seed was planted years before [I owned a travel company]. While staying in hostels, I met long-term travelers there," Chau said.
For thirteen years, Chau worked as a management consultant, a career she enjoyed, and one that would later become an important business asset. After accumulating a nest egg of airline miles and paid time off, Chau decided to do something most people only dream of. She and her husband planned to take a year off from work and globe-trot. And trot they did, to all seven continents.
Originally, Antarctica wasn't on the itinerary. After spending several months in Europe, Chau and her husband tossed around the idea of checking off the top of their bucket list, a voyage to the bottom of the earth. The opportunity to do something so far off the beaten path, proved too good to pass up.
Their cruise departed from Ushuaia, Argentina, the southernmost city in the world. From there, they set out on the journey of a lifetime. Cruises to the region range from 10 days to three weeks depending on the number of passengers and the weather. The waters crossed on the route are notoriously rough, which can be a setback for some. For those people, flights are available, but it costs a pretty penny.
Chau endorses the cruise option, explaining that anyone going to Antarctica has a story. And on a ship as small as this, it's easy to detox from the digital world and connect with your fellow passengers.

Photo: Susie Chau
Once they arrived on the peninsula, the reality of what they were doing set in. "Everything is on an amazing scale, the land is well-preserved because of how untouched it is — its other-worldly," Chau said. She went on to explain that the sheer size of the icebergs is incredible, only realized when a ship passes in front of them.
Once there, she said, prepare for a safari experience unlike any other. Penguins, penguins everywhere. Whale sightings can also be expected. These extraordinary animals in their natural habitat are sure to mesmerize.
Check out Vernadsky Research Station to see where some of the world's best scientists spend months at a time. And, you didn't come this far not to partake in the famous polar plunge. Wade in or jump in, the choice is yours. But the take-your-breath-away sensation is the same. It's important to note that, "Everything is dependent on the weather, so don't be discouraged when plans are rearranged," Chau said. After all, you are in Antarctica.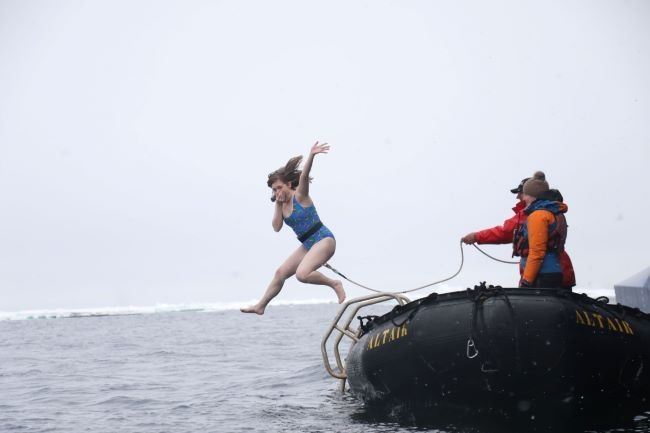 Taking the polar plunge in the Arctic Ocean. Photo: Susie Chau
Not ready for Antarctica, but you want to explore some of the polar regions? Countries like Norway, Greenland, and Canada provide unforgettable nature experiences, as well. If you're looking for penguins, you will be disappointed, as there aren't any there. However, polar bears and reindeer can be spotted if you catch them during the right migratory pattern. There is still an opportunity to do the polar plunge in the Arctic, if that's what you're after. Chau has explored the Arctic regions, too.
Chau planned a trip to Antarctica last March for a group of friends celebrating a 40th birthday. She said the group had a phenomenal time, and one client even reached out to her to plan another trip to Antarctica, solo. If you are planning on making the journey solo, Chau said not to worry, as "the comradery of the passengers is evident — it's a great way to develop relationships and create lifelong memories and stories."