Coronavirus Factsheet: What Travelers Need to Know About COVID-19
by Daniel McCarthy /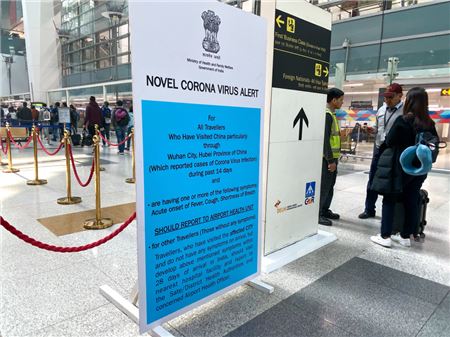 What is coronavirus?
The coronavirus disease (COVID-19) is a "new virus that causes respiratory illness in people and can spread from person to person," according to the Centers for Disease Control and Prevention (CDC). The virus first appeared in Wuhan, China, and has been detected in some countries outside China, including the U.S. and Canada.
Symptoms of the virus include fever, cough, and shortness of breath. The CDC says it currently does not know "how easily or sustainably" the virus is spreading between people.
How many cases are confirmed?
As of Feb. 14, there are 15 cases confirmed in the U.S., according to the CDC; and 7 cases confirmed in Canada, according to the Government of Canada.
What is the best way to protect against coronavirus?
According to the CDC, "the best way to prevent infection is to avoid being exposed to the virus." Other steps can help, including staying home when you are sick, washing your hands with soap and water frequently, and avoiding close contact with people who are sick.
When should I worry?
According to the CDC, the public should be concerned "if you were in China within the past 14 days and feel sick with fever, cough, or difficulty breathing" — and you should seek medical care.
How does it compare to other illnesses?
While the coronavirus has grabbed headlines, North Americans are still much more likely to be impacted by the flu than the coronavirus. An article released by Purdue University this week shows that "22 million Americans have suffered from the flu, and that 12,000 adults and 78 children have died during this flu season," which began in October. That's significantly more than the coronavirus cases in the U.S. and Canada combined or the 1,300 people worldwide who have died of the virus and the 3,400 patients who have been infected and recovered according to CNN.
Does the CDC recommend canceling travel?
Right now, the CDC is only recommending that travelers "avoid all nonessential travel to China," which falls in line with a new Level 4 Do Not Travel Advisory from the U.S. State Department (only for mainland China and not for Hong Kong, Macau, or Taiwan). The State Department has also issued a Level 2: Exercise Increased Caution Advisory for Hong Kong and Macau, but is not recommending against travel for those areas or any other country.
Currently, though there are confirmed cases all over the world, the most danger lies in going to mainland China. Otherwise, according to the CDC, travelers should check a country's Destination Page or the Travel Health Notice website before traveling, though there are no other "Do Not Travel" warnings to any other country for coronavirus concerns.
How are airlines reacting?
Airlines have been recommending that U.S.-bound travelers arrive at airports earlier than usual because of new enhanced screenings that will apply to tens of thousands of travelers a day. They have also been altering China flight schedules through the spring in response to the spreading virus.
How are cruise lines reacting?
Most major cruise lines have begun altering itineraries to avoid Asia. Norwegian Cruise Line last week announced that it would be moving Norwegian Spirit's upcoming Asia itineraries away from the region because of concerns over the virus. And this week, Royal Caribbean canceled 18 cruises in Southeast Asia.
Diamond Princess was the only ship to have confirmed cases onboard (over 200 people between crew members and guests tested positive). Guests were finally allowed to disembark the ship and complete the rest of their quarantine at a shoreside facility this week when the ship landed in Japan.
But most cruise ships that made it into the media headlines about coronavirus concerns had no confirmed cases.
Carnival's Costa Smeralda ship had to be quarantined near Rome when a passenger from Hong Kong was said to have coronavirus, which turned out, instead, to be a common cold.
Concerns about some Chinese nationals onboard Royal Caribbean's Anthem of the Seas earlier this month forced the cruise line to delay its next itinerary, even though no guests tested positive for the coronavirus (one guest onboard, however, did test positive for the flu).
How are hotels reacting?
Major hotel chains are waiving cancellation fees for guests with plans to stay in China (including Hong Kong and Macau) or Chinese guests planning to travel internationally, through the end of the month.
What about travel advisors?
Travel executives speaking to Travel Market Report said that it's important for advisors to be well-informed during these situations, when the public can get easily overwhelmed and confused by the news. This is key for advisors in providing the best value to their clients.
While advisors should give important information to their clients, executives also said that it's vital to leave the decision about whether or not to travel up to the client.
Will travel insurance cover any cancellations?
Travel insurance will only cover some coronavirus cancellations.
"Fear of traveling due to coronavirus is not a covered reason to cancel a trip on a typical comprehensive travel insurance plan," InsureMyTrip said in a recent media statement.
Squaremouth agreed in a similar statement issued to respond to rising inquiries: "Unfortunately, there is limited cancellation coverage under most standard travel insurance policies."
In one recent incident, a Hawaiian family lost $32,000 on a Norwegian Cruise Line trip to Asia booked through Costco, after they decided to cancel due to coronavirus concerns. Their cruise insurance, not purchased through Squaremouth, did not cover their decision.