EPCOT's Guardians of the Galaxy: Cosmic Rewind - A First Look at Disney's Newest Attraction
by Zachary Laks /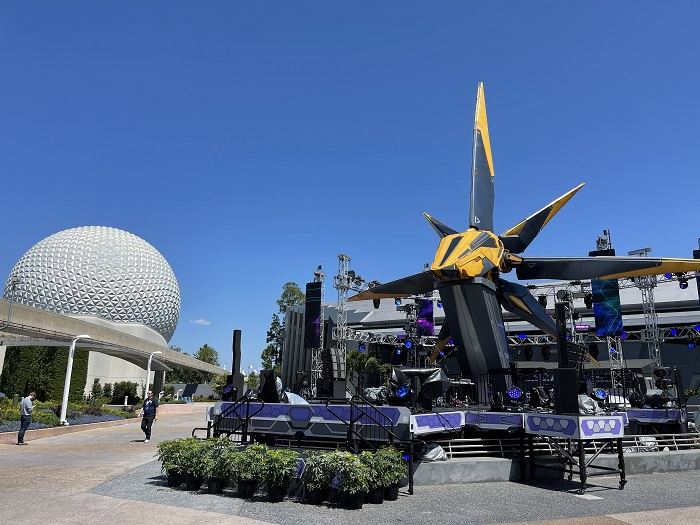 There are few things more exciting to Disney's loyal fans than a major new attraction opening at Walt Disney World, especially when it's the launch (or in this case, reverse launch) of a world-first thrill experience.
We're just back from an exclusive first look at the new attraction and after having the privilege to ride the coaster four times it is easy to decree that Guardians of the Galaxy: Cosmic Rewind is the toast of Disney excellence. The ride is unlike anything we've ever seen or experienced before and we've got a full report on what to expect, how to prepare for the ride, and a few hidden Easter eggs to show your clients you're in the know!
A new era of themed roller coasters: the specifics of Guardians of the Galaxy: Cosmic Rewind
The ride itself is a reverse launch indoor steel roller coaster with no inversions. It's very much a fusion of Space Mountain (as it's in the dark and you're coasting through the galaxy), Rockin' Roller Coaster (an upbeat, rotating soundtrack sets the tone for the ride along with similar highlights of physical scenic elements throughout the course) and Haunted Mansion (each train has 5 omni-rotating cars that seat four and rotate 360 to focus on video highlights and scenic elements).
Each car doesn't free spin, they rotate at a controlled pace, independently but all on the same rotation program. The ride is surprisingly smooth without any uncomfortable pulls or bumps, and it's also considerably long, clocking in at almost 4 minutes. There are some incredible air-time moments and stunning visual effects that make for a truly immersive experience.
Collect all 6 ride experiences with the attraction's rotating soundtrack
Perhaps the most fun part of the experience is the soundtrack, tapping into a Star-Lord mixtape with a random, rotating playlist that includes "September", "Disco Inferno", "Conga", "Everybody Wants to Rule the World", "I Ran", and "One Way or Another". You won't know which song will play on your ride until you are reversed-launched into space with the Guardians, which is part of the fun and excitement of the experience. Each of the four times we rode, there was giddy anticipation and gleeful rejoice at the reveal of your selected song – the reverse launch paired with the reveal of the song makes for a one-of-a-kind rush of adrenaline. "Conga" and "Disco Inferno" are the best for a dance party while "Everybody Wants to Rule the World" adds another layer of humor to the villainous Eson trying to change the course of humanity.
How easy will it be to get your clients to ride?
Strategy, timing, and patience will go a long way in getting your clients on to the ride. The hype around Cosmic Rewind is high and well-deserved as this is new attraction is many firsts for Disney: the first-ever omnicoaster, the first Disney World attraction to feature Guardians of the Galaxy, EPCOT's first-ever roller coaster, and the first-ever reverse launch for a Disney coaster – so to say that people will be coming in droves will likely be an understatement.
No physical queue: get your fast fingers ready
The ride will not debut with a physical standby queue, easing crowd control by relying on a virtual queue and paid Lightning Lanes. The My Disney Experience app will be the only way to enter the queue for the attraction, and it seems like the virtual queue experience will be similar to what has been seen with Rise of the Resistance and Remy's Ratatouille Adventure, with releases for boarding groups to ride the attraction at both 7am and 1pm. More details are still to come but it's most important to note that there will be no physical standby queue and all opportunities to ride the attraction will depend on your client's speedy fingers and luck in securing a reservation for that day. It's also important to note that each guest will only be allowed to enter the virtual queue once a day so if you're looking to experience the ride with all six songs, plan at least a week-long visit.
Book as far in advance as possible
When the attraction opens on May 27, EPCOT is sure to become the most popular park in Walt Disney World for months to come. With the new park reservation system continuing for the foreseeable future, make sure your clients are booking as far in advance as possible and reserving EPCOT as their first park of the day for at least one day of their trip. It'll be much easier to switch out of EPCOT than into EPCOT and it's not uncommon to see the resorts open up availability 24-48 hours prior to that day.
Estimates of ride capacity place Cosmic Rewind at about 1,700 riders per hour at max capacity, running 8 trains at two loading stations on one track. Compare that to unconfirmed reports that Rise of Resistance can max up 1,700 riders per hour and Remy's Ratatouille Adventure which maxes out at about 2,200 riders per hour and you'll get a sense that demand will be extremely limited. The opportunity to ride Cosmic Rewind in the first few months will be as much about a speed strategy on the Disney app as it is about luck of the draw.
Who will love the ride?
The ride is a family thrill coaster with an emphasis on the thrill. Those prone to motion sickness, don't care for loud music, or don't respond well to bright, flashing lights should try to avoid this ride as there is nothing subtle about this attraction. The ride is intense and unrelenting, with the speed of the train and the rotation of the car adding up to a real headspin. You'll definitely need a few minutes to recover from the thrill and sensory overload of the experience. Height requirements should be released soon.
Steven Spiegel, a Disney Imagineer who helped to lead the story development on Cosmic Rewind, gave TMR his inspiration for the new attraction saying they wanted it "to be big, bold, fun, and hilarious. A roller coaster seemed to be the most fitting ride for the story."
"It's a challenge to tell a story on a coaster where people are screaming, you're spinning, and you're hurtling through space. So we wanted to find a system that would be able to deliver the storytelling aspect and that's why this omnicoaster is so perfect. It's a combination of an omni-ride and a coaster all in one. And that's really what makes it so unique."
Spiegel goes on to highlight the ride's pre-show that is "the richest pre-show I've ever worked on" adding how the queue experience "really sets the stage for the universe, the characters, and the journey, including how you get from the earth up to the spaceship and beyond." There are a few video sequences and magical reveals during the pre-show that are best experienced in person.
I don't know anything about Guardians, will I still enjoy the ride?
There's enough pre-show experience to get you immersed in the galaxy, regardless if you're familiar with all Guardians franchise. Spiegel adds that "you can be a super fan, and you'll get a lot out of this attraction or, you can come in not having seen any of the movies, and that's why we have this rich pre-show to set the stage for all that." If you're more of a Disney fan than a Marvel fan, Spiegel encourages you to seek out "a lot of hidden easter eggs for Disney fans here too."
A few of the Easter eggs
As for one of Spiegel's favorite Easter eggs, pay close attention to when the hulking Guardian Drax refers to the "big bang" as the "ding-dang" – a callback to EPCOT's retired Universe of Energy attraction.
As you stroll through the queue, pay close attention to the displays where you're likely to spot Walt Disney himself and a weather pattern referred to as Maelstrom, the former Norway attraction replaced with Frozen Ever After.
Also in the queue, spend a few minutes taking in the model Xandarian City model, there's a hidden Mickey in the grass.
Bottom line: Cosmic Rewind delivers an out-of-this-world headspin that will be a cherished and popular EPCOT attraction for many years to come.