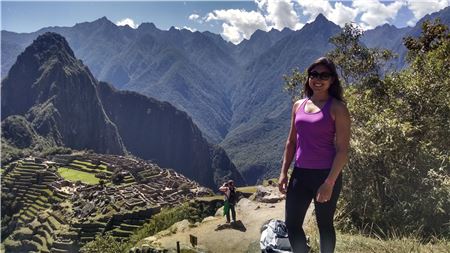 About a year after she graduated from the University of Michigan with a degree in literature, Vinal Desai Burbeck became an account manager for Google.
It wasn't exactly what she had studied for, but the pay helped her with her student loans, and gave her the chance to travel on Google's dime. It seemed like a good fit in the middle of a recession when jobs weren't plenty.
Google "really accelerated my arrival into my travel career," said Burbeck, CTA, now founder & chief experience officer at Wanderlark Travel in Ann Arbor, Michigan.
Today, her agency specializes in custom-curated trips for "the very independent minded traveler." Her client persona is a busy, working professional, possibly a parent, who shares her curiosity and sense of adventure.
"Everything I recommend is cherry picked for the client, based on their interest and travel style," she said. "I want to work with people who don't want to travel like the average tourist, but don't have the energy and expertise to do it themselves. I enable my clients to go off and explore by giving them everything they need."
A long and winding road to travel agency owner
Desai Burbeck gained the travel bug when she 19 and living in London during her college study abroad assignment. "It was exotic for me, having grown up in a suburb of Detroit. I didn't know anyone who was a world traveler, and when I was small, vacations were very much local, or continental U.S."
She visited Paris and Rome during her six weeks abroad, including ending up in an "awful hostel. We made some bad decisions, didn't catch the right train, but realized that was the fun of it all."
More importantly, "I saw how travel could impact a person. Surrounded by Londoners and Europeans, I met people who felt travel was a priority," Desai Burbeck said. "I wanted to be like them."
In her role at Google, she didn't have an administrative assistant to book her corporate travel. But she soon found that she enjoyed researching all of the travel elements for her business trips.
"For so many of my colleagues, it was such a drag, but for me it was a thrill. I became the go-to person on my team, to the point where my colleagues were frequently asking me, 'Where should I stay?' or "Where should I take my clients for lunch.' Now the wheels were turning in my head, and I'm seeing stories in the news that people are travel agents for a living."
Desai Burbeck took her first Travel Institute travel agent classes in December 2014, and began putting together her business plan.
In spring 2015, on the day after she quit her corporate job, Desai Burbeck headed off to South America, including Peru and Brazil, and a 5-day, 60-mile trek to Machu Pichu. "It was a pretty big deal for me. It was challenging mentally and physically, but also held so much symbolism for me," she said, speaking about both the trip, and her new career. "Finally, I was embarking on my adventure, this scary yet thrilling journey, full of unknowns."
When she returned, she launched Wanderlark, which today is an independent agent with Tafari Travel, a Virtuoso member.
Since then, she has traveled extensively to Europe, "which works out well, because most of my clients want to go there. It's accessible, not too foreign, and easier than places like Africa and South America."
Details, details
Her love for writing and the skills she has honed have become a selling point for her as a travel agent. Desai Burbeck is known for her detailed itineraries, which help clients experience their journey long before they get there.
Client Rob Haley wrote a testimonial for Desai Burbeck that reflects the value her writing creates. "Once we have the details hammered out for the locations, we were then presented with an amazing itinerary… a geographically structured list of activities and restaurants with a blurb about each one. Not only was every option perfectly tailored to our tastes, but having it broken up into numerous sections based on the different locations we would be in made it perfect to consult when we were up for the next option."
He added: "We received delightful emails detailing new information, a beautiful printed packet of stuff to take with us and a geotagged map with all the information from the trip packet. I was genuinely surprised by how quickly I went from someone who enjoyed planning his own trips (so I knew that it would be suited to my tastes) to someone who was eager to use Wanderlark's services again."
Her attention to detail also has crafted milestone memories for her customers, including helping a man propose at sunset, to his fiancée on the banks of the Tiber River.
"He wanted something private. I ended up hiring their photographer, found the perfect spot in front of the Castello de Angelo, with not another person in sight," she recounted. "I feel so honored that I could be a part of that moment. And I'm actually planning their honeymoon now."
Her love for writing also resulted in the agency's name. "That was so very, very difficult. Everything seemed to be taken, and today, to compete online, you really have to come up with something unique. I decided to make up a word."
"I have always liked the word 'wander,' but 'wanderlust' was overused. I also always loved birds. So, I did what every literature major would do. I went to the library, and sat there with books, about birds."
Desai Burbeck said she loved the double meaning of the word lark and gravitated towards it. "Of course, it's a bird, but it also means to go off on an adventure. So I decided to mash those two together," she said. She has since trademarked the name.
Desai Burbeck has worked hard on her SEO to try to attract clients specifically fitting her business model but is refining her efforts every day. She finds most of her clients are people who know her or know her clients. She also benefits from living and working in Ann Arbor, a bustling college town populated with people prone to wandering.
"I think it's pretty cool I left the corporate world and started something from nothing," she says now, looking back. "The path I have taken is pretty crazy. I never would have thought as a 21-year-old English lit major, I would have ended up here."