First Look: British Airways' New Business Class Club Suite
by Daniel McCarthy /

British Airways today unveiled the first images and more details about its upcoming Club Suite, set to debut on the airline's first A350 aircraft this July.
The suite will upgrade British Airways' business class offerings in a big way, getting rid of the back-to-front setup of its current business class and instead using a 1-2-1 configuration that gives every passenger access to the aisle without having to step over another passenger.
Compared to its current business class, the new Club Suite will also give guests 40 percent more storage space, along with a PC/USB plug-in, 18.5-inch screens to access its entertainment system, a vanity unit and mirror, flat-beds, and a suite door for ultimate privacy.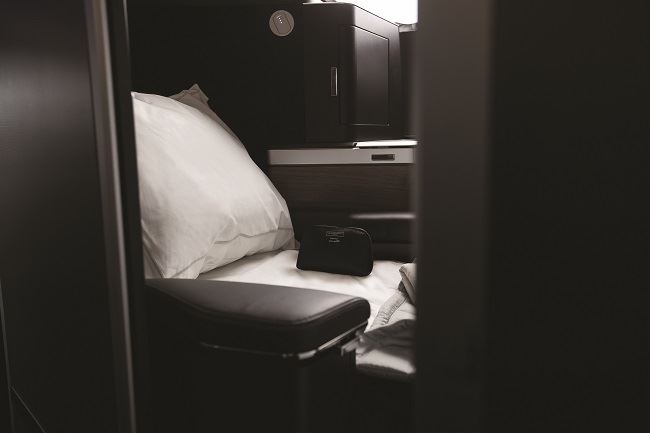 BA's business class now includes a suite door for ultimate privacy. Photo: BA.
The Club World cabin is one of three to be included in the A350; joining it will be the 56-seat World Traveller Plus cabin and the 219-seat World Traveller economy cabin. Both of those cabins will be getting upgrades — the Plus cabin will receive new furnishings, amenity kits, improved dining, and better service; while the economy cabin will receive improved WiFi. In addition, the whole aircraft will be upgraded with higher ceilings, ambient lights, and a reduced noise level.
"The arrival of our first A350 featuring our new Club Suite is one of the most exciting developments in our £6.5 billion investment programme," British Airways Chairman and CEO Alex Cruz said. "We've worked hard to ensure every aspect of the Club World experience."

The new business class from British Airways will do away with the back-to-front setup in favor of a 1-2-1 configuration. Photo: BA.
The A350 will first fly short-haul service between London and Madrid in July; and then, in October, it will begin a long-haul schedule, at the same time that other British Airways aircraft — three A350 and two Boeing 777 — will be retrofitted with the new cabin.