Five Reasons to Book Royal Caribbean's New Symphony of the Seas
by Doug Gollan /

Royal Caribbean's Symphony of the Seas is an evolution of the now decade-old Oasis Class of mega ships. On Saturday, she made the first revenue cruise from its new U.S. homeport of Miami after spending its first six months based in Europe.

Symphony of the Seas will alternate mostly seven-day eastern and western Caribbean itineraries. Travel Market Report was aboard an exclusive trade preview last week, and here are the top five reasons to recommend it to your clients:

1. Bragging rights
Your clients can tell their friends they sailed on the world's largest cruise ship. At 228,081 gross tons, Symphony is just slightly bigger than second-place Harmony of the Seas, launched in 2016.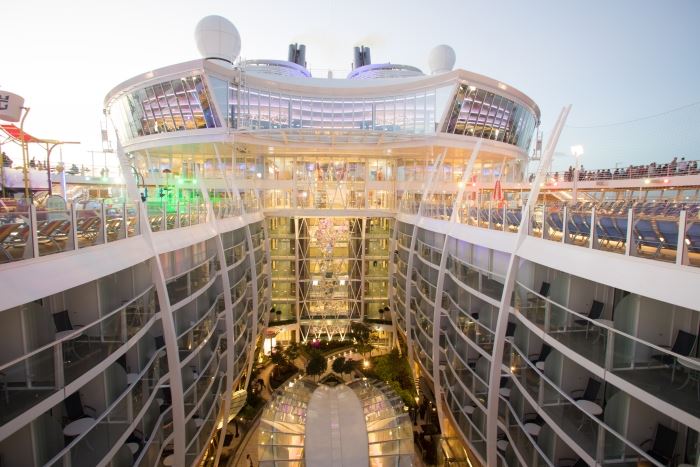 Central Park on Symphony of the Seas. Photo: SBW-Photo.

2. An elevated (and fast) port experience
From "car to bar in 10 minutes," says company Chairman Richard D. Fain. All Symphony of the Seas sailings depart from Royal Caribbean's new $250 million Terminal A featuring fast-track boarding, including curbside bag drop, expedited check-in and security; and a covered, attached parking garage. Clients will marvel at the life-size, moving ship's propellers that hang from the ceiling as an art installment in the grand atrium entrance.

On return, new technology promises to have guests cleared through customs and immigration, and on their way home in record time. If you only have hand baggage, you don't have to wait for your cabin group to be called. If you do, there are well-marked pick-up areas, and either way, facial recognition scanner technology makes things quick. There is no more filling out forms and stopping for interviews. We were in our Uber nine minutes after walking off the gangway.

3. Their favorites made better
Symphony of the Sea, while the newest and largest Royal Caribbean vessel, doesn't debut any wow breakthrough features on the scale of the AquaTheatre, Central Park, seaboard rock climbing walls, full court basketball, water slides, flow riders, carousels, automated bartenders or zip lines that the brand has become so noted for.

It does, however, include, refine and improve all of the aforementioned Instagram-worthy experiences. For example, The Abyss is a new waterslide with a 10-story drop. Brand CEO Michael Bayley, who was involved in its design, said the objective was to scare his kids. All the agents we heard from said Symphony of the Seas is a homerun.

Royal Caribbean's Ultimate Abyss. Photo: SBW-Photo.

High-quality free restaurants
If your clients are worried about how much they will need to spend once they are onboard, tell them they don't need to be concerned. While there are a dozen specialty restaurants that carry a surcharge, there are 11 other dining options with complimentary offerings. We tried four, and were impressed with each.

The stunning, three-level Main Dining Room has tables for large groups and plentiful two-tops. The filet mignon and broiled lobster tail were absolutely delicious, as was an apple pie with vanilla ice cream. If your clients want seconds, tell them to just ask. The dining room staff enjoys making guests happy.

Another great, free dining option is Windjammer, with spectacular ocean views from its perch on Deck 16. It's a popular choice serving over 5,000 breakfasts, as many lunches and more than 2,000 guests at dinnertime. There are plentiful buffet selections to satisfy every taste or diet, with cuisine from around the world, made-to-order stations, as well as fresh salads, cut fruits, grilled vegetables, and lots of those "well, it's vacation, enjoy"-type of dishes.

Sorrento's Pizzeria, on the Royal Promenade, is another example of the evolutionary improvements aboard Symphony of the Seas. Traveling Corporate Executive Chef
Bruce Venter says the pies, served by the slice, are the result of over a year's worth of research that resulted in new and higher quality ingredients, including new cheeses.

Across the walkway, Café Promenade is a great and nearby alternative for those who don't want to pay for Starbucks. It offers snacks, pastries, sandwiches, desserts and coffee, 24 hours a day, with sidewalk tables so guests can take in all the action.

5. Earn the big bucks
With its convenient Miami homeport, Symphony of the Seas will be doing mostly seven-day eastern and western Caribbean itineraries, two of the industry's most popular routings, so the offerings are something your clients will want, with bigger earning potential for you than three- and four-day cruises.

The Royal Suite Class enables agents to earn more with options for guests that include access to Voom (the line's high-speed internet), gratuities, stocked minibars, and dining at Coastal Kitchen, all bundled into commissionable cruise fares.

Its two-level Ultimate Family Suite comes with indoor slide, game room and expansive balcony. It is nearly fully booked for the next six months, including by one happy advisor who will be collecting a sizeable paycheck from the $85,000 booking made that the suite sells for on peak holiday sailings.

The Pool Deck on Symphony of the Seas. Photo: SBW-Photo.