Headquarter Happenings: Travel Leaders Wants Its Members to Get On Board With American Express Program
by Marilee Crocker /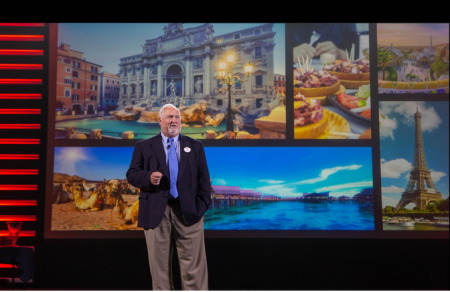 One year after announcing a milestone partnership with American Express, Travel Leaders Network acknowledged that advisor participation is lagging expectations but said the program's potential to drive profits remains strong.
At its annual EDGE conference in National Harbor, MD, last month, Travel Leaders executives urged attendees to enroll in the program, called Apex, which lets participating advisors promote their ability to book commissionable rewards travel for American Express Gold and Platinum cardholders and offer cardholders exclusive perks and discounts.
"If I could ask one thing from you at this conference, it's to take this really seriously. Don't wait a day; start your first hour back in the office. Sign up for the training and get this done. This could be a phenomenal source of new revenue and profits," Michael Batt, chairman of Travel Leaders Group, exhorted attendees.
Overcoming challenges
To date, roughly 2,500 Travel Leaders Network advisors have completed the training required to participate in Apex. Those advisors have processed 2,622 Membership Rewards redemptions, according to Travel Leaders.
Travel Leaders executives said they had encountered unexpected challenges in partnering with American Express, not least because the financial services firm is subject to strict compliance rules, which has affected everything from training requirements to marketing and technology.
But the two organizations have worked closely to address the pain points and reduce barriers to success, said John Lovell, Travel Leaders Network & Leisure Group president, speaking to journalists. One result is that the required training for advisors has been simplified.
"We're going to get there with American Express. It's a long-term partnership," Lovell said.
Global growth spurt
One accomplishment that Travel Leaders Network highlighted at the conference was its recent international growth. After making a strategic decision with sister division Travel Leaders Corporate just last December to expand globally, the group has already added high-profile agencies in 68 countries. It expects to expand to 80 countries by year-end.
Travel Leaders Network president Roger Block called the global expansion "a huge success story."
Block said that Travel Leaders aims to differentiate itself from other international travel management companies by having a "global presence but localized service," with sales and account management staff in each of its regions. "That's going to be key to our success," he said.
Another big development for Travel Leaders Network this year was the addition to its membership of World Travel Holdings, a firm with 35 brands, including the travel agency franchise and host agency brands Dream Vacations/CruiseOne, and Cruises Inc. "It is a win-win-win for everybody – two good organizations coming together," said Lovell.
Aiming high on Google
A key message that Travel Leaders drove home to attendees was the value of participating in its Agent Profiler lead generation tools. Agent Profiler showcases individual travel advisors on the consumer website travelleaders.com, with the goal of positioning individual advisors high up in the results of consumers' online Google searches.
"To quote one of our advisory board members, 'Agent Profiler is the single best program Travel Leaders has ever delivered,'" said Jeremy Van Kuyk, vice president of product and solutions delivery for Travel Leaders Group.
In 2018, Agent Profiler delivered 140,000 leads to Travel Leaders Network members, who closed on 25% of those leads at an average sale price of $5,000. That amounted to $175 million in bookings and $21 million in commissions, chief marketing and communications officer Stephen McGillivray told agents. So far in 2019, leads are up 35% over last year.
Profiler Plus
Travel Leaders also rolled out Profiler Plus, the next generation of its opt-in, feature-rich Agent Profiler 2.0.
Among the changes: Profiler Plus lets advisors post videos to their profiles. It also spotlights advisors' destination expertise, with a feature that lets advisors pinpoint on a map the places they've visited and/or booked. Those destinations are then linked to reviews from clients they've sent to those destinations. "We need to show consumers that you've been there and done that," Van Kuyk said.
The other big technology news was the redesign of the agency group's website solution for member agencies, called Leaders Edge. The new design puts greater focus on an individual agency's brand and gives agencies more ways to personalize their websites, including color scheme, images and copy. The website's modular layout also lets agencies move or delete sections to suit their needs.
One online solution that was not in the spotlight at the conference was Vacation.com, the content-rich consumer website that aims to drive demand and generate leads from travel shoppers who aren't necessarily looking for a travel advisor.
At a media briefing, McGillivray said that Vacation.com is still generating leads and business for some 25 to 30 Travel Leaders Network agencies who are participating in the initiative. But the site is functioning largely as a test laboratory, he said, adding, "We're finding out what works in demand generation."
Luxury Forum tiered education
This year's EDGE conference included its second annual Luxury Forum, which brought together pre-selected travel advisors and luxury suppliers for a day of one-on-one appointments. The forum was double the size of last year's, with 100 suppliers and 100 advisors participating. Already, advisors are lobbying for an even bigger Luxury Forum next year, Block said.
Attendees at this year's conference had their first taste of a new tiered education program, which grouped 70 of the 210 workshops offered into four learning tracks, based on advisors' experience levels and skill sets.
The tiers were implemented to "fill some gaps" in training, especially for new entrants and for the most experienced advisors, and to further "talent acceleration," said Lea Diele, senior director of education services.
The tiered approach was well-received and succeeded in "getting the new people the help they need, allowing our experienced advisors to go really deep and helping our people that were presenting know what tier they were speaking to," she said.