Here Are the Best Airlines for Flight Delays in North America in 2022
by Daniel McCarthy /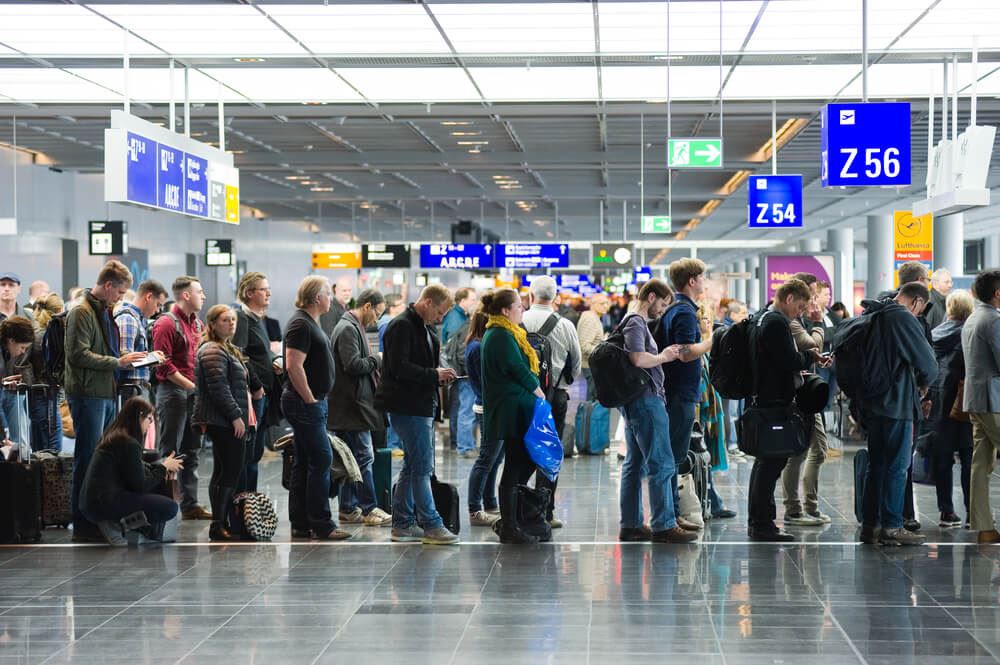 2022 was a year of recovery for the travel industry, but it was far from smooth sailing.
With a rebound in demand came a short supply of staff and resources, which caused an unprecedented level of disruptions for so many travelers, who, desperate for a return to travel post-COVID-19, had to suffer through countless delays and cancellations. And while the disruptions were widespread, some carriers did significantly better than others.
This week, data analytics company Cirium released its 2022 On-Time Performance Review. The report, which is generally considered the gold standard for airline and airport performance tracking, ranked North American and international airlines regarding on-time performance. The definition for an "on-time" flight is a flight that arrives within 15 minutes of the scheduled gate arrival.
Here are the rankings for 2022:

Photo: Markus Mainka / Shutterstock.com
1. Delta Air Lines (83.63% on-time)
For the second straight year, Delta was ranked as the best airline for on-time performance. Delta's schedule for on-time arrival was 83.63%, a rate that is even more impressive considering that only two other airlines ranked in the top 10 had more total flights in 2022 than the Atlanta-based carrier (American Airlines and Southwest).
Delta wasn't immune to the forces that impacted the travel industry in 2022, including the Omicron-induced holiday travel misery that bled into January 2022 and the effect of the 2022 hurricane season. However, Delta was able to deal with those issues better than its peers, clearing the second-place airline by more than 3%. Delta also ranked 5th internationally, behind Azul, ANA, JAL, and LATAM Airlines, though none of those airlines flew nearly as many flights as Delta.
This year, Delta is also hoping to launch free WiFi, one of its long-term goals going back a number of years.

Photo: Leonard Zhukovsky / Shutterstock.com
2. United Airlines (80.46% on-time)
United Airlines ranked second in 2022 for on-time arrivals at 80.46% for its 789,200 total flights. United was also just one of three North American airlines to rank in the top 10 internationally, along with American Airlines, which ranked 10th, and Delta, which ranked fifth.
Aside from some union negotiations, including an ongoing saga with its pilot's union, United's 2022 was highlighted by bullish sentiment from its CEO, who said in October that consumers are still paying for travel despite inflationary pricing and some schedule maneuvering that included more transatlantic service for this coming summer.

Photo: VDB Photos / Shutterstock.com
3. Alaska Airlines (80.36% on-time)
Coming in third in Cirium's rankings was Alaska Airlines, which flew 80.36% of its 243,072 flights on time in 2022.
The airline, which is headquartered in SeaTac, Washington, is the sixth largest carrier in North America but has historically garnered praise not only for its on-time performance, but has historically ranked highly for its customer-friendly policies and onboard service.
Alaska's 2022 was not only highlighted by an expansion in its home in Washington State but also a new May the Fourth aircraft and an electronic bag tag program.

Photo: CaseyMartin / Shutterstock.com
4. American Airlines (78.29%)
American Airlines flew the second-most flights of any North America-based carrier in 2022 (1,076,100 flights) and was ranked 4th for its on-time performance (78.29%).
American recently made a couple of major announcements that will impact not only its performance in 2023 but also its grades on customer relations. The first was an expansion of its Northeast Alliance with JetBlue that will see the two add 11 new nonstop in or out of New York and Boston, furthering the Alliance's position as the major player out of the Northeast. The second is an overhaul of its AAdvantage loyalty program that includes new rewards, new thresholds, and more.

Photo: VDB Photos / Shutterstock.com
5. Southwest Airlines (78.29%)
It has been a horrendous month for Southwest Airlines, a carrier that has long been known as not only one of the most favored low-cost airlines in North America but one of the most favored airlines in general. The carrier suffered from an operational meltdown that left thousands of passengers stranded and more than 15,000 flights canceled during December's busy holiday travel season and is currently the subject of a class action lawsuit from passengers who did not receive refunds or expense reimbursements.
Still, even with that meltdown, Southwest was ranked 5th in Cirium's rankings with an on-time percentage of 74.06% across 1,336,888 flights in 2022, more than any other carrier in the top 10.
Outside of the worst December of any other carrier, Southwest continued to lean into an improved passenger experience in 2022, announcing in May it was spending $2 billion to upgrade seats and baggage bins, and announcing a new policy where its flight credits will no longer expire.