How Travel Advisors Can Sell Norwegian Joy
by Cheryl Rosen /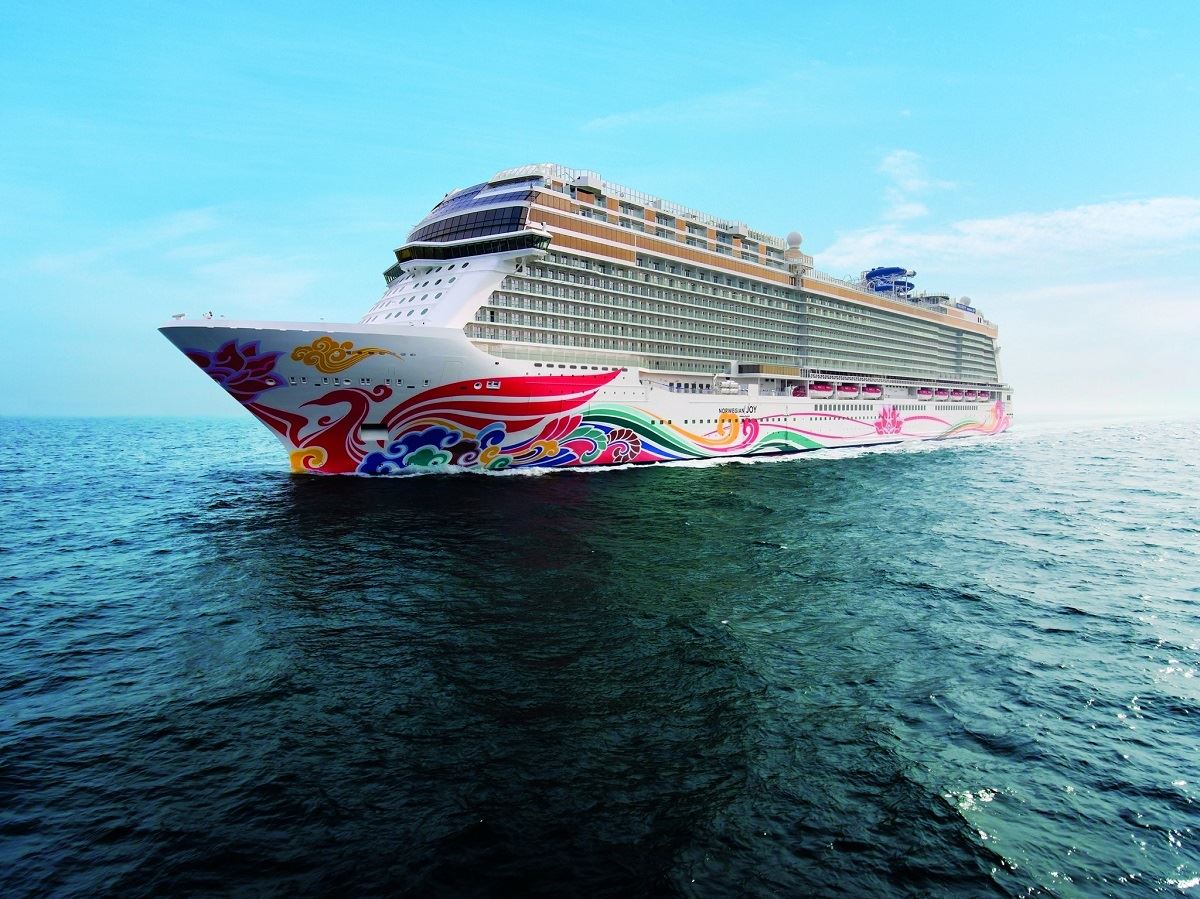 How is this ship different from all other ships? On the Passover-and-Easter-Week maiden voyage of the new Americanized version of Norwegian Joy, Travel Market Report scoped out the new features, along with some tips on how to sell the ship.
Originally launched for the Asian market, Joy is fresh (so fresh the paint was still wet in places) off of a $50 million refurbishment designed for the much more lucrative Alaska itineraries out of the U.S. It comes to the market a little late for Summer 2019 — and so it will be priced to move, with specials including Free at Sea and free or reduced air to its Seattle home port.
For travel advisors, Norwegian Cruise Lines' CEO Andy Stuart noted that the line's more inclusive pricing structure has pushed up commissions by 30% over time; and sailing from a city into which most passengers will fly adds stickiness to their reservations. But also exciting is the chance to sell a new product with new features.

The Virtual Balcony in the Joy's Concierge Class rooms. Photo: NCL.
Creating the biggest buzz among travel advisors onboard were the Concierge Class rooms, in general; and the Indoor Family Suite with Virtual Balcony, in particular. Concierge Class adds a touch of luxury at a lower price point than The Haven, offering 24-hour concierge service; private dining at breakfast and lunch; and priority access that lets you skip those big-ship lines for boarding, seating at shows, going ashore, and disembarking.
The Concierge Family Inside Cabin addresses a particular need on a family-oriented ship headed to a family-oriented destination; its 500 square feet include a living room, two bedrooms and two baths, and hold a party of six (assuming some will sleep on the couch or pull-down bunks). It is an inside room, but the "virtual balcony" video feed from outside adds a touch of sea and sky.
A smaller family can't go wrong with the Concierge Family Suite, a beautiful 400-square-foot room with a large balcony, designed to hold three.

Joy's Galaxy Pavilion. Photo: NCL.
Also sure to please the family and Millennial travelers — and unique to Joy — is the Galaxy Pavilion, where virtual reality and video games rule. Joy also has the features introduced in its sister Breakaway-Plus Class ship, Bliss, including an onboard go-kart track and open-air laser tag arena, as well as the soaring glass-enclosed Observation Deck.
Entertainment includes a full Broadway-style production of "Footloose" and the Cirque du Soleil-style "Elements," as well as comedy, a Beatles show, and music everywhere. And one first-time Millennial cruiser told Travel Market Report that his biggest surprise is the sheer number of food venues, from the kitschy outdoor American Diner and Teppanyaki to refined French, Italian and steak specialty restaurants.
In short, there's something to bring joy to everyone — just what Norwegian planned for Alaska, a destination that draws adventurous singles and Millennials, families with lots of kids, and Baby Boomers with a bucket list, as well as a growing number of foreign travelers.
Focus on agents
So, what should agents focus on when trying to sell Joy? "The family group continues to be key, so we tell our travel agents that if they see a family walk in the door, this is the brand for them," said Franck Medina, Norwegian Cruise Lines' vice president for Latin America, Brazil and the Caribbean. In his markets, the lure of a new ship also is a strong selling point; Alaska sales tripled when Bliss came online.
Andy Stuart offered up the following: "Our customer is everyone, from the affluent customer spending time in The Haven, to the budget-conscious having an affordable vacation in an inside room, to the families with connecting balconies spending quality time together. Figure out who you are talking to and what their journey through the ship can be. It's not a homogenous experience; some will spend $700 and some will spend $10,000. Don't miss the opportunity to tell customers the unique story that fits them."

The courtyard in the Joy's Haven. Photo: NCL.
How agents reacted
And of course, the travel professionals had their own thoughts on how to sell Joy. Ron Richards of AJ Travels, in Northport, New York, would start with the Concierge Suite, "a luxury suite at a much more affordable price; the layout is exactly the same as a Haven penthouse and it's about $2,500 cheaper. I'd sail in one in a heartbeat."
Overall, Richards said, "we see Joy as a bull's eye for three demographics: the Millennial interested in active excursions will like the beautiful fitness center; families, the people spending $10,000 to bond with their kids, will like the go-karts and laser tag and things they can do together; and the Baby Boomers who want to do things they have never done before will like the spectacular shows and the nightlife. When someone says 'Alaska,' we say 'Hey, there's a great new ship that has just what you are looking for.'"
"Alaska sells itself; it's just a matter of which ship to put them on," said Phillip Powell, owner of Monrovia Travel, in Monrovia, California. But he brought his best client along on this fam trip, and looking at the ship through his client's eyes has given him a new perspective. "I am concerned about the extra costs of the race track and the Galaxy Pavilion for a family; I see a bigger need to sell Norwegian with the Five at Sea promotion and the free air," he said. "I like the way letting them handle the air makes it all seamless; from the moment you get to the airport, you are in their hands."
Danny Genung, of Harr Travel, already has sold quite a few Concierge Suites on Alaska and Mexican Riviera groups that he is putting together. "They are a great price point for what you get," he said. "Space is the ultimate luxury commodity on a cruise, and these have incredible space for the cost."
Camille Sperrazza, owner of World Awaits Travel, in Brooklyn, New York, who already has a group booked on the soon-to-debut Norwegian Encore, tells clients that Norwegian offers the best night life at sea. "My favorite venue is the Cavern Club, where 'The Beatles' perform to a standing-room-only crowd each night, and everyone is singing and dancing — so much fun! — and I love the Comedy Club. And 'Footloose' is another upbeat, lively musical," she said.
Nancy Bauman, of American Discount Cruises and Travel, will focus on the activities: "There are so many great things to do onboard the Norwegian Joy. Many of the activities are new to cruising, and very exciting. I think the race cars are really unique and fun. They aren't on any other cruise line and they aren't available at all-inclusive resorts, either."
David Holman, partner at Bridges & Holman Wolwide Travel, has been building interest in Joy by promoting his fam trip to his Facebook followers. He asked what they would like to know about the ship and got 240 questions back; then he chose the best and hosted a live Facebook chat with his BDM, Ralph Ebra, while onboard to get the answers. "I think the changes to Joy make it just different enough to make it worth a special trip. Especially to Alaska," he said.
And Bonnie Lee, of Travel Leaders, in Albertville, Minnesota, surprised herself by trying the virtual reality rides in the Galaxy Pavilion. "Virtual reality is something I would never normally do, but Andy Stuart said we should challenge ourselves to try something new on vacation and I did," she said. "Now I will go back and recommend that my clients try it, too. But not right after lunch."
Indeed, said Kathryn Mazza Burney, executive vice president of TRAVELSAVERS in Oyster Bay, New York, all Joy needs now is a little more promotion. Norwegian "did a spectacular job of transforming this ship. After seeing it, I think they need to showcase it more. She is spectacular, and I think she got left behind a little bit with all the attention on Bliss."