Innovative and Courageous, Sandy Cleary Created a Travel Agency That Makes a Difference
by Richard D'Ambrosio /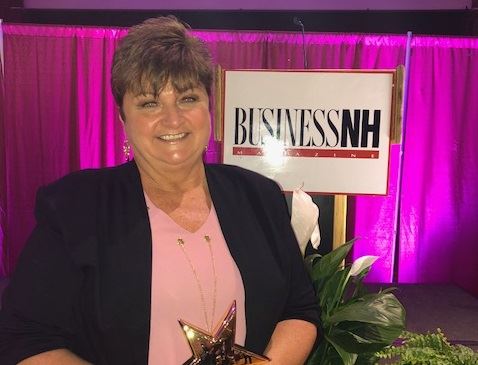 Travel was far from Sandy Cleary's mind 30 years ago, when she was working for a government contractor designing and manufacturing ballistic missile systems in California.
But when her brother passed away in 1993, and her father died a year later, she moved back to her family's three-story East Boston brownstone to help her ailing mother. After she unpacked and settled in to a new routine, Cleary asked herself, "What will I do now to support myself?"
"I remember something my brother always said: 'If you do what you love, you will always be successful at it, and money will come in time.' Well, I loved cruising, and at that time, I was familiar with the internet because we used it to transfer files for my military work. I knew I could run a travel agency from home over the worldwide web. So, I cleared a space in my mother's basement and opened my travel agency."
That was 1995. Today, Cleary's CruCon travel agency has grown to 135 employees and serves more than 100,000 customers a year from its spacious headquarters in rural Moultonborough, New Hampshire, working with almost every major cruise line (luxury, premium and budget), and just this year launched a partnership with the HSN cable shopping channel.
Cleary and her company have had such an outward presence in Moultonborough that Business NH Magazine recently named her Business Leader of the Year for her "leadership, professionalism and philanthropy."
A pop tart set her business on fire
In the early days of her business, Cleary was working hard in her mother's basement, with her oldest sister Pat helping out a few hours a day. One day, a pop tart she was heating up for breakfast got stuck in the toaster and was lit aflame. Somehow the flames started up the kitchen cabinets. By the time Cleary realized what happened, the whole second floor of the house was burned out.
"The next day, my mother sat down with me," Cleary said. "She told me, 'I'm so glad you moved home. But please, you need to move your business out of my house.'"
That was a major turning point for CruCon. Cleary moved into its first commercial space, hired her first real employees, and began to constantly refine her digital marketing. The business started to take off.
By 2003, CruCon had 12 full-time employees, but the office was in a bad neighborhood. When they witnessed a bank robbery and shoot-out across the street, Cleary knew it was time to find a new location.
Not relying on foot traffic, Cleary was free to look just about anywhere where that real estate was relatively cheap, and there was an ample population to supply new cruise sales recruits. When she was young, Cleary and her family had vacationed on Lake Winnipesaukee, in New Hampshire's Lakes Region. She talked with her employees about setting up a satellite office there to see if it would work.
In time, all but one of her 12 employees decided to make New Hampshire their permanent home. After another growth spurt, CruCon had a little more than 100 employees and had outgrown its space. In 2014, Cleary moved CruCon into a 30,000-square-foot, three-story headquarters.
Focused on marketing and people
CruCon's growth and eventual move to such a large and modern building was facilitated by the company's innovative marketing strategies and philosophy of putting employees first.
Rural New Hampshire isn't filled with experienced cruise specialists, but that wasn't what Cleary needed to care for her clients. She knew she could train people with sales potential to learn the cruise product, pricing and company strategy. What she needed was people who understood how to befriend and care for her clients.
That's why she included a gym, daycare facility and kitchen (no toasters) in the new headquarters.
"Employees make or break you," Cleary said. "Some people think I spoil them, but I believe they allowed us to succeed over the years because of our business model. When a client finds us over the internet, through our marketing, they need to eventually reach someone who cares for them."
"Our philosophy has always been, as the internet matured, consumers would grow more familiar with researching what they want. But to make such a significant investment like a cruise vacation, they would want someone to hold their hand through the process," she said. "We look to hire people who can understand that."
Her strategy is working. "Our specialists develop relationships with our clients. They get invited to weddings. Get sent pictures from trips, receive Christmas gifts. Our clients are extended family."
CruCon also uses a Customer Relationship Management (CRM) tool to track client milestones like anniversaries and birthdays, and to provide a loyalty program and offer special perks.
Driving hot leads
The company's history of digital marketing has led to this steady stream of hot leads from a variety of sources, with a heavy emphasis on Facebook and Google ads, as well as email. And CruCon is diligent about measuring where inbound sales come from, constantly refining which channels work best.
"I think being an engineer originally gives me the ability to evaluate success and failure without getting emotionally attached to it. Regardless of how much we spend on a media buy, if the numbers say it doesn't work, we move on," Cleary said.
Understanding how marketing can drive hot leads, in December of last year, CruCon partnered with HSN (formerly known as the Home Shopping Network), to sell exclusive cruise packages and experiences. Known for promoting health and beauty products, jewelry, fashion and accessories and electronics, HSN had never partnered with a travel agency to focus on cruise sales.
Cleary films 3-minute segments selling exclusive cruise plans for the cable channel that run in rotation to 90 million household viewers, while also offering digital ads on the HSN website.
She said the nascent marketing channel is "doing well, but we're still learning how to leverage it."
As a result of their innovation, sales growth and contributions to the industry, Cleary and Crucon (a Travel Leaders member agency) have won pretty much every major industry award, including Cruise Lines International Association Lifetime Achievement Award this past spring; as well as Royal Caribbean Cruise Line's Chairman's Award, Celebrity Cruises' Chairman's Award and Norwegian Cruise Line President's Club Elite Agency of the Year.
Investing and charitable contributions
Cleary has also dedicated herself and her company to helping others. For example, having experienced the difficulties in obtaining growth financing, Cleary earlier this year launched SLC Group Holdings, in Nashua, New Hampshire, to invest in entrepreneurs and small businesses.
"I had no money those first few years, so I couldn't grow as fast as I wanted. Unfortunately, when small businesses need money, no one wants to lend to you," Cleary said. SLC Group Holdings will also tap into some of Cleary's closest advisors to assist the businesses she invests in.
CruCon and Cleary are also active in local charities. The company donated more than $1.3 million dollars in 2017 to a number of New Hampshire charitable organizations, including the Greater Lakes Region Children's Auction; David's House, which houses families of patients at the Children's Hospital at Dartmouth; and the Lakes Region Boys and Girls Club.
Cleary foresees a day when the company's growth will exceed both her building and the region. "We love our home, but you can only grow so large in a rural area," she said, and they may have to consider another satellite office, as well as hiring remote agents.
"It's going to be a little scary to expand outside these walls, because that could change our culture. We'll really have to think that through."