MSC Cruises Readies for Opening of Private Island, Ocean Cay Marine Reserve
by Daniel McCarthy /

After years of anticipation, Ocean Cay Marine Reserve, the Bahamian private island from MSC Cruises, is almost ready to welcome guests.
MSC initially signed a 100-year lease agreement, in December 2015, with the Bahamas Prime Minister to occupy and develop an island exclusively for MSC guests. The plans were delayed 10 months in September 2016, but now the cruise line is on track to open Ocean Cay this coming November, with MSC Meraviglia set to take the first guests there on Nov. 9.
The island is a flat, walkable space that will be able host one MSC ship at a time. At just 65 miles off of Miami, ships will be able to stay late into the night.
"No one has an island like this – that we can offer on every itinerary, being so close to Miami," MSC Chief Executive Officer Gianni Onorato told Travel Market Report. "This will make it possible to have on short cruises or seven-nights – it will really help MSC to have unique Caribbean itineraries."
Ocean Cay will feature a pier extended to fully connect the ship to the island, so there will be no need for a tender. Guests will be able to wander on and off the ship at they wish. Transportation will be available for guests to get around the island, though MSC estimates that it will take only 20 minutes to walk to the furthest point on the island.

The arrival plaza at MSC's Ocean Cay. Photo: MSC.
What makes Ocean Cay special, Onorato said, is that it's a place where everything that's special about the Caribbean — sun and sandy beaches — comes together, with protection for the local wildlife and ecosystem on the island.
"It will be no theme park," Onorato said. "No waterslides, no funny devices, here is where the adventure comes together with nature."
Surrounded by 64 square miles of protected water, Ocean Cay was designed to highlight the natural beauty of the Caribbean — everywhere you look, Onorato said, is beach and water.
"From the island, you can turn 360 and see beaches in every direction. You have a blue sky and you have a blue sea all around – really beautiful experience, it's something I've never experienced," he said.
Part of the plans for the island are to have a coral nursery in those protected waters to aid in the growth of new coral.
Beaches and dining
Ocean Cay will have seven distinct beaches, each one different from the next with its own character and offerings for guests.
Both Great Bimini Beach (the largest stretch of beach on Ocean Cay at a half mile in length) and Great Lagoon (which has shallow water for swimming) will offer water sports. Ocean Cay will also have a smaller, family lagoon, designed specifically for younger children.
Beyond the beaches, MSC will offer snorkel safaris, kayak tours, paddleboarding, and more.
For food and beverage, MSC is installing a number of eateries on the island (and all of the eateries onboard docked ships will also be open for guests). Ocean's Cay's Buffet and food carts will be open for all guests, with choices from fully prepared meals at the buffet to tacos, conch fritters, and more at the food trucks.
For guests wanting something different, MSC will offer other options at an additional cost: Authentic Bahamian Bar in the Marina; the Lighthouse Bar, a Hemingway-style cocktail bar featuring rum cocktails and ocean views; Beach Bars, seven different ones spread across the island; and Ice Cream Parlour and Coffee Bar, also in the Marina.
Shopping and spa
Guests on Ocean Cay will have their choice of shopping. The Bahamian Shop & Market (hosting arts and crafts by local Bahamian companies) will be complimented by Ocean Cay Trading Post (offering Ocean Cay branded souvenirs) and the MSC Shop (featuring MSC branded hats, flip flops, towels, bags, sunscreen, and more).
MSC is also taking its Aurea Spa ashore, giving guests a chance to get a body or facial treatment on land. Selections include the Ocean Cay Breeze Boost massage, which includes aromatic spray waters; and the Ocean Cay Breeze Facial.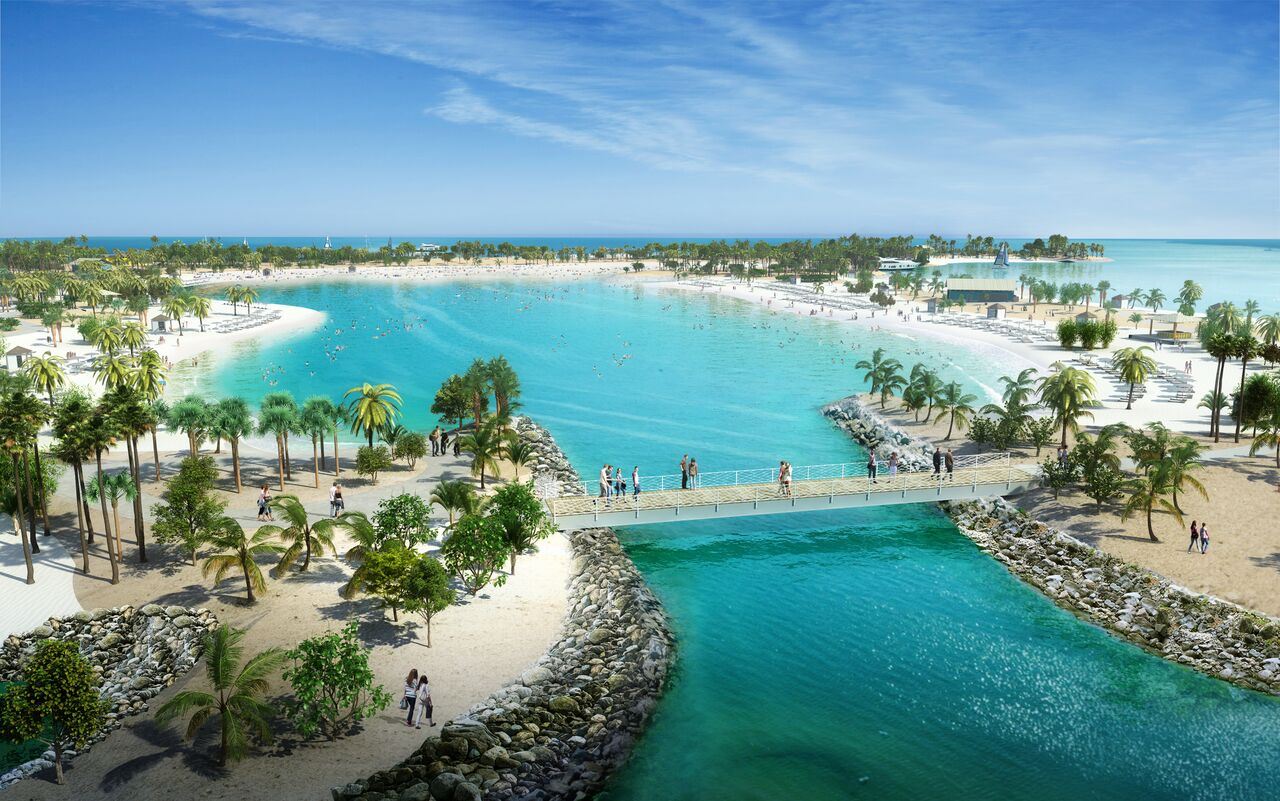 Ocean Cay's Great Lagoon. Photo: MSC.