Margartiaville and Karisma Hotels Debut New Laid-Back Luxury Concept in Mexico
by Jessica Montevago /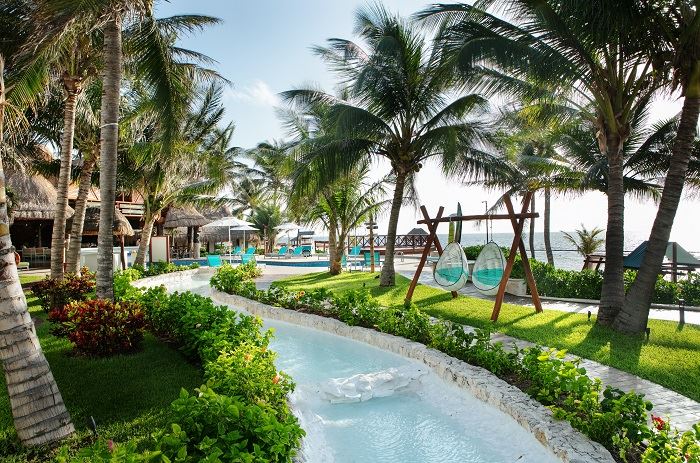 Margaritaville Island Reserve Riviera Cancun by Karisma has officially opened – the flagship property of the Margaritaville brand's new luxury leaning Island Reserve concept, marking a shift from the more casual resorts to a laid-back luxury experience.
In partnership with Karisma Hotels & Resorts, Island Reserve "combines the amenities of a world-class all-inclusive resort with Margaritaville's relaxed vibe." Other Island Reserve resorts are on the horizon for 2021, including in Riviera Maya and Cap Cana.
"We operate more than 13 oceanfront properties in the Riviera Maya area alone, so we have a deep history in, and knowledge of, the destination and what luxury travelers are seeking," Bill Linehan President of Premier Worldwide Marketing, the exclusive sales and marketing provider for Karisma Hotels & Resorts, told Travel Market Report. "The all-inclusive, luxury concept of the Island Reserve brand was a seamless extension of Margaritaville."
The all-inclusive resort, located on Mexico's Riviera Maya coast, offers 148 guestrooms and suites with oceanfront and swim-up options, each with a balcony with Adirondack chairs or daybeds. Every room has a complimentary customizable in-room bar, which is a Karisma first-of-its-kind offering exclusive to Margaritaville Island Reserve.

Day beds on the beach at the new Margaritaville.
It houses four restaurants and six specialty bars, ranging from homemade Italian cuisine at Frank & Lola's to traditional Mexican fare with ocean views at Rita's Taco House, as well as Margaritaville's signature concepts like License to Chill Bar and 5 o'Clock Somewhere Bar.
The St. Somewhere Spa spans 8,000 square feet and includes a Couples Suite and Bridal Suite, expansive hydrotherapy area, full-service beauty salon, and tropical-inspired treatments.
Despite opening during an uncertain time, recent surveys and insights, Linehan said, have shown that when it comes to international travel, Mexico and the Caribbean are the top picks across the board, thanks in part to receiving the designation of a "Safe Travels" destination by the World Travel & Tourism Council.

The lobby at Margaritaville Island Reserve Riviera Cancun.
"We're also seeing an increased demand for flights to Caribbean and Latin American destinations," he added, with United Airlines announcing plans for an additional 20 new flight routes and, with Southwest and Delta having already resumed flight routes to these destinations earlier this summer.
"After extensive research and discussion with industry experts, we ourselves launched more than 100 new protocols and updated guidelines in partnership with Deepak Chopra's Delos Living and other independent organizations as part of our Karisma Peace of Mind well-being program," Linehan said, providing an added assurance to guests.
Linehan said Karisma's commitment to travel advisors "extends over a span of a decade and is even stronger as we embark on a new decade this year."
"During this time of pause for the travel industry, we are working on enhancements to our agent loyalty program slated for release in late September," he continued.
The sales team has remained active throughout the industry's pause, hosting group and one-to-one webinars for agents, as well as supporting agents with consumer facing webinars and virtual product showcases.
"Plus, our team worked with agents on a Karisma recovery plan, customized to each agent's business model and strengths."
As travel has slowly begun to resume the past few weeks, "many of our committed travel advisors—who are part of our GIVC agent loyalty program—were eager to return to our resorts themselves to not only enjoy some R&R, but learn about our new protocols and how the brand has adapted to a post-COVID world," Linehan said.
"Our GIVC agents are truly an extension of our brand and a crucial part of our work as we move forward promoting the future of travel and re-engage consumer confidence. We recognize the importance of a travel advisor to the Karisma brand and showcase our commitment by offering up to 21% commission for GIVC members."