For the second year in a row, the New Jersey chapter of the American Society of Travel Advisors made a financial donation to Puerto Rico, maintaining its support for the island as it continues its recovery from the Fall 2017 hurricane season.
At the chapter's annual fall expo, which took place on Oct. 30, chapter President Joanne Hunt and Treasurer Rick Ardis handed Puerto Rico Tourism Company's Narciso "Ciso" Moreno a check for $1,500.
"Puerto Rico Tourism has been strong supporters of this chapter and ASTA nationally," said Ardis, owner of Ardis Travel, East Rutherford, New Jersey. "Ciso personally attends so many events of ours as well as those from other ASTA chapters across the country. After the back-to-back hurricanes, there was an extreme need in Puerto Rico, and we wanted to assist our friends and fellow Americans."
The money is designated for the Puerto Rico Hope Lodge, a local extension of the American Cancer Society offering services to children and adults suffering from cancer in Puerto Rico and nearby islands.
The donation came from ASTA PAC matching funds that the national organization allows chapters to utilize for charitable efforts like this when a chapter exceeds its fundraising goals. "We are grateful to our members who contribute to ASTA PAC because you allow us to make these charitable donations," Ardis told the attendees.
Last year around this time, Puerto Rico was still mostly in the dark, nearly all of its hotel inventory shuttered and struggling to provide modern conveniences like electricity and cell phone service. The night of last year's fall expo, Moreno, sales director for North America and Latin America and a New Jersey resident, was struggling to find out the status of family members living on the island.
"Ciso is one of us," Ardis said. At this same expo in 2017, the New Jersey chapter donated the proceeds from its 50/50 raffle to Puerto Rico – several hundred dollars.
Moreno thanked the New Jersey chapter members for its ongoing support, and gave an update on the island's tourism industry. "So many properties are opening up, and it's changing the whole structure of Puerto Rico," Moreno said. He noted how more than 95 percent of the island's hotel inventory will be reopened by the end of the year; and how even El Yunque National Forest, which suffered severe deforestation, is reopening sections.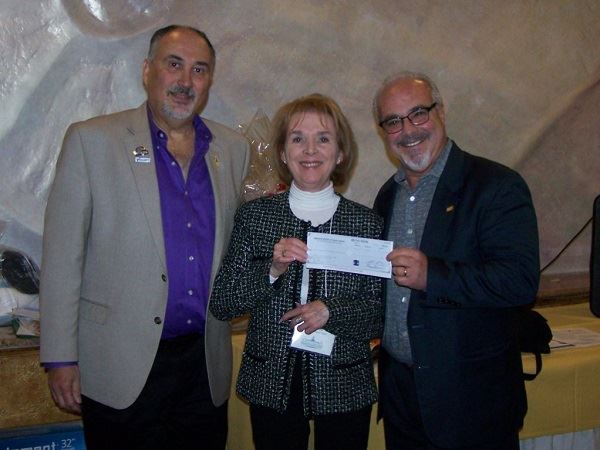 Chapter President Joanne Hunt and Treasurer Rick Ardis handed Puerto Rico Tourism Company's Narciso "Ciso" Moreno a check for $1,500.
ASTA leaders provide firsthand accounts
Chapter president Hunt, owner of Pompton Plains Travel, in Pompton Plains, New Jersey, recently participated in a six-night fam trip to the island. She told attendees about how she had visited most of the island, except for the Dorado area, and reported that Puerto Rico is ready for advisors to confidently sell again.
For example, she spoke about visiting a small fishing village near Copamarina, in the southwest corner of the island, where there are homes built over the lagoon on stilts. She said the working fishing village was active, and the luminescent lagoon, a popular tourist site, was fully accessible and ready for visitors.
"We also got up to El Yunque [National Forest], but could only access the fringe of the forest, because they are still doing work on it, and there are areas that still are unsafe for tourists," Hunt said. "It was very, very eye-opening."
"I saw firsthand, all over the island, that everything is open and is in excellent condition for tourism," she said, "though the local population is still suffering."
Hunt said that, so far, her clients are not initiating requests or responding to her sales efforts for trips to Puerto Rico. "Most are just assuming Puerto Rico is not ready. But I'm not giving up. We had a very warm Fall here in the Northeast, and it will take a couple of miserable, cold chilly weeks to motivate travelers to start booking Puerto Rico again," Hunt said.
Steve Powers, ASTA national treasurer, was in Puerto Rico in mid-October to attend an ASTA Puerto Rico chapter meeting. Afterwards, Powers rented a car and drove up to El Yunque to volunteer cleaning and clearing paths around Baño Grande, a natural swimming pool.
"The rainforest is lush again. It's really recovered well, and quickly," Powers said. The crew worked on a tourist-accessible section that is hopefully going to be open around Thanksgiving.
Powers recommends that agents and others looking to assist recovery at the national forest contact Yunque Volunteers, the organization that he worked with on his trip. Their email is: yunquevolunteers@gmail.com.
"In town, you wouldn't know that there was a hurricane. The streets in the main areas are full with tourists. The hotels are bustling," Powers said. He did many site inspections while attending the chapter meeting, including Serafina Beach Resort and a solar-powered bed-and-breakfast in San Juan's Old Town.
"It's difficult for them to get back to the pre-storm tourism numbers, so we need to do our best to help our fellow Americans," said Powers, who owns Hidden Treasure Tours in New Lebanon, New York.
Separately, the ASTA Long Island chapter also recently donated $1,000 in ASTA PAC funds.
ASTA New Jersey chapter flourishing
The ability for the New Jersey Chapter to provide such support is due in part to the growth in the chapter. At this year's fall expo, the organization needed two meeting rooms for its trade show, increasing their capacity for exhibitors from 46 last year to 60 this year.
Total attendance for the event increased from about 115 to 140, with approximately 50 percent of that increase coming from member agencies or independent contractor (IC) members. "Our Host agency members – like Nexion, KHM, Cruise Planners – have helped us to promote attendance," Ardis said. "Many of them are not yet IC members, but this helps show them what ASTA can offer."
About five years ago, the chapter had about 35 suppliers and 55 agent members at their expos.