Norwegian CEO Frank del Rio Says It's Never Too Early to Prepare for a Downturn
by Cheryl Rosen /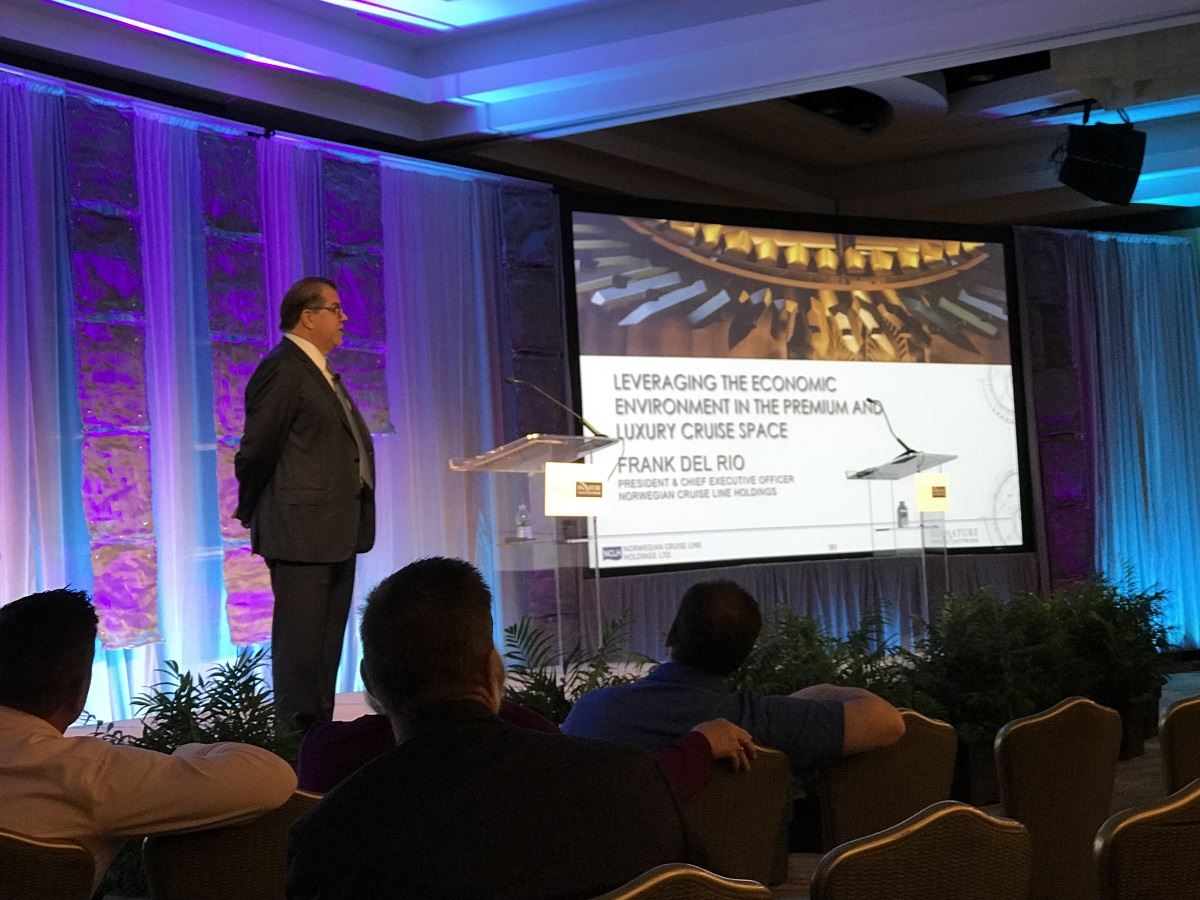 "To a wise man, a hint is enough," Frank del Rio's fourth-grade teacher taught him — and he still remembers that advice. So, while his presentation at the Signature Owner's Conference last week focused on how travel advisors can sell, sell, sell in the best travel environment in most people's memory, it also included just a note of caution that the good times cannot go on forever.
First and foremost, the good news. Norwegian Cruise Line Holdings, parent of the Norwegian, Oceania and Regent lines — and indeed, the room full of top-producing travel agents who sell its products — are seeing a "historically strong, macro-economic environment" following "three-plus years of record booking volumes, a record-expending booking curve, and record pricing."
There are several catalysts for this alignment of the stars: a high level of global consumer confidence, rising wages, strong GDP growth, record-high stock market values, low-but-rising interest rates that bode well for those on fixed incomes, U.S. tax relief policies that returned an average of $2,059 per family, strong performance from international source markets, and "relatively calm international geopolitical events."
To that, NCLH adds "fabulous new ships, millions of dollars in investment, new destinations, improved interactions with the travel agency community"; and the highest global consumer confidence levels since the Great Recession, in the U.S. as well as Japan, England, and Germany.
In short, travel professionals, if you are not making money on cruises today, you literally are missing the boat.
So, how can travel advisors capitalize on this environment, where all the stars are aligned? Del Rio suggested two main points.
First, sell the brands that pay the most commissions. Look for the most all-inclusive brands, like Regent; or those that offer great bundling opportunities, like Norwegian's Free at Sea promotion, where agents earn commissions on all those extras.
Second, encourage the trend toward early booking. Foreign markets like Japan, and even new ones like Israel, are outpacing the U.S., offering new global competition for the best inventory at sea. "Make sure the timing of your marketing and sales initiatives is in line with when people are buying," del Rio said.
Norwegian will be increasing its prices on Oct. 1 "in a significant way," and "half our inventory for 2019 is already sold, so it's imperative that you keep up" with customers who might be interested right now, del Rio said. "It's not too late to make sure you are in sync to maximize your sales — but get there early. More ships are coming, but demand is outstripping supply."
Earlier booking and other trends
Not surprisingly, NCL has been taking del Rio's advice to heart internally as well, by selling more higher-priced itineraries and by pushing back its own booking window. Caribbean itineraries have been cut 6 percent. But, Alaska will add Norwegian Joy, repositioned from China (del Rio says because of soaring demand in the 49th state); and the Baltic and Asia Pacific routes will grow as well.
Del Rio declined to say that the Joy move is due to weakness in China. Rather, he said, "Alaska is doing so well, we've never seen anything like Norwegian Bliss."
Playing to the lengthening booking curve, NCL also has moved its final payment due date back 30 days, to 120 days out from 90. For travel agents, that "means you get your commission check 30 days earlier. Skeptics said it was a mistake, but while I'm not saying we're going to go to 150 days yet, people are willing to pay it," he said.
Will the good times keep on rolling?
Still though, what goes up must come down, and every great economic cycle must inevitably give way to a downturn, del Rio said.
"Are we at the peak? Clearly, we are closer to a downturn in the economy than we were a year ago, though I don't see it this year or next year," del Rio said. "I've always felt economists should look at the cruise industry as a leading economic indicator. And another indicator, onboard spend, continues to be very strong. People have money in their pockets. We find that the more that people spend to get onboard, the more they spend when they get onboard."
Still, "Tuck it back in your mind that good times don't last forever," he said. "We've got 11 ships on order; 11 or 8? Maybe I just let something out of the bag. But, the point is we are always full. And we've got 10,000 Boomers retiring every day and Millennials — they are the real deal — looking for experiences. Relish it and embrace it and do everything you can to keep milking it because it's really, really good."
But, "No one knows when a recession will come; you ought to start thinking about it. We're starting to think about how to increase loyalty; make sure you stay close to your customers. Maximize repeaters. Emphasize value and not price. Prepare to reorganize your resources to fill the funnel. You can't cut costs enough in a recession; you need to increase efficiencies and invest in new products and markets."
And when things do turn downward, never give up, said del Rio, who was fired from two jobs before this one. "Specialize in something, never ever quit, and embrace technology. Technology used to be the travel agent's nemesis, but look around this room; the travel agents won."
So, it's not about today, but for a wise man, a hint is enough, he repeated, schmoozing with a table of reporters at a press luncheon at the Ritz Carlton Amelia Island. (That's a Talmudic aphorism, by the way, from the days when crossing the sea involved rows of men with oars).
"The consumer today is making a bet on the future — and as the booking curve elongates, further into the future. But, start thinking about how you might prepare for a downturn; every day that goes by, the probability of one coming gets greater than it was yesterday."
Still, though, he said, "It's the best time to be in the travel business." And, I think it's fair to say that everyone in the room agreed.