Riding on Rail Success, Yankee Leisure Group Joins USTOA
by David Cogswell /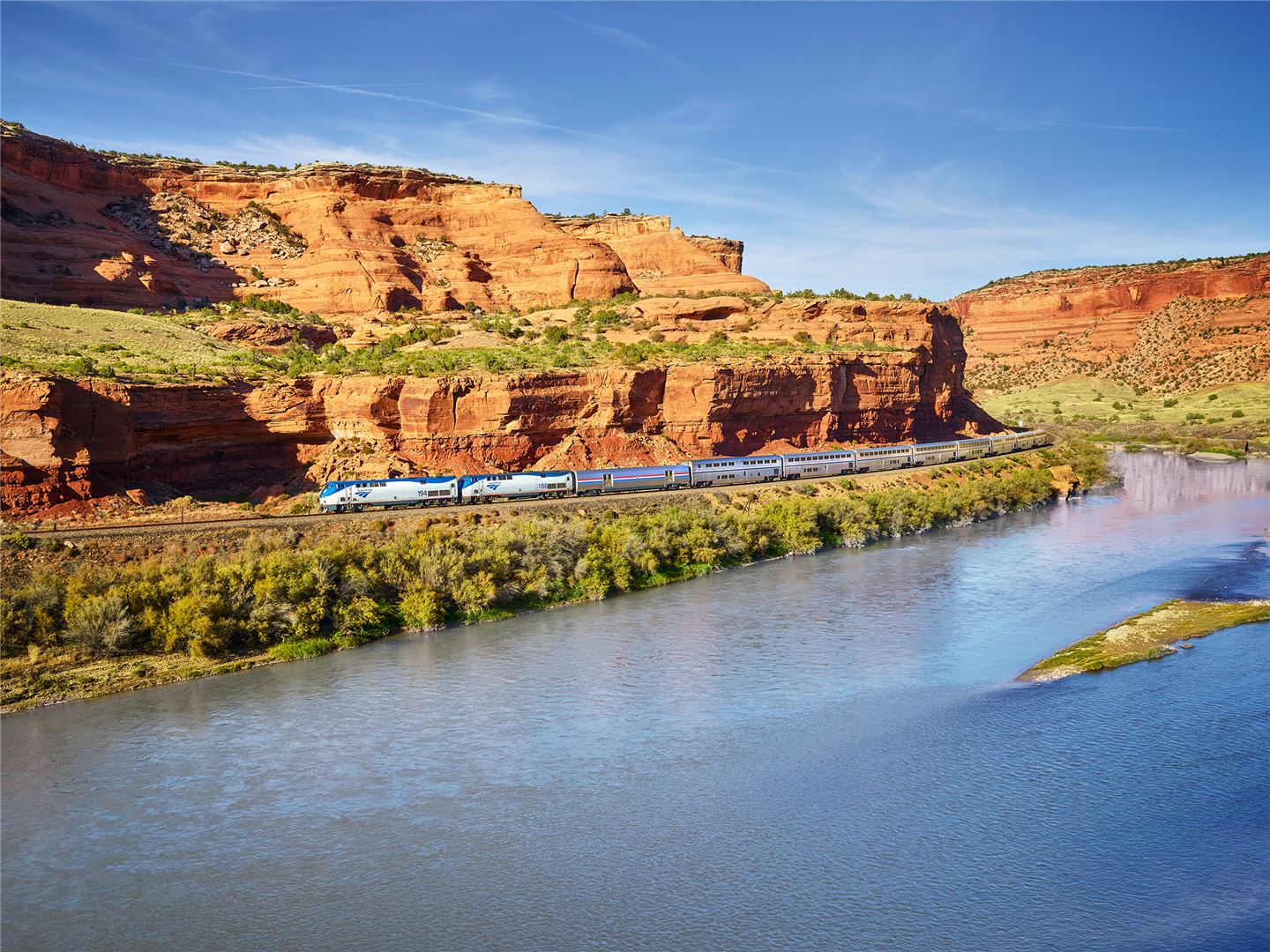 Last week, Yankee Leisure Group became the 56th active member of the U.S. Tour Operators Association (USTOA), adding three brands to the 164 brands represented by USTOA.
Yankee Leisure Group is the operator of Yankee Holidays, which offers American city packages; Amtrak Vacations, a branded rail vacation package product in partnership with Amtrak; and Railbookers, a service for booking European and international rail packages.
Becoming an active member of USTOA is a rare rite of passage only reached by a few companies. Part of the prestige and brand value of active membership in USTOA is the credential it provides. It's a badge of security for travel agents and clients to know they are booking with one of the relatively few tour operators that are successful enough to be able to hand over $1 million to be held by USTOA to help cover losses in the event that that company goes out of business.
So, the occasion of joining USTOA is more than just becoming a member of a trade association — it's a celebration of success. If a company has the wherewithal to join the elite tour operator association, it has made the Big Time.
Breaking records
Frank Marini, president of Yankee Leisure Group, confirmed to Travel Market Report that the company is indeed enjoying great success.
"I feel very lucky," he said. "For past six years, we've had double-digit growth every year, and every year has been our best year ever. This year, we are growing at 30 percent."
The company has expanded from its original office in Beverly, Massachusetts, (a suburb of Boston) to having four offices: Beverly, Massachusetts; London; Laguna Beach, California; and the recently opened office in Sydney.
The Amtrak Vacations product, which Yankee Leisure Group began operating in 2006, is on a mighty growth curve.
"Amtrak Vacations has been huge," said Marini. "It continues to grow and grow. We keep creating new products."
Freedom and flexibility
Marini believes the key to Amtrak Vacations' growth is its ability to offer practically complete freedom in assembling travel packages.
"We created a hybrid model which combines the best of a handpicked structured itinerary with the independence, freedom and flexibility of an independent custom vacation," said Marino.
Packages can be created with any chosen combination of available components. Whenever and wherever the trains are running, Amtrak Vacations can use the routes to build custom packages, adding lodging, activities, rental cars, any of the things clients want on their travel packages.
It is possible to combine the rail component with other forms of transportation in the package, such as flying or cruising.
"It's all independent," said Marini. "It's whatever they want it to be, anything an agent or customer wants. It can be point-to-point, cross-country, hub-and-spoke, anything. We give you flexibility and choice."
Customer feedback loop
Although a traveler can customize a package any way they want, the company also provides pre-packaged products that they can pull right off the shelf. Amtrak Vacations is producing new programs at a fast clip. The company uses travel agent requests to guide its product development.
"Our customers are our product department," said Marini. "We look at what we customize weekly for our travel agents and customers and study the pattern. We have several full-time analysts on staff who study our data/trends as they are happening from all different data points. From that data, we create independent rail packages that are priced every day the train runs for 18 months ahead of time. And, they can still be customized to a client's suggestions.
"We take agents' requests, customize packages on the fly, and then on a weekly basis we look at the trends. When we see that a large number of clients are buying a certain package, then we market it. So, we have a constant product development cycle. We're able to react quickly to market trends."
The feedback system helped Amtrak Vacations catch on quickly to the booming popularity of the national parks in recent years, which became an important element in the company's success.
The joy of trains
Rail travel is catching on again. It's increasingly seen as a more fun, adventurous and romantic way of traveling than flying. When you travel by train, you see the country as you pass through. You don't have to deal with the hassles and long security lines at the airport. You can take your shampoo in your bag and leave your shoes on. You don't have to travel to an airport on the outskirts and then when you arrive at your destination, find transportation into the city. The train stations are in the city centers.
Marini thinks that rail travel is the new river cruising, and the success of Amtrak Vacations gives credence to his theory.
With a history in sales for Collette and then a leader of Contiki Holidays, Marini is in his element doing sales presentations in the field and meeting with travel agents. That's how he keeps his finger on the pulse of the market.
"When it comes to rail travel," he said, "I've never met anyone, no matter what kind of traveler, who doesn't have a smile. It's always so positive. When I am out there talking to agents and I tell them, 'Did you know you can go to all these places by train?' It opens the mind to being creative about travel. Rail is part of that experience. It's very different than transportation with air."
One of the reasons for a surge in popularity of rail travel is that airline service has evolved into a bare-bones transportation commodity. Dealing with airports is often seen as a grueling experience that you just want to get over with as soon as possible so your actual vacation can begin.
With rail, the adventure begins right away. Though planes move faster than trains over long distances, when you factor in the amount of time it takes to drive to an airport, go through security and all the other time-consuming routines, it adds hours to the travel time. Unless the destination is farther than a few hundred miles, you are not likely to get there much quicker by flying than by traveling on the ground.
But, it's not only about the shortest time, it's about quality time. Trains provide an alternative form of transportation that not only gets you where you want to go, but can also be enjoyable in itself. You are on the ground, experiencing the place you are traveling through, but you don't have to drive. You don't have to worry about highway safety. You can text while you're moving and not worry about killing yourself.
There's a romance to traveling by train, a nostalgia for historic train travel, even though the new trains are becoming technological wonders compared to their historical antecedents.
Traveling by train puts guests in touch with the landscape. They can even feel the vibrations of the wheels on the steel rails, and the chugga-chugga motion of train travel has often been the stimulus for the creation of music. George Gershwin wrote "Rhapsody in Blue" on a train.
"It was on the train," Gershwin wrote later, "with its steely rhythms, its rattle-ty bang, that is so often so stimulating to a composer – I frequently hear music in the very heart of the noise ... And there I suddenly heard, and even saw on paper – the complete construction of the Rhapsody, from beginning to end."
"Murder on the Orient Express," "From Russia with Love," and "North by Northwest" are just a few examples of movies that portrayed train travel as a most enjoyable and romantic form of travel. In the age of jet travel, many Americans are looking back at trains as an ideal way to see the country.
Old is new again
Marini is seeing trends that bode well for rail travel. "Sixty-three percent of our customers on Amtrak Vacations have never traveled on Amtrak before," said Marini. "Travelers are looking for something new. And 90 percent of our travelers are going on overnight trains. They want that experience."
Amtrak offers rail service in 46 of the continental 48 states. The two states that are not included have no train tracks: South Dakota and Wyoming. "Other than that, we have every state covered," said Marini.
Clients are also finding a variety of different ways to use the rail packages in combination with other modes of travel and other forms of transportation. "Many people fly one way and take the train the other," said Marini. "There are so many possible variations."
Yankee Leisure has also seen growth with its Railbookers brand, a provider of custom rail packages for Europe and other international destinations. Yankee Leisure acquired the company in 2016.
The benefits of USTOA
Besides providing a seal of approval that shows a company is financially strong, joining USTOA brings other benefits. The professional association provides an ideal vehicle for networking both with peer tour operators, but also through the network of suppliers that participate in USTOA as associate members.
Those include all the suppliers of tour operators, such as airlines, hoteliers, rental car companies, destinations and other travel entities from all over the world. Membership in USTOA provides access to a high-level and highly vetted network of suppliers.
"Knowing many USTOA operators for years, I am looking forward to working with them as we expand our relationships with international partners and vendors," Marini said.
Marini hopes the train keeps a rollin'.