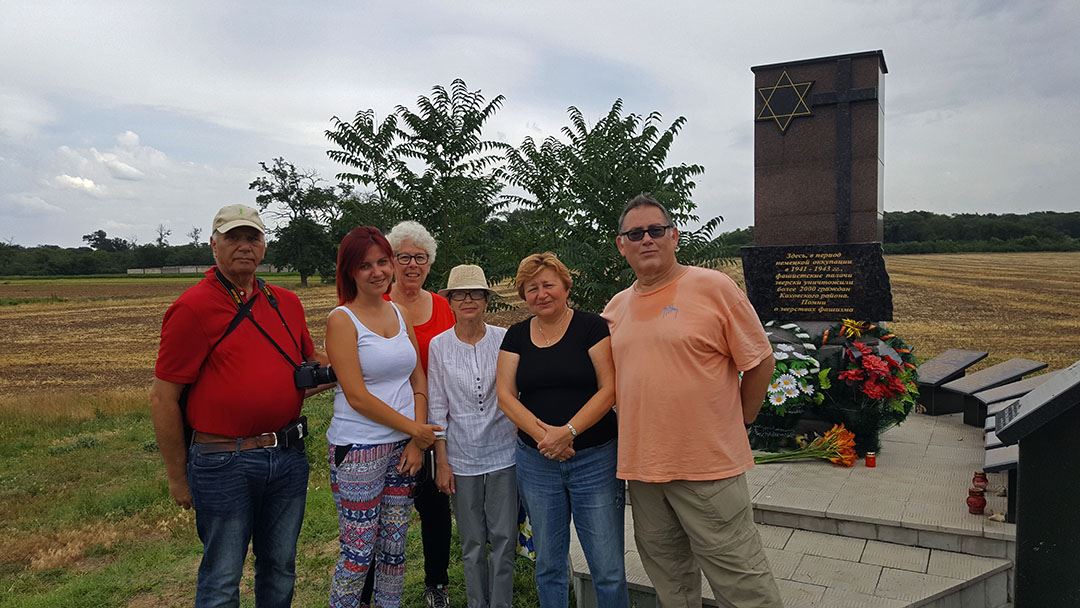 Born in Kiev and growing into an adult with a limited world view from behind the Soviet Union's "Iron Curtain," Sophia Kulich and her small family yearned to breathe free.
At the time, Jewish Soviet citizens were prohibited from traveling, so Kulich fantasized about visiting exotic places though the state-controlled television program, "TV Travel Club," and was encouraged by her parents' ability to emigrate to the U.S. before her.
In the 1980s, pressure from various human rights organizations caused the Soviet regime to slowly lift the rules for some Jews to emigrate, though for many there was no prospect of ever leaving.
Kulich, her husband George and their five-year-old son Edward, and George's parents and brother, finally applied for their visas. Three and a half years later, in late December 1982, they were given two weeks' notice to leave.
Packing six suitcases for all six of them, the family made their way to a small Ukrainian border checkpoint. There, a customs agent prevented them from leaving because of discrepancies on little Edward's documents.
With perseverance, they returned the next morning to the same checkpoint, this time encountering a different customs agent, and were permitted to leave – at the cost of George's father's priceless violin.
The family traveled to Vienna, and then to Rome, applying for admission to their final destinations. While they received some loans for assistance from a Jewish refugee program, the families had to sell off personal possessions to pay for accommodations and food.
When she arrived in Italy, Kulich fell in love with the country, in part due to a local taxi driver, Giovanni, who out of the goodness of his heart drove Kulich and her family around the city and introduced them to local restaurants and places to visit.
An unlikely travel agent
When their U.S. visas were approved, the Kulich's arrived at New York's JFK International Airport, down to their last $42, and settled in New York City. Sophia and George took jobs in the IT departments of large corporations (Sophia Kulich earned a Master's degree in Civil Engineering from Novochekask Polytechnic Institute, where she also met and married George.)
And with memories of Giovanni, Italy and the "TV Travel Club" in her head, Kulich began dreaming and planning their future travels, prioritizing first a trip to Disney World for Edward.
The family made do when their agent booked them into a Daytona Beach hotel, hours from the park, and in the middle of Spring Break for high schoolers and college students. But when George and Sophia's second child, Michael, was born, Sophia planned their return trip to Disney World herself.
Balancing a career in IT with motherhood, Kulich joined a local travel agency to help make ends meet. She founded Sophia's Travel in 1993, a part-time business that grew and eventually allowed her to go full-time in 2000. (Her husband passed away unexpectedly in November, 2007.)
Connecting her past with her future
During the ensuing years, Sophia achieved her dreams of visiting all of the exotic places she saw on Russian-controlled television, including returning to Italy numerous times.
Traveling to Eastern Europe and sensing a higher calling from her Jewish heritage, Kulich then launched a separate company, The Jewish Travel Agency, focusing on booking group and private tours for clients from all over the world, working with a close network of travel agents, old friends, historians and other local experts who help put together her trips.
For example, Kulich works with an archivist and genealogist from Poland, who will comb through local records for her clients to help Kulich plan FIT trips that visit sites that are personal to them and their ancestors.
For example, Kulich tells about how, in 2007, Jefferey Lejfer, his two brothers and their wives sought to travel to the Ukraine to reconnect with their parents' hometowns.
While the Lejfers' mother, over the years, had told them some details about her life before and after the Nazi occupation of Poland and Lithuania, due to the horrors of the Holocaust and World War II, detailed records of families and where they had lived are often hard to find.
Kulich's network of locals was able to provide the Lejfers with details about their father's life in a small village near Vilnius. Hardest, though, was trying to find the family who for three years during the Nazi occupation, had hid their mother and grandmother. (Even today, many locals do not like to admit that they helped save their Jewish neighbors during the war.)
When World War II was over, the mother and grandmother emigrated to Germany, and then to the U.S., and Lejfer's mother told her sons of the family that saved her life.
Unable to find the family through extensive research, a travel agent living in the Ukraine who works with Kulich put an ad in a local newspaper. The son of the woman who sheltered Lejfer's mother replied: "That's us. That is my family."
Prior to the trip, the Ukrainian phoned Kulich's clients in America. "He was eight years old during the war. He spoke to my mother, who wasn't going to be able to take the trip due to her health," said Lejfer. They talked and cried. When the brothers went to the Ukraine, and met him, everyone cried again.
Lejfer praises Kulich, her network of committed local guides and contacts, and the highly customized itineraries that she puts together, crafted specifically for each client. He talks about how he and his brothers were able to say the Jewish funeral prayer, the kaddish, at lesser known memorials hidden in the middle of forests, and other places special to his mother and father.
"Sophia's connections are so good in Eastern Europe, and they're sensitive to things like Jewish dietary requirements," he said. "They take the initiative to care for you and make your trip so meaningful."
Connecting her clients
Kulich's business produces story after story of emigrants and children of emigrants, mostly Jewish, reconnecting with powerful pasts. Rhoda Miller traveled to Kiev, Granov, Gaisin, Teplick, and Uman this summer, and was escorted by Sasha Kovalchuk, Kulich's Ukrainian guide.
"Sasha was incredibly proactive in making pre-visit arrangements in the various towns, which made our touring so personal and simply amazing," Miller said. "I have visited other shtetls [small towns with large Jewish populations] in other countries and did not have as an intense experience as this one."
Online, Kulich has formed a Facebook group called "The Schleppers Club," a little more than 100 mostly Jewish people interested in traveling together, that helps her market tours. This June, the Schleppers embarked on an Eastern European trip that included the Ukraine, Poland and Romania.
It was on that trip that Kulich visited her grandmother's gravesite in Kiev. In a blog post about the trip, Kulich describes how it was her grandmother who raised her, and how the gravestone also commemorated her grandfather, whom Kulich never knew because he was killed by the Nazis during the Babi Yar massacre.
During the visit, the director of a local museum personally escorted the group, pointing out for her clients the homes of grandparents and other ancestors, and taking them to the local Holocaust memorial to lay flowers, with the villagers and a local film producer following them and recording the visit.
Other travel agents also send Kulich clients because of her reputation in delivering life-changing trips, like the 83-year-old Holocaust survivor who is writing a book about her life, and recently returned from a trip with her 60-year-old daughter, and her college-aged granddaughter.
"I could book trips to other places, like Dubai or Cancún, but those trips wouldn't be like this," Kulich said. "This is an emotional experience. It's so very rewarding."