One of the newest bullet train projects in Japan will travel from Tokyo over 221 miles west to Nagoya in 40 minutes, moving at a speed of 314 miles (505 km) per hour. The project, envisioned in 1962, is scheduled for completion by 2027.
Japan is certainly on the move, and so are its visitors, who are projected to reach 40 million by 2020, the year that Tokyo will host the Summer Olympics.
And while travel consultants strive to market Japan to their clients, many find it a tough sell when more than a few ports of call on a cruise ship schedule are involved. There is a reluctance to visit Japan due to a number of myths that are perpetuated in travel articles and media coverage. So, during my 17th visit to the country, I thought it was time for some truth in travel about Japan.
Reporting from Onishima, Japan, here are 10 myths that travel consultants may need to address when promoting travel to Japan.
1. "I don't speak Japanese."
In the large cities, many involved in tourism and transportation (trains and subways) speak English. Even in small Izakayas (restaurants) where there are no English menus, I've puzzled over a Japanese menu only to have a Japanese patron speak to me in English, suggest some dishes, and even offer to enjoy some sake together. Talk about connecting with the locals!

2. "It's too crowded."
Whenever documentaries want to show over-crowded situations they feature the famous all-direction crossing at Tokyo's Shibuya intersection, where hundreds of people cross at the same time. Chaos? Not really. Toronto and other North American cities have similar "all-direction" crossings.

People and road traffic at Shibuya junction road in Tokyo, Japan.

3. "It's too expensive."
Japan has a great variety of hotels and restaurants that cater to all budgets. A business hotel room is very small and relatively inexpensive, but has everything a traveler needs. There are major hotel chains and super-luxury hotels, as well as Ryokan Hotels that include breakfast and dinner. As for food, you can eat inexpensively in department store food courts, or you can choose more upscale options that may offer 21 pieces of sushi for about U.S. $400.

4. "I don't eat raw fish."
Japanese food is more than sushi and sashimi. Wagyu (Japan-bred) beef is featured on many menus, as are chicken, pork and vegetarian dishes. In many cities, there are regular and fusion restaurants that feature French and Italian cuisine, as well as South American, Indian, Western, Korean, Thai and more.

Wagyu beef prepared by a Japanese chef.
5. "I'd have to hire a tour guide."
Information offices can be found in every train and bus station with English-speaking staff, maps, brochures and suggestions on how to maximize your visit. While a client may choose to hire a guide, DIY travelers will have a blast finding their own way around, spending as much or as little time as they please, and enjoying the opportunity to connect with local merchants.

6. "I'm intimidated by the etiquette rules."
There are some rules of etiquette in Japan, but travelers need not stress about them. A few important rules are:
- Don't stick your chop sticks in your rice, but instead lay them on the table (and you can ask for a fork and spoon if you wish).
- Don't be afraid to slurp your noodles. It's the proper way to eat them!
- Take off your shoes before entering a home or temple or a room of tatami mats (reed mats), and either put on the slippers provided or walk in your socks.
- Bring some business cards or name cards, and when a local presents their card to you with two hands, present your card the same way.
- While many Japanese may bow to you to show respect, you don't need to bow if you are not so inclined. Shaking hands is OK, too!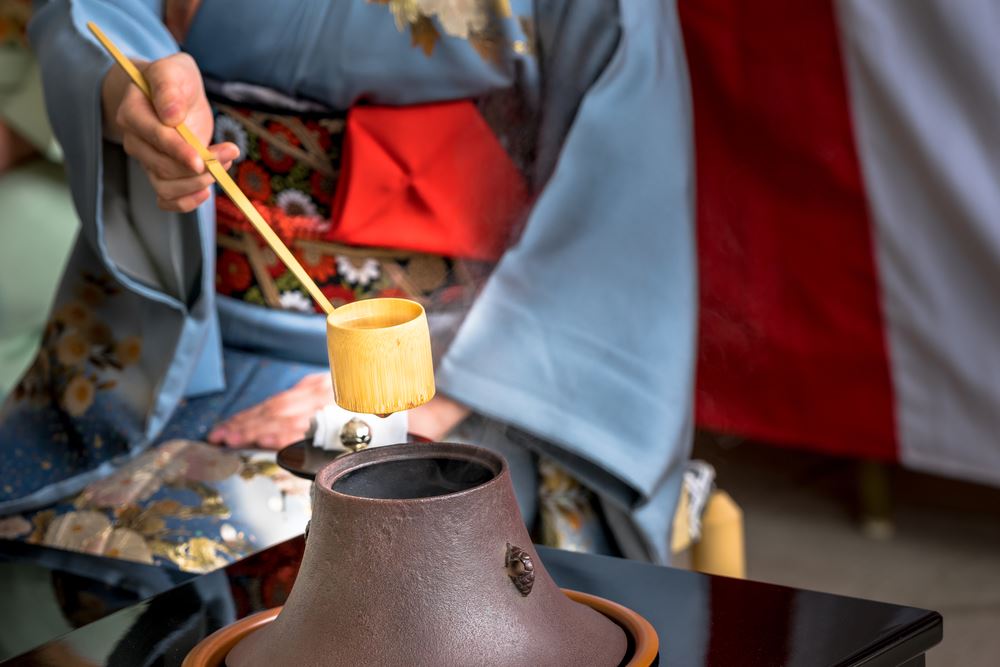 Japanese woman in kimono is preparing green tea which call the Japanese tea ceremony.
7. "I have my own very special interests."
So do the Japanese! A travel consultant should draw out the needs of their clients and then contact the Japan National Tourism Organization or a local source to see what can be arranged. On my last few trips, I: made plastic food; learned to make sushi and bento box foods; put gold leaf on gift boxes; went bird-watching; flew over Tokyo in a helicopter; visited castles, sword museums and Samurai houses; enjoyed architecture tours; visited morning fish and vegetable markets; went walking, trekking, shopping, and dining; visited stand-up sake bars; took tons of photos (and even a few selfies); and visited hot springs and hot baths.

8. "I'm used to island-hopping and beaches."
Japan's islands offer adventure, nature, beaches and history. You can visit Rabbit Island near Hiroshima and take photos under a blanket of live, nibbling rabbits. You can take a ferry ride to the Tokyo Prefectural island chains Ogasawara and Izu to enjoy nature walks, bird-watching, unique land forms, wonderful food and welcoming locals. And you can visit Onigashima to walk through a cave filled with demons, and discover how Momotaro ("peach boy") defeated the evil demons.

Rabbit Island.

9. "Don't they all wear masks?"
No, however, you will see many people wearing surgical face masks. Some have colds and don't wish to spread them to their friends, family and colleagues. Some don't want to catch a cold and are taking preventative measures.

10. "I don't want someone pushing me into a crowded subway car."
In all my travels in Japan, I have never seen "subway pushers." However, I have been on very crowded subway cars during rush hours. The solution? Avoid rush-hour travel!
As part of the travel-needs interview process, travel consultants should come right out and ask the client if they have concerns about the country, and then address them. Japan is one of the safest countries to visit, with a low crime rate, and a high probability that the client will want to return and explore more. It's worth setting the record straight!