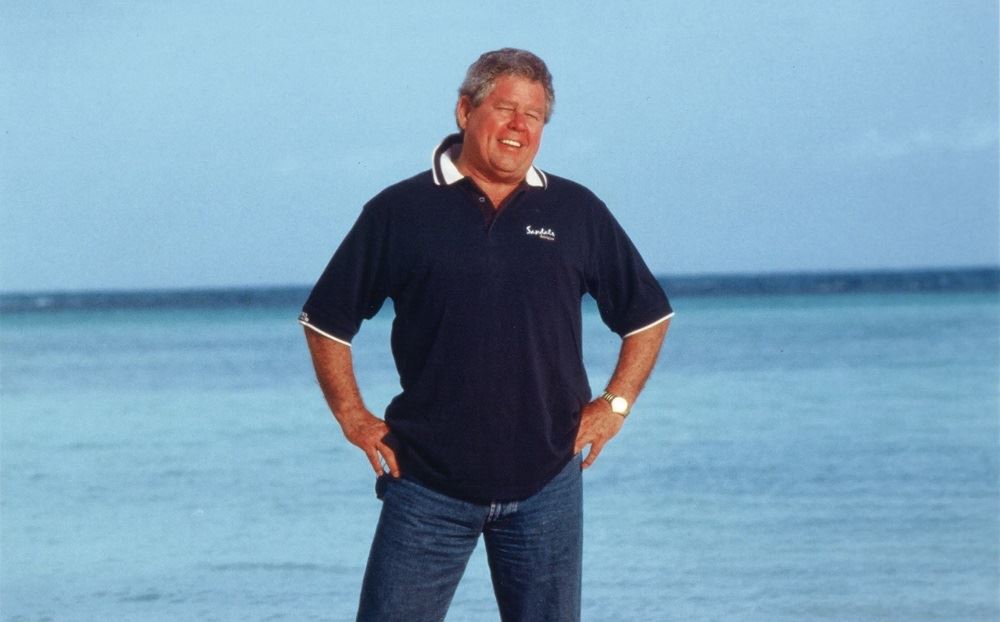 The travel industry is remembering Sandals founder Gordon 'Butch' Stewart as a pioneer, innovator, visionary, and overall great man after his passing on Monday evening at the age of 79.
Stewart was the founder of Sandals Resorts, the leading hotel chain in the Caribbean, Beaches Resorts, and their parent company Sandals Resorts International.
Donna Flanigan, travel consultant and group consultant for Donna Flanigan's Travel by TPI, shared her memory of Stewart with Travel Market Report.
"Going into 43 years in this industry and having had the pleasure of meeting this great man years ago," she said. "He had the biggest heart and made the name of Sandals a worldwide and very respected resort chain. This is such a loss to our already hurting travel industry."
Jennifer Doncsecz, president of VIP Vacations Inc., said he was a visionary of the industry. "He is the reason we have swim up bars!" No doubt, Stewart was heralded with many innovations that are commonplace in the sector today, from swim-up bars which first debuted at the Sandals Montego Bay, and later to swim up suites and gourmet dining at all-inclusive rates.
"I will always be grateful to him for creating programs that allowed travel agents to shine and gain credibility," Doncsecz told Travel Market Report. "He was the first to create awards in sales for resort brands and my agency has grown in sales for his brands because we proudly mention our status with Sandals/Beaches."
Doncsecz went on to say that some of her best clients came to through the Sandals website that shares with consumers travel agents that are Sandals Preferred members.
"Mr. Stewart boldly carved a path to partner with travel agencies and created marketing opportunities that would benefit both parties. He always pushed me to want to sell more by creating various 'status levels' for travel agencies. As Sandals /Beaches top selling and first Diamond level CRC agent, I know how those levels made me want to continually soar higher," she continued.
Doncsecz said that beyond business, she will remember Stewart for being exceedingly kind. "Over the years, when he called me on the phone, he always said "Pink Baby" because my company is known for branding ourselves with the color pink but in front of others, he would refer to me as 'Lady Doncsecz' and made me feel like royalty."
"When I was diagnosed with breast cancer in 2019, he called me and told me that when I am recuperating from surgery that I must stay at one of his villas in Jamaica for a few months where his staff could make sure I wasn't doing too much. That is the man I knew and came to adore! I will miss him."
Mandy Litterini, vice president of sales of Litterini Travel Corp., also remembered Stewart as incredibly supportive of travel advisors "by making advisors not only feel like true travel partners but family."
"He always took the time to meet them, take a picture and his presence alone showed he cared," she remembered. "You do not get that kind of attention form higher ups with other companies. And it's obvious the entire executive team was lead from the top down. His entire executive share the same traits. You WANTED to be a part of what Mr. Stewart was doing."
Executives are sharing their condolences as well.
Vanessa Ledesma, acting CEO and director general of Caribbean Hotel and Tourism Association, said as the industry mourns the loss of the "Caribbean tourism icon."
"Our industry will forever be indebted to 'Butch' for his continued passion for excellence and legendary Caribbean hospitality. His vision has bestowed to the global industry a Caribbean organization that adheres to the highest standards of excellence, celebrates and promotes the region's uniqueness, and invests in the development of our people and communities," Ledesma said.
Stewart, who was one of the first recipients of the Caribbean Hotelier of the Year distinction, was "a great supporter of the Caribbean Hotel and Tourism Association and an inspiration to so many of us in the region."
Stewart's leadership helped resurrect Jamaica's travel industry and earned him the respect of his peers and the admiration of his countrymen. He was elected President of the Private Sector Organization of Jamaica in 1989 and was inducted into its "Hall of Fame" in 1995. He served as a Director of the Jamaica Tourist Board for a decade.
Stewart has been bestowed with a number of honors over the years, including the Order of Jamaica (OJ), Commander of the Order of Distinction (OD) and Global Iconic legend of tourism at a UNWTO gala dinner held at the Montego Bay Convention Centre in 2017.
Jamaica's Tourism Minister Hon. Edmund Bartlett has expressed deep sadness at the passing of the tourism stalwart.
"Butch was truly an icon and innovator, philanthropist and perhaps the greatest marketer tourism has ever seen. Sandals is indeed the largest and most enduring brand created by a Caribbean entrepreneur in tourism and arguably the world today and the standard by which luxury all-inclusive is judged," said the Minister.
"He has established himself as not just the standard by which entrepreneurship can be judged, but he has established a brand that has become global and is also the strongest statement that small island states such as Jamaica can make on global scenes, irrespective of their areas of involvement," said Bartlett.
"I think that we can look back on his life and times and draw inspiration from the success that he has had. But I think, most importantly, we can be inspired by his resilience and the fact that he has started from nowhere, and has ended up as being one of the most celebrated human beings that Jamaica has produced in the last century."