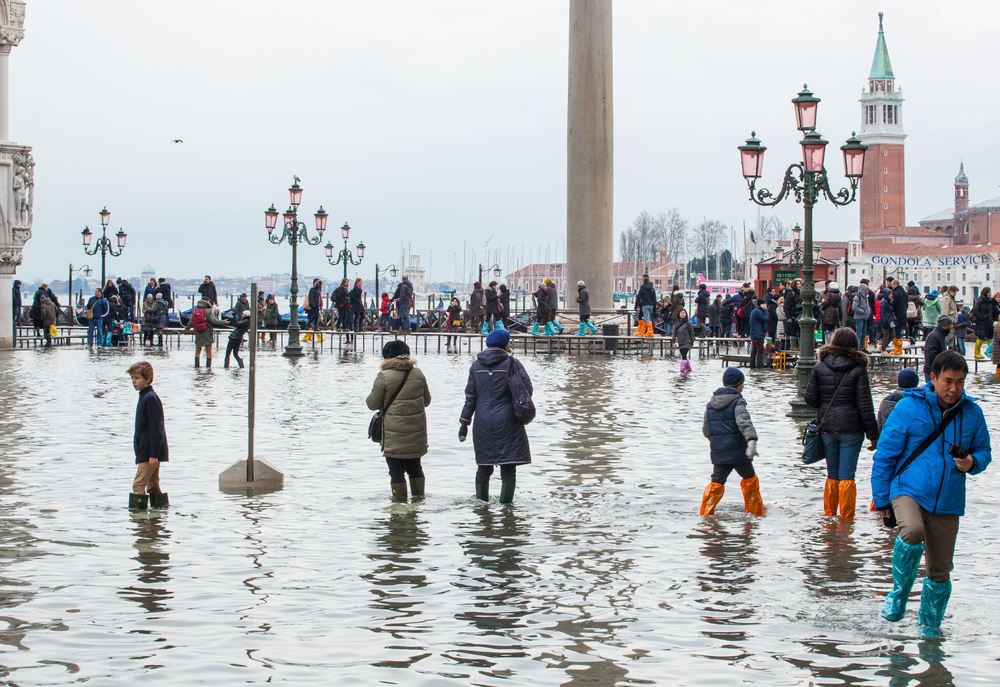 Strong winds and heavy rain pummeling Italy has left three-quarters of Venice submerged in floodwater, officials said Monday.
While the canal city is frequently overwhelmed by water from October to December, Monday's flooding was the worst Venice has seen in a decade.
The central St. Mark's Square was closed on Monday afternoon, after the water level reached "acqua alta" (high water) of more than five feet – the fourth highest level ever recorded. The peak level was the highest reached since December 2008, according to the city's statistics.
70pc of #Venice covered in water by flooding.
Pictures shared by visitors pic.twitter.com/9sLr81IWfr

— Syedih (@SyedIHusain) October 30, 2018
Tourists and residents of Venice used high boots to navigate the city streets in waist-high water. After barriers placed across doorways failed to hold back the rising tide, shopkeepers and restaurant owners used buckets in an attempt to remove water.
Tuesday's high tides are not expected to be as severe, but will still be at least 110 centimeters and potentially higher if the winds continue to blow, inundating at least 12 percent of the city.
#venice right now. The streets are completely flooded:#flooding #Flood #Italy pic.twitter.com/pSsSJGUv5c

— Igor Petricevic (@igor_petricevic) October 29, 2018
Other parts of Italy have also been affected. Rome issued an adverse weather alert warning of widespread rainfall, strong winds and violent storms in exposed coastal areas of the Lazio region. Officials also closed major tourist attractions, including the Colosseum and Roman Forum.