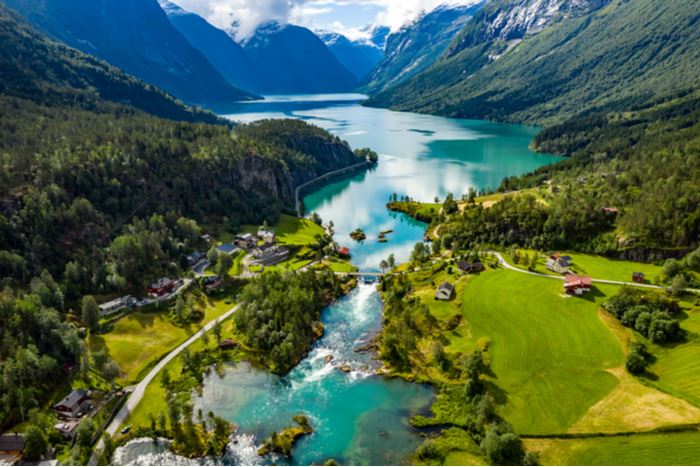 Sustainable luxury travel will be in high demand in 2021 after COVID-19, predicts Torunn Tronsvang, CEO and Founder of Up Norway, tour operator focusing on Norwegian experiences.
Based on inquiries Up Norway has received over the last few months, Torunn believes there is a dormant demand for travel, specifically sustainable luxury travel, which will grow once it's safe to do so.
Travel Market Report: Why do you believe there will be an increased demand for sustainable luxury travel?
Torunn Tronsvang: Post COVID-19, we believe travelers will want to take longer trips, look for spectacular landscapes for activities and seek out encounters with people at a comfortable social distance, all while getting insight into local living and culture. We truly believe travelers will aim to make healthier choices for themselves, the local communities they visit and the planet, and seek to be both inspired and rejuvenated by their travel experiences.
TMR: How is Up Norway preparing for travel's rebound and when do you expect that to be?
TT: We are using this time to expand our position as leading sustainable luxury travel experts. We have engaged an international sustainability advisory board, started a formal process to get sustainability certification and will seek to create a framework for experience and journey design where UN's sustainability goals are incorporated.
Additionally, we are working even closer with our partners to ensure that wherever an Up Norway traveler goes, the experience will be at a significantly higher level than if travelers do not book through us.
We are also spending this time travelling the country ourselves to discover new places, people, activities and experiences that we can offer exclusively to Up Norway travelers.
When it comes to travel's rebound, assuming anything now is tricky, but we're more than ready and excited to welcome guests again as soon as the Norwegian Government implements guidelines that ensure safe traveling for both our guests and the country again.
TMR: How do you expect the industry to change in the wake of COVID-19?
TT: We believe companies that have the most traveler-friendly terms will have a strong competitive edge. Travel specialists and service providers will have to make it easier for travelers to understand their terms, which are fair and non-risky for the traveler. This will put a demand on travel specialists to renegotiate terms with their service providing partners, because at the same time, travel specialists need to find ways to protect themselves. During this Covid-19 pandemic, there have been enormous consequences on business, especially when travel specialists as middle men end up having to refund travelers fully and at the same time are obliged to pay their service providers for the cancelled service.
TMR: How do these challenges for the travel industry compare to past ones?
TT: COVID-19 has forced multiple industries to see that they need to be agile, including the travel industry. The travel industry has to adapt to the rapid changes in an ever-changing market and world. It's clear that we all have to think more sustainably, taking into consideration the many parties involved in the day-to-day operations.