Serving passengers aboard a Boeing 707. Photo: Pan Am Historical Foundation
Ask any travel agent who was in business when Pan American World Airways was America's flag carrier, and you no doubt will elicit a warm glow. In its heyday, Pan Am stood for prestige, glamour, and innovation, and travel agents lucky enough to work for or with the airline even today are eager to reminisce. Part one can be found
here
.
In honor of Pan Am's final flight, Dec. 4, 2001, Travel Market Report gathered memories, mementoes and photographs for our own little tribute to the iconic American symbol of luxury and romance in the sky.
Rudi Steele, Rudi Steele Travel, Dallas
"I still have a pair of Pan Am globe cufflinks a client gave me back in the day. I was wearing them a couple of weeks ago and Valerie Wilson saw them at the same time she saw me. The first thing she said was, 'Pan Am.' My favorite memory is flying to ASTA in Budapest on Pan Am via Madrid. Pan Am had a magazine called Windows on the World, and in it was this ad for the cape maker for King Juan Carlos. Well, I had a client who loved capes, so while I was in Madrid I went to his store. He was such a good salesperson, I bought one for my client and one for myself. One night during ASTA it was cold, so I wore the cape, and as I was walking through the lobby I saw (former Abercrombie & Kent CEO) Alistair Ballantine. Without missing a beat he said, 'Where's the costume party?' That's the last time I wore the cape, although it's still in my closet. However, my client loved it, and it was all because of Pan Am."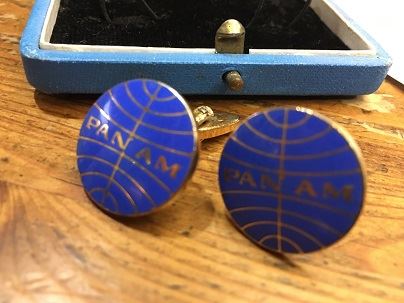 Rudi Steele's Pan Am cuff links.
Anne Morgan Scully, CTC, president, McCabe World Travel, McLean, Virginia
"I entered nursing school so that I could qualify as an international Pan Am flight attendant—but I was very young and would faint at the sight of blood. So I left the nursing field for college. Years later as a manager of a travel agency I had the opportunity to hire some of my favorite travel colleagues from Pan Am. Their training was top-notch. I never got to wear the blue suit and perky hat, but for 37 years I have flown the blue skies and fulfilled my childhood dreams. I love my career and it all started with Pan Am."
Barbara Gallay, vice president, online hotel partnerships, Classic Travel Service, New York
"My first job was as an executive assistant for Panagra. We were owned half by Pan Am and half by W.R. Grace. I remember my first trip to South America was on a turboprop. They had sleeping berths on the plane and the route was New York-Washington D.C.-Miami-Panama City-Quito to Lima. On my return flight they had just introduced jet service and we flew back nonstop. Pan Am was the big airline in those days. They flew around the world. But it was a different era. Very few people flew. I remember a flight on Pan Am from New York to San Juan. After takeoff there was a minor problem and we had to dump fuel and return to New York. I still remember women had their worry beads out."
Michelle Weller, vice president, sales and customer service, Travel Leaders, Houston
"I'm a Pan Am baby. My parents both worked at Pan Am, in the ticketing office in Los Angeles. They sat across the desk from each other and that's how they met. I grew up traveling around the world in first class. You always dressed up then, and I still dress up to fly. Every time I see the movie 'Catch Me If You Can,' it reminds me of how glamorous it was flying Pan Am. They were the first to serve ice cream sundaes from the cart. It was like flying in a luxury hotel. They had a stocked bar. They would let you sample the different wines. They made you feel special."
Michelle Weller in her Pan Am flight attendant's uniform.
Nancy Strong, CTC, president, Strong Travel, Dallas
"During my heady days of booking Pan Am, we were all flying high. Their parties at the ASTA conventions were sought-after invitations. One of my favorite memories was a party on Henry Ford's yacht in Florida. They were simply the greatest airline in the skies. When they went under I was in complete disbelief. The airline industry changed forever after that."
A.J. Rick Mazza, chief executive officer, American Marketing Group, Oyster Bay, New York
"Pan Am was a gem in the travel industry. As the first international airline they opened up the world to travelers. It represented luxury, glamour and possibilities. I have fond memories of working with them."
Matthew Upchurch, chairman and CEO, Virtuoso, Fort Worth, Texas
"In the '60s and '70s my father's company Percival Tours was the largest tour operator to Africa and we were Pan Am's biggest account. I still remember the thrill of getting on a 747 and climbing that spiral staircase to the lounge. I was a kid, and it was amazing. Everyone was dressed to the nines. It was like you were in a movie. Everything had so much style. And back then when you had a complicated itinerary, you would call the Pan Am rate desk. They were like wizards. It was definitely a different era in travel. "
Edie Rodriguez, chairman, Crystal Luxury Corporation, Ltd., Los Angeles
"I loved Pan Am, both selling them as a travel professional in the beginning of my career 35 years ago and flying them. I had a very wealthy family as clients and they only flew the whole family on Pan Am first class. Back then I wanted to experience Pan Am first class for myself but I couldn't afford it. I dreamed about it—and proved dreams do come true when I won two roundtrip first class tickets on Pan Am to Paris. Their service was spectacular and so over-the-top for its time (around 1987). The sad thing is that as iconic as they were, sadly, even great brands can die. It is a shame that they couldn't figure out how to be profitable and stay in business, as American and Delta did."
Gloria Bohan, Omega World Travel, Fairfax, Virginia
"Pan Am was such a handsome carrier! Its white planes highlighted by light blue logos were a modern, glowing testament to America's leadership around the world. The 747 was awesome. I particularly liked the baby 747 that I was privileged to fly on around the world. That was a great 'feeling special, feeling proud' time."
Gloria Bohan still has her Pan Am travel guides close at hand.
Bob Watson, travel advisor, Valerie Wilson Travel, New York
"I always wanted to fly Pan Am's Flight 1 (the around-the-world flight) and I did. In its day Pan Am attracted the sophisticated traveler. When you flew Pan Am you would meet interesting people. When they went out of business, it was the start of the end of that level of service."
Jack Bloch, CEO, JB's World Travel Consultants, New York
"I was devastated when Pan Am went out of business. The U.S. government bailed out the car companies, but not Pan Am, and Pan Am was synonymous with the United States. I remember they introduced the world to the jet age with the 707. Then they brought flying to the masses with the 747. If they hadn't bought National Airlines, they would have probably survived. I remember flying their Galaxy Service on the 747SPs that flew nonstop New York to Tokyo. The upstairs lounge would convert to four tables seating four people each. You had to make reservations. There were white tablecloths and the food was restaurant-quality. It was an amazing experience. Pan Am was also very friendly to travel agents. They would upgrade you right away if there was space. It was a great relationship. They really valued travel agents."