Hotel and Resort Guide to What's Open on Hard-Hit Caribbean Islands
by Jessica Montevago /

It's been a long road for Caribbean destinations devastated by last September's Hurricanes Irma and Maria. After the Category 5 storms caused unprecedented damage, destroyed businesses, homes and vehicles, islands like Puerto Rico and St. Martin have made great strides rebuilding and getting back to normal, and they're more than ready to get their bustling tourism industry back in full swing.
Here is a status update of more than 100 hotels and resorts, in Puerto Rico, the U.S. Virgin Islands, St. Martin and St. Maarten:
Destinations are rebuilding and recovering all at different phases. "The pace has been different in terms of recovery, with a direct correlation between that and the degree of funding available and a direct correction between that and the degree of damage," said Hugh Riley, the Caribbean Tourism Organization's (CTO) secretary general, speaking during Caribbean Week.
Islands have had to put out a coordinated effort, reminding travelers that the entire Caribbean is open for business.
French St. Martin and Dutch St. Maarten are combining their efforts, with a joint campaign to market and promote tourism to the shared island. It "will reduce confusion for our visitors coming to the island," Cornelius de Weever, interim director of tourism and justice for St. Maarten said. "As we rebuild and recover from the hurricanes, we will do it right, more sustainably and will emerge stronger than ever."
Puerto Rico's campaign also encourages travelers to put their tourism dollars to good use. "Continuing to visit us, staying at our hotels, eating at our restaurants, buying from local businesses and giving back through rebuilding efforts is the best way to support us right now," Puerto Rico Tourism Company Executive Director Jose Izquierdo previously told Travel Market Report.
"One of the things in the Caribbean that we have to understand is that we can't always wait for every 'i' to be dotted and 't' to be crossed before people start to come back … How many times have we seen a sign saying, 'Pardon us while we renovate and we're getting back up to speed,' and I think we have to accept that, as well," said CTO Chairman and Bahamas Tourism Minister Dinosio D'Aguilar.
Puerto Rico
Employing this strategy, The Condado Plaza Hilton and El Conquistador Waldorf Astoria Resort in Puerto Rico are both open during renovations. Both properties will waive resort charges until all services and amenities are restored.
They are two of 130 properties out of 146 (89 percent) Puerto Rico Tourism Company (PTRC) endorsed hotels that are open and operating, as well as Wyndham Grand Rio Mar Puerto Rico Golf & Beach Resort and AC Hotel San Juan Condado.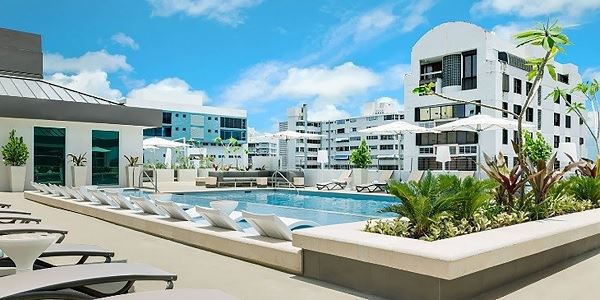 AC Hotel San Juan Condado
El San Juan Hotel – Curio Collection by Hilton will reopen Oct. 1 and the Hotel St. Regis at Bahia Beach Resort will reopen Oct. 29, according to the PTRC, and Melia Coco Beach Puerto Rico a few days later on Nov. 1. The Hyatt Hacienda del Mar and Las Casitas Village, A Waldorf Astoria Resort will both open their doors at the start of the New Year.
The Ritz-Carlton San Juan Hotel is temporarily not accepting new reservations as efforts are underway to restore operations as quickly as possible. The Wyndham Garden at Palm del Mar remains closed.
St. Martin/St. Maarten
More than 1,500 rooms are available. On the St. Martin side, Esmeralda Resort and Hotel L'Esplanade are scheduled to reopen in November; and Hotel Palm Court at Orient Beach, Belmond La Samanna and La Playa Orient Bay will begin welcoming guests again in December.
Sonesta Ocean Point Resort in St. Maarten is slated to reopen Nov. 15, while the Sonesta Maho Beach Resort, Casino & Spa is eyeing Feb. 1, 2019.

Sonesta Ocean Point Resort
St. Barths
WIMCO announced that six top hotels in St. Barths have revealed reopening dates.

Le Barthélemy Hotel & Spa
Hotel Le Toiny is reopening Oct. 15, with the addition of eight villa suites, followed by Hotel Christopher St. Barth two days later. Le Barthelemy Hotel & Spa will reopen Oct. 28; Le Sereno Hotel on Nov. 17; and Cheval Blanc St. Barth on Dec. 1. The historic Eden Rock Hotel on St. Jean will reopen Dec. 22; its 34 rooms and suites have been renovated and two suites with pools have been added.