New York Times Travel Show Announces Speakers for Trade Day
by Kerry Tice /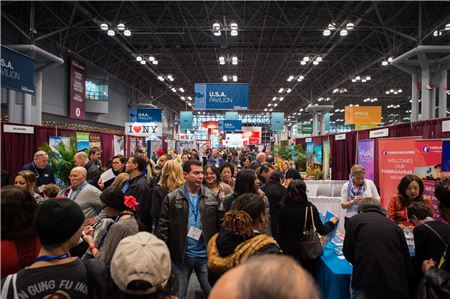 A diverse line-up of well-known travel industry executives will frame the speakers list for Trade Day at the 2018 New York Times Travel Show on Friday, Jan. 26th, to be held at the Jacob K. Javits Convention Center in New York City.
Travel industry professionals are invited to attend the day-long, trade-only event, now in its 15th year. Attendees will benefit from exposure to over 500 exhibiting companies and panels featuring more than 100 speakers representing cruise, hotel, and tour markets, as well as specialty niches like wellness, family, adventure and all-inclusive resorts, to name a few.
Travel Market Report's Publisher Anne Marie Moebes will be moderating a panel on wellness solutions, and TMR Retail Travel Agency Editor Richard D'Ambrosio will head up a panel on the changing face of all-inclusive resorts. According to a press release, the Focus Conferences will emphasize one-of-a-kind experiences available for your clients, and vital marketing strategies and best practices to drive revenue.
Panelists for the keynote address on Trade Day on the state of the travel industry include: Ninan Chacko, CEO of Travel Leaders Group; Alejandro Zozaya, CEO, Apple Leisure Group; and Andrew Stuart, president and CEO, Norwegian Cruise Line. The panel will be moderated by James Shillinglaw, editor-in-chief of Insider Travel Report.
Tickets for Trade Day can be found here for $59 in advance and $79 at the door. Price includes admission to over 20 Focus Conferences, lunch, keynote address and access to the exhibition floor.
On-site registration begins at 7:30 a.m. and the conferences kick off at 9 a.m.; followed by lunch from 12:15-12:45 p.m.; the keynote address and state of the industry panel from 12:45-1:55 p.m.; the exhibition from 2-7 p.m. (free for pre-approved and accredited travel professionals); and a networking reception to conclude the day from 5-7 p.m.
Some of the other speakers confirmed for Trade Day include: Jeff Clarke, COO, Unique Vacations, Inc., Sandals & Beaches Resorts; Melissa Walker, director, global brand fitness, Global Brand Wellness, Hilton; Scott Wiseman, president, Travel Impressions; Terry Dale, president, USTOA; Ignacio Mazza, executive vice president, Signature Travel Network; and Uri Steinberg, tourism commissioner, North America, Israel Ministry of Tourism.