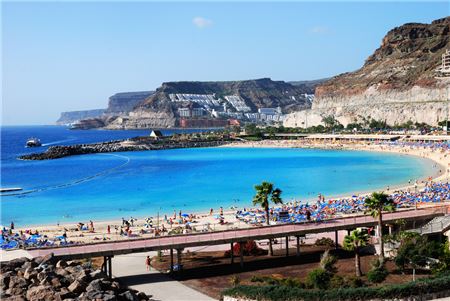 Nearly three months after Hurricane Maria made landfall on Puerto Rico, creating widespread devastation that shut down leisure tourism, the island is declaring itself open for business.
This week, the Puerto Rico Tourism Company (PRTC) said the island is "officially open for tourism," kicking off its winter season marketing campaign starting Dec. 20, said José Izquierdo, PRTC's executive director. "Tourism is a vital contributor to the Island's economy, so reaching these milestones not only will help build a stronger, better Puerto Rico, but showcases the resiliency in our people and destination."
As Travel Market Report had reported this fall, Puerto Rico had been planning to relaunch its tourism marketing right before Christmas.
Maria made landfall on Sept. 20, taking at least 59 lives (and likely more), knocking out electricity across the island, and devastating the tourism industry. Since then, a gradual return of services and infrastructure has allowed the island to welcome cruise ships to the Port of San Juan, and reopen iconic hotels.
Today, all airports, more than 100 hotels (approximately 75 percent of the island's lodging inventory)and 4,000 restaurants are open and operating. Tourism attractions across the islands are reopening every week, many after receiving help from tourists who have ventured to Puerto Rico to help it rebuild. And PRTC says that "close to 60" cruise shore excursions are available as well.
"It's been the continued collaboration with Governor Ricardo Rosselló's team and tourism industry partners that has resulted in tremendous progress, and we're thrilled," Izquierdo said.
PRTC also reports that 107 tourist attractions have reopened across the Island, including major sites like Old San Juan, the Castillo San Felipe del Morro and Cueva Ventana.
Approximately 70 flights per day across 27 different major commercial airlines are flying in and out of San Juan International airport (SJU), serving 17 U.S. mainland airports as well as cities in Canada, the Dominican Republic and other islands from the Caribbean.
Online, See Puerto Rico has been promoting the island with a number of campaigns, including "Puerto Rico A to Z," a video series encouraging travelers to experience the island's various culinary, musical, cultural and destination attractions during the holidays.
The Christmas holiday is old San Juan's biggest celebration every year, continuing through the end of January. Agents can find it using the #PuertoRicoAtoZ hashtag on Facebook, Instagram or Twitter.
The country also has been promoting its #meaningfultravel program, where tourists and Puerto Ricans living outside the island are being encouraged to return to help clean up sites like the Tibes Indigenous Ceremonial Center.
For information on other Island updates (related to hospitals, ATMs, supermarkets, etc.), travel agents can visit http://status.pr/ and visitors can call the PRTC hotline at 787-522-5960.