U By Uniworld Announces 2018 Fam Trip Lineup for Travel Agents
by Daniel McCarthy /

Uniworld Boutique River Cruises is giving travel agents a chance to see its newest brand, U By Uniworld, on eight different fam trips next year.
The fam offerings include the Rolling on the Rhine itinerary on Apr. 28, 2018; the Danube Flow itinerary on May 19; Germany's Finest itinerary on Aug. 18; and the Danube Flow itinerary on Oct. 20. Those sailings will be on The A, one of the brand's two new ships.
U by Uniworld will also offer fam trips on The B, its other new ship, on Apr. 21 and 25, Aug. 25, and Oct. 20. All of those departures will be its Seine Experience itinerary.
All travel agents booking fam trips on these dates will get 60 percent off the published fare. To book, agents can contact Uniworld at 1-800-883-8785.
"Travel agents have always been an integral part of our sales strategy and research has demonstrated that millennials increasingly seek experts to help plan their travel experiences," president and CEO of Uniworld Ellen Bettridge said.
"We want to ensure we are providing travel agents the best opportunities to not only experience this history-making river cruise for themselves, but to also best meet the needs of this diverse millennial generation," she added.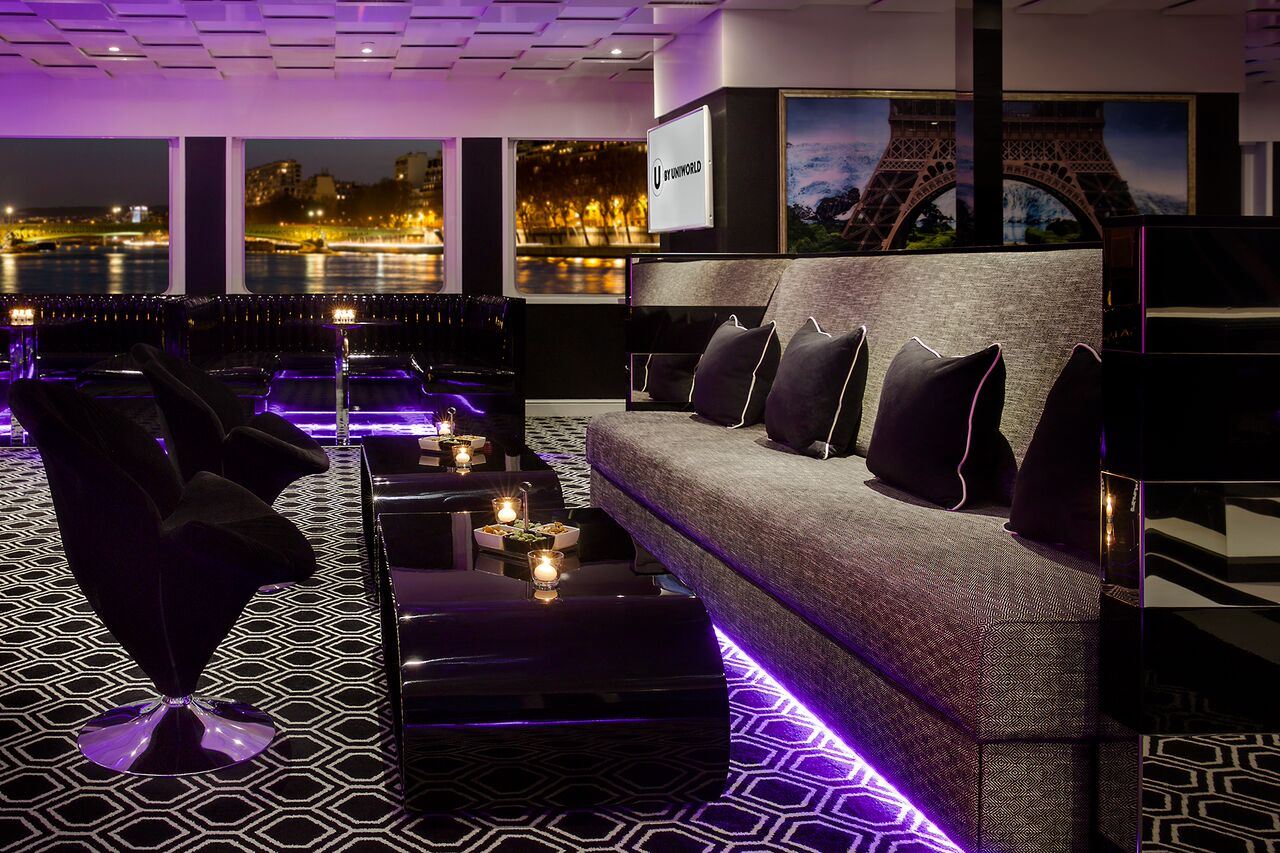 The lounge on The B.
U by Uniworld targets younger travelers, between the ages of 21 and 45, with overnight stops and longer stays in cities like Paris, Vienna, Amsterdam and Budapest. The niche brand was announced in December and officially launches in spring 2018.
The ships, each with a maximum capacity of 120 travelers, offer three room categories: studios, balconies and suites. Solo travelers can book single rooms or special room-share rates.
Pricing on The A starts at $1,699 per person for eight-day sailings along the Rhine, Main and Danube Rivers. Pricing on The B for sailings on the Seine starts at $1,999.

The dining room on The B.