American Cruise Lines Intros 35-Day Civil War Battlefields Cruise
by Dori Saltzman /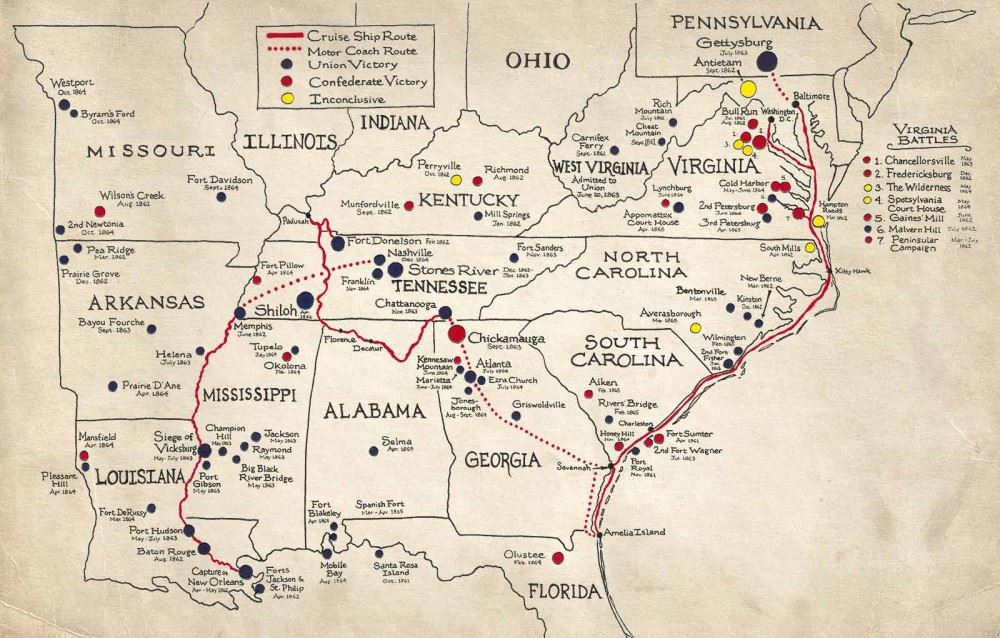 Responding to the demand for longer cruises, American Cruise Lines has unveiled its second extended cruise itinerary, a 35-day, 13-state, three-ship sailing centered on the battlefields of the Civil War.
Departing May 4, 2024 from New Orleans, the 35-day cruise will visit nearly every major battlefield of the Civil War, with each day highlighting a battlefield or Civil War-related event. It will be led by Bertram Hayes-Davis, the great-great grandson of Jefferson Davis, who served as the president of the Confederate States.
Additionally, the onboard experience will be curated to bring context to each day's exploration and giving cruisers a larger understanding of the War as a whole with the help of a team of dedicated Civil War experts.
"This cruise is one of the most wholistic views of the Civil War ever offered," Hayes-Davis said. "Guests will experience the people, places, and events of the war, as they visit the battlefields and stand where history was made."
The cruise takes place on three ships and sails the Mississippi River, the Tennessee River, the Potomac River, the East Coast Intracoastal Waterway, and the Chesapeake Bay.
Included in the price are a complimentary pre-cruise stay in New Orleans, daily excursions, all meals and beverages including beer and wine with lunch and dinner, and a daily cocktail hour. Also included are Wi-Fi, hotels and transportation between cruise segments, as well as gratuities.