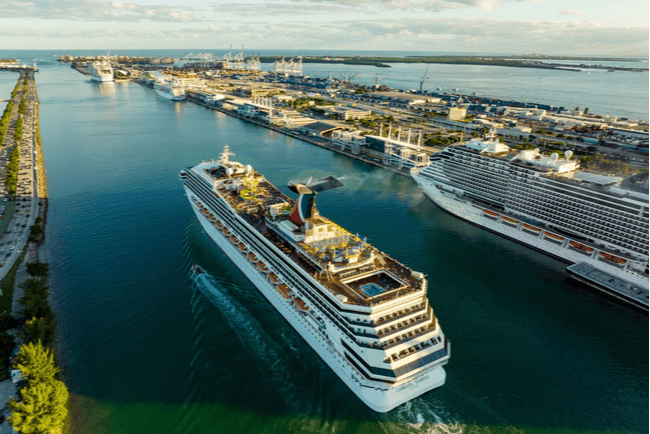 The Centers for Disease Control and Prevention (CDC) is lowering its warning on cruise ship travel.
The CDC on Tuesday moved its cruise warning from Level 4: Very High to Level 3: High after a drop in COVID-19 cases reported onboard ships. The Level 4 warning had been in place since late December when the CDC told Americans to avoid cruise ship travel regardless of vaccination status.
The new Level 3 warning advises travelers to "make sure you are up to date with our COVID-19 vaccines before cruise travel," which includes booster shots, and to "avoid cruise ship travel" if you are not fully vaccinated or if you are at increased risk of severe illness from COVID-19.
The warning for cruise travel is now lower than the warning for destinations including Canada, Denmark, France, Germany, Ireland, Israel, Italy, Jamaica, Japan, Mexico, the U.K., and more.
Cruise Lines International Association (CLIA) called the move "a step in the right direction" for a segment that it says has led the industry in health and safety protocols.
"Cruise ships have medical, isolation, and quarantine facilities on-site, implement extensive response plans using private shoreside resources, and have created an environment where almost every single person is fully vaccinated.
"As a result, cases of COVID-19 are very low with the vast majority mild or asymptomatic—making cruise unequaled in its multi-layered approach to effectively mitigating COVID-19."
Since the CDC's Conditional Sailing Order (CSO) expired on Jan. 15, the cruise industry has been operating independent of CDC's CSO protocols. According to the CDC's Cruise Ship Status Dashboard, zero ships have opted out of the program, even with it becoming voluntary.
CLIA, along with other industry groups including the American Society of Travel Advisors (ASTA) and the Association of Canadian Travel Agencies (ACTA), has long pushed against CDC restrictions on cruise ships, as infection rates in the industry have been lower than overall infection rates in the U.S.
When the cruise ship warning was upgraded in late December, CLIA called that decision "particularly perplexing."
"The decision by the CDC to raise the travel level for a cruise is particularly perplexing considering the cases identified on cruise ships consistently make up a slim minority of the total population onboard," it said.
Travel advisors talking to TMR in January said that they faced an uphill battle this quarter as the mainstream news continues its negative coverage of the cruise industry. Some travel advisors reported being able to use factual data to calm their clients' nerves. Others say some clients simply don't want to take any chances with their valuable vacation time (or their health).