Royal Caribbean Officially Names World's Largest Cruise Ship
by Dori Saltzman /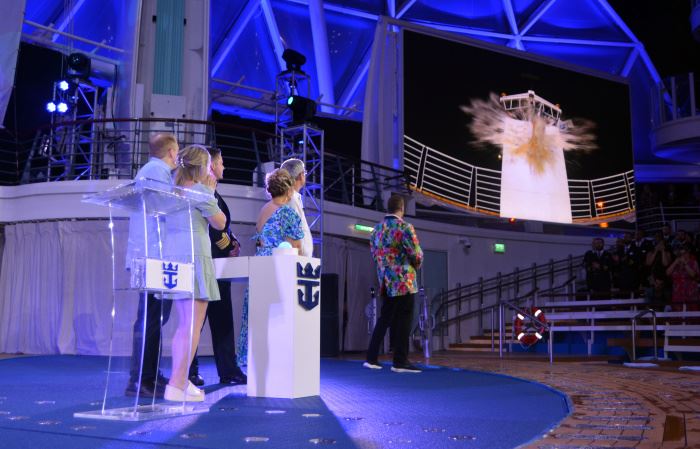 Royal Caribbean officially welcomed Wonder of the Seas into its fleet with a naming ceremony in Port Canaveral late last week that emphasized the importance of family.
"As I look around this evening, I see our loyal guests. I see our incredible employees, both shipboard and shore side. I see many partners. I see travel advisors. But above all, I see families," said Michael Bayley, president and CEO of Royal Caribbean International, addressing an audience of Royal Caribbean executives, VIPs, travel advisors and media. "Since March, more than 180,000 guests have sailed on Wonder of the Seas and we've created wonderful, fantastic vacation memories for them and their families."
During his speech Bayley also called out one of Royal Caribbean's own family, housekeeping team member Alex Lockwood who has been with Royal Caribbean for 40 years and, according to Bayley's best estimate, has played a role in creating great memories for 1.4 million guests.
Highlighting the line's commitment to families, Royal Caribbean chose "Wonder Mom" Marie McCrea as the ship's godmother after a months-long search on TikTok for just the right woman.
"Every ship needs a guiding spirit and who better than one incredible mom," Bayley said. "Great moms are the guiding spirits of their families. They are the glue that keeps everything together despite the challenges that come their way. And they truly are everyday heroes, who we call appropriately 'Wonder Moms.'"
McCrea, who was nominated by her eldest daughter, was selected not only for her fortitude in the face of great adversity, but for her joyous spirit. Attendees learned about her story in a surprise video detailing how she cared for her severely-disabled husband through the end of his life, while also engaged in her own battle with cancer. All while raising three children with a positive and joyous outlook on life.
McCrea took the stage soon after to name and bless the ship, before pressing the button that released a giant bottle of Champagne (equivalent to 12 bottles) to smash against the side of the ship.
Wonder of the Seas is the fifth ship in the line's Oasis-class. Like the others, it features several neighborhoods, but it is the first to have a Suite Neighborhood that offers suite-class guests a private sun deck with plunge pool and bar. Other firsts on the ship include the first Mason Jar Southern Restaurant & Bar in the fleet, as well as a new underwater-themed play area for kids, the Wonder Playscape, with slides, mini-climbing wall and more.
Wonder of the Seas sails year-round from Port Canaveral, offering alternating eastern and western Caribbean itineraries.